USA Advances Five to Men's and Women's Freestyle Finals in Lima
Saturday, May 5, 2018 - 21:21 By Taylor Miller
LIMA (May 5) – Three women's freestylers and two men's freestylers from the USA will compete for gold medals tonight at the 2018 Pan American Championships in Lima, Peru, on Saturday night.
Highlighting the morning session for the U.S. was three-time World champion Adeline GRAY, who picked up two first-period falls in her first Pan Am Championships appearance. Gray, a 2015 Pan Am Games gold medalist, Mabelkis CAPOTE (CUB), who finished fifth at the U23 World Championships, and Aline DA SILVA FERREIRA (BRA), who is a 2016 World Military champion and a 2014 World silver medalist.
Seeking gold at 76 kg, Gray will face Andrea OLAYA GUTIERREZ (COL) in the finals.
Other women for USA advancing to the finals are Whitney CONDER at 50 kg and Sarah HILDEBRANDT at 53 kg.
In men's freestyle the U.S. sent 2017 Junior World champion Mark HALL at 79 kg and two-time Greco-Roman Olympian Ben PROVISOR at 92 kg to the finals.
After wrestling Greco on Friday, Provisor got back on the mat for USA, this time in freestyle. In the final round of round-robin action, Provisor will face Esdras LOPEZ PEREZ (MEX). As both are undefeated at the weight, the winner of this matchup will take gold.
Hall only wrestled one match as his first one was a forfeit. He put up a dominant semifinals performance, defeating Santiago MARTINEZ RESTREPO (COL), 10-1.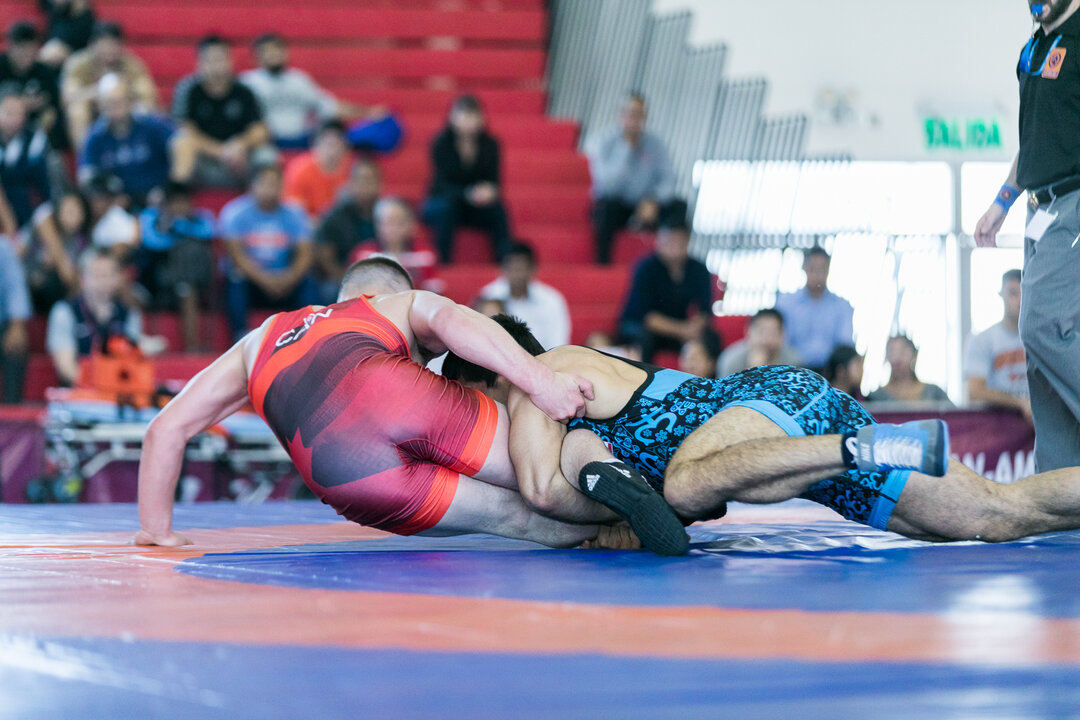 Waiting for Hall on the other side of the bracket is Ethan RAMOS (PUR), who is a native of the U.S., wrestling for Puerto Rico. Both wrestlers competed in the same weight class on the NCAA collegiate level.
Ramos picked up notable wins over veteran Shawn DAYE FINLAY (CAN), 14-4, and Marcos Rob QUESADA MARTINEZ (PER), who he pinned in one minute.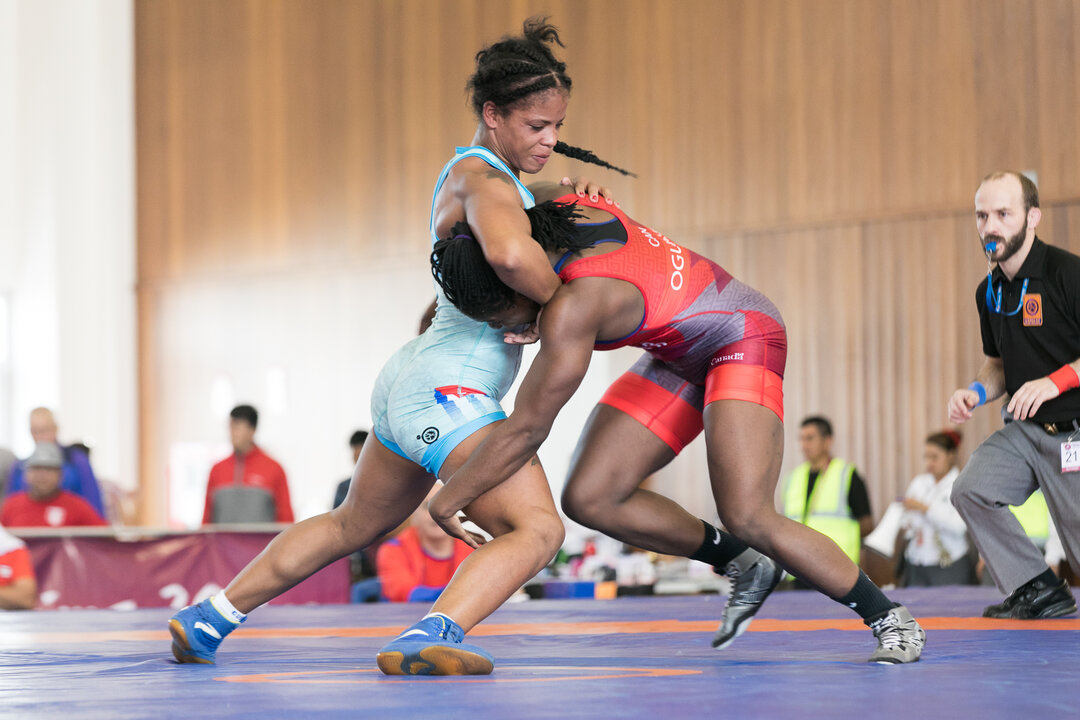 Cuba put through three women into the finals, including Lienna MONTERO HERRERA at 57 kg, Yaquelin ESTORNELL at 62 kg and 2017 Junior World silver medalist and U23 World bronze winner Yudari SANCHEZ RODRIGUEZ at 68 kg.
At 62 kg, Lais NUNES DE OLIVEIRA (BRA) will battle Estornell for gold. A two-time Pan Am champion, Nunes defeated two-time Olympic bronze medalist Jackeline RENTERIA CASTILLO (COL) in the semifinals with an 11-6 decision.
The finals are set for 7 p.m. ET and can be watched live on unitedworldwrestling.org.
FINALS MATCHUPS
Men's freestyle
79 kg
GOLD - Ethan Adrian RAMOS (PUR) vs. Mark John HALL II (USA)
BRONZE - Rashji Leonardo MACKEY (BAH) vs. Santiago MARTINEZ RESTREPO (COL)
BRONZE - Shawn Kenneth DAYE FINLEY (CAN) vs. Marcos Roberto QUESADA MARTINEZ (PER)
92 kg
ROUND 5 - Dalton James WEBB (CAN) vs. Kensil Alexander GRAJALES HERNANI (PER)
ROUND 5 - Esdras Carlos LOPEZ PEREZ (MEX) vs. Benjamin Errol PROVISOR (USA)Women's freestyle
Women's freestyle
50 kg
GOLD - Whitney CONDER (USA) vs. Carolina CASTILLO HIDALGO (COL)
BRONZE - Jacqueline Del Rocio MOLLOCANA ELENO (ECU) vs. Mariana DIAZ MUNOZ (MEX)
BRONZE - Evelin del Carmen SOSA (ARG) vs. Jade Marie DUFOUR (CAN)
53 kg
GOLD - Luisa Elizabeth VALVERDE MELENDRES (ECU) vs. Sarah Ann HILDEBRANDT (USA)
BRONZE - Kristina Katelyn MCLAREN (CAN) vs. Betzabeth Angelica ARGUELLO VILLEGAS (VEN)
BRONZE - Dannia Stefanny FIGUEROA DUQUE (COL) vs. Lilianet DUANES ANDRES (CUB)
57 kg
GOLD - Lianna de la Caridad MONTERO HERRERA (CUB) vs. Alejandra ROMERO BONILLA (MEX)
BRONZE - Yessica Coraima OVIEDO PEREZ (DOM) vs. Alexandria Rebekkah TOWN (CAN)
BRONZE - Nes Marie RODRIGUEZ TIRADO (PUR) vs. Michaela Hope BECK (USA)
62 kg
GOLD - Lais NUNES DE OLIVEIRA (BRA) vs. Yaquelin ESTORNELL ELIZASTIGUE (CUB)
BRONZE - Kayla Colleen Kiyoko MIRACLE (USA) vs. Linda MORAIS (CAN)
BRONZE - Karla Johanna CAMPOS GONZALEZ (ECU) vs. Jackeline RENTERIA CASTILLO (COL)
68 kg
GOLD - Soleymi Antonieta CARABALLO HERNANDEZ (VEN) vs. Yudari SANCHEZ RODRIGUEZ (CUB)
BRONZE - Yanet Ursula SOVERO NINO (PER) vs. Temitope Lydia OGUNJIMI (CAN)
BRONZE - Diana Paulina MIRANDA GONZALES (MEX) vs. Leonela Aleyda AYOVI PARRAGA (ECU)
76 kg
GOLD - Adeline Maria GRAY (USA) vs. Andrea Carolina OLAYA GUTIERREZ (COL)
BRONZE - Andrimar Daniela LAZARO DIAZ (VEN) vs. Gracelynn DOOGAN (CAN)
Mabelkis CAPOTE PEREZ (CUB) vs. Aline DA SILVA FERREIRA (BRA)