Weekly FIVE! August 13, 2018
Monday, August 13, 2018 - 13:15 By Eric Olanowski
Taking a look at Burroughs blast doubling rumors and Iran's Asian Games line-up. Also looking at Greco-Roman results from Russian Nationals and much more. 
1. Burroughs Blast Doubles Training with McGregor Rumors 
Rumors recently surfaced that five-time world and Olympic champion, Jordan BURROUGHS (USA) landed in Dublin, Ireland to begin training with Conor MCGREGOR (IRL) for his October 6 title fight with Khabib NURMAGOMEDOV (RUS).
Burroughs quickly took to Twitter to dispel any rumors, saying, "I'm not working with Conor. I'm attempting to win a World Championship of my own in October. I wish him the best of luck in his upcoming title fight with Khabib."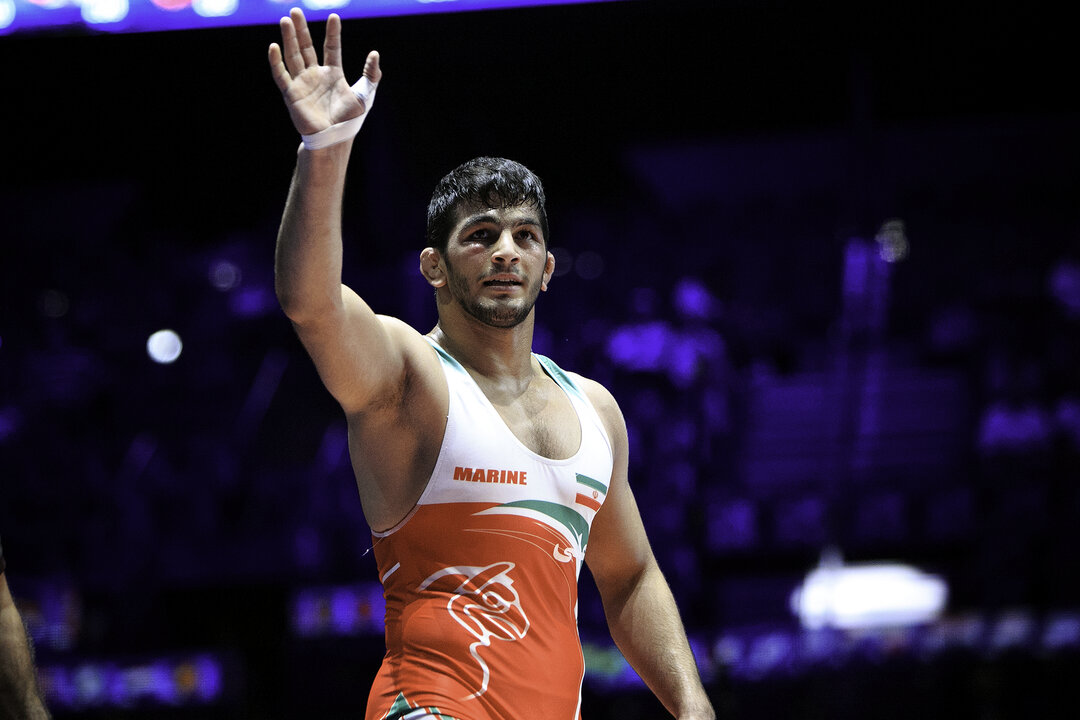 World and Olympic champion, Hassan YAZDANI (IRI). (Photo by Max Rose-Fyne) 
2. Iran Announces Asian Games Line-up   
Iran recently announced their six freestyle representatives for the 18th Asian Games which take place in Jakarta, Indonesia from August 19-22. 
Hassan YAZDANI (IRI), Iran's world and Olympic champion leads a much different squad than the second-place one that Iran sent to the Bishkek Asian Championships back in February.  
Along with Yazdani, Mostafa HOSSEINKHANI, the 2018 Asian Championship bronze medalist is the only other wrestler who will compete for Iran at both the Asian Championships and Asian Games. 
Iran, with three champions and six overall medals finished in second place, 21 points behind Asian champions, Uzbekistan.
Iran's Asian Games Line-up  
57kg - Reza ATRI 
65kg - Mehran NASIRI 
74kg - Mostafa HOSSEINKHANI 
86kg - Hassan YAZDANI  
97kg - Alireza KARIMI 
125kg - Parviz HADI 
 Stepan MARYANYAN (RUS), 63kg Russian National champion. (Photo by Martin Gabor) 
3. Greco-Roman Russian National Championships Conclude in Odintsovo
For the second week in a row, Russia held their National Championships in Odintsovo, Russia. A week ago, it was the Freestyle National Championships, and this past weekend it was the Greco-Roman National Championships. 
As we saw in freestyle, just because you win the Russian Nationals does not mean you're headed to Budapest. 
On September 29, the winners from Russian Nationals at 60kg, 67kg, 72kg, and 77kg will head to the Ljubomir Ivanovic Gedza Memorial in Mladenovac, Serbia to wrestle the four European Championship gold medalists for their spot on Russia's Budapest World Championship team. 
In addition, although Vitali KABALOEV (RUS) won the 55kg Russian National gold medal, he'll also head to Serbia to take on former No.1 Vasilii TOPOEV (RUS). The winner of this bout will represent Russia in Budapest. 
Greco-Roman Russian National Winners (*European Champions) 
55kg - Vitali KABALOEV 
60kg - Mingian SEMYONOV (*Sergei EMELIN) 
63kg - Stepan MARYANYAN 
67kg – Zaur KABALOEV (*Artem SURKOV) 
72kg - Abuyazid MANTSIGOV (*Adam KURAK) 
77kg - Alexander CHEKHARKIN (*Roman VLASOV) 
82kg - Imil SHARAFETDINOV 
87kg - Beckhan OZDOEV
97kg - Nikita MELNIKOV 
130kg – Sergei SEMENOV 
4. Legendary Coach Pedro Val Bragueira of Cuba, Dies at 65
Cuba's longtime head Greco-Roman wrestling coach Pedro VAL BRAGUEIRA (CUB) died August 3 after a long illness. He was 65.
Pedro Val was the head of the Greco-Roman national team between 1975 and 2015 and was the personal coach to many of Cuba's wrestling legends, including three-time Olympic champion Mijaín LOPEZ, two-time Olympic champion Filiberto AZCUY, and 1992 Olympic champion Héctor MILIÁN. 
In 2010 Pedro Val was distinguished as the best coach in the world by United World Wrestling.
5. Pan-American Championships Begin Friday 
Fortaleza, Brazil is poised to host the 2018 Junior Pan-American Championships which takes place August 17-19. 
Greco-Roman wrestling will kick off the championships at the Centro de Formacao Olimpica do Nordeste on Friday and will be followed by women's wrestling (Friday) and freestyle (Saturday).
Weekly FIVE! In Social Media 
1. Big Move Monday !
2. Failed flying squirrel attempt!
3. Throw everything you have into it.
4. 30 seconds of madness! 
5. Have a productive week!💪
Всем плодотворной недели!✊
#monday#wrestling#victory#passion#ilovewrestling#борьба#понедельник