Weekly FIVE! August 20, 2019
Tuesday, August 20, 2019 - 11:34 By Eric Olanowski
Discussing Japan's eight gold-medal performance at Junior Worlds and Kamal claiming his third consecutive junior world title. Also looking at Russia's final wrestle-offs, Dake downing Dieringer, and counting down until the first whistle at the World Championships. 
1. Japanese Women Win Eight of Ten World Golds 
Japan's women's wrestling team went eight-for-eight in world title bouts -- claiming an unheard-of eight of ten gold medals at the 2019 Junior World Championships last week in Tallinn, Estonia. They also added on a pair of bronze medals and brought their tournament grand total medal count to ten on their way to doubling Russia's second place team score. Japan finished the tournament with 230 points, while the Russian Federation, who finished in second place, had 115 points. Ukraine (91 points) rounded out the top three 139 points behind the Japanese women. 
The team champions were led by the pair of two-time senior-level world champions Yui SUSAKI (50kg) and Haruno OKUNO (53kg). 
Susaki claimed back-to-back junior world titles after seizing a 10-0 victory over 2016 cadet world silver medalist Daria KHVOSTOVA (RUS) in the 50kg finals.
With her win last week, Susaki brought her grand total to seven overall world gold medals since appearing at her first World Championships in 2014. When asked where this world title stacks up on her list, Susaki said, "My final goal is an Olympic gold medal. I will do my best and I will try to practice towards my final goal." 
Susaki pushed her total world championship record to 31-0 -- with 29 of those wins being shutout victories. Perhaps a more impressive stat is Susaki has now outscored her 31 world championship opponents 290-6 en route to reaching the top of the podium.
She believes the reason she's so successful is because her strength and mind. She said, "The reason why I get the championships is my own strength and mind."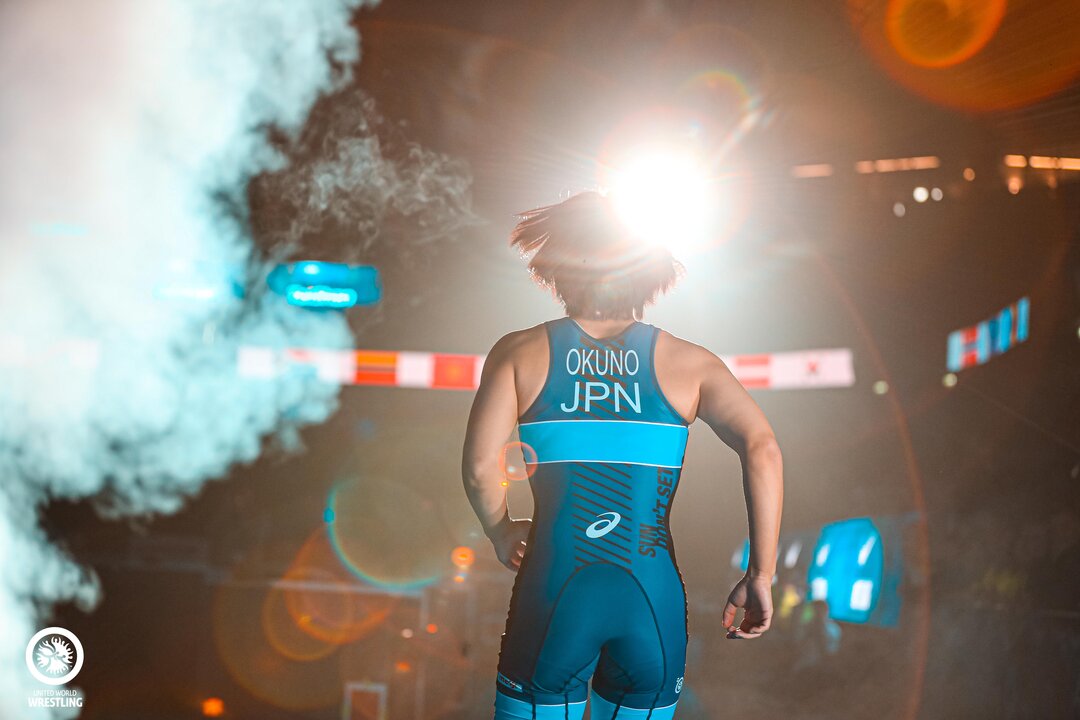 Haruno OKUNO was one of Japan's eight wrestlers who won a junior world title. (Photo: Kadir Caliskan)
Japan's second two-time senior world champ to win junior world gold last week was Haruno Okuno, who won the 53kg title. 
Okuno said she keeps all of her world title belts at her parent's 'house. Well, their house gained an additional world championship belt after their daughter claimed her fifth world title in as many tries. The reigning two-time senior-level world champion added her first junior world title to her list of accomplishments after expelling Anudari NANDINTSETSEG (MGL), 7-2 in the 53kg gold-medal bout. 
By watching Okuno's four matches, where she outscored her opponents 35-2, you would have never been able to tell that she was facing extreme neck pain on her right side. After her finals match, she talked about having to work on her counter offensive attacks because of her pain, saying "Now I feel neck pain, so I didn't try to (tackle). In this tournament, the counterattack was very nice for me." 
In her finals match, the always calm and stoic Okuno shot a low-level attack and picked up the early two-point lead. Her counter offense came into play when she stopped a Nandintsetseg attack and used a fluid arm-drag to a head outside single leg to pick up four points – improving her lead to 6-0. She then surrendered her first points of the tournament, an inactivity point and a stepout, but was awarded a brutality point after her Mongolian opponent was warned several times for hands-to-the-face. Okuno closed out her run to her first junior world title with a 7-2 victory. 
When asked if there's a difference between a junior world title and a senior world title, Okuno said, "There isn't difference between junior and senior because it means the same. It a world championship.  I'm always feeling very happy to (wrestle) against the world's wrestlers." 
Japanese Medal Winners: 
50kg - Yui SUSAKI (GOLD)
53kg - Haruna OKUNO (GOLD) 
55kg - Saki IGARASHI (BRONZE) 
57kg - Akie HANAI (GOLD)
59kg - Sae NANJO (GOLD)
62kg - Yuzuka INAGAKI (GOLD)
65kg - Miwa MORIKAWA (GOLD) 
69kg - Naruha MATSUYUKI (GOLD)
72kg - Yuka KAGAMI (GOLD)
76kg - Yasuha MATSUYUKI (BRONZE)
2. Kamal Wins Third Straight Junior World Title
Kerem KAMAL (TUR) will represent Turkey in Nur-Sultan in mid-September at the World Championships, but first, he made the journey to Estonia and claimed his third straight junior world title. 
Kamal held up three fingers to the crowd, signaling his possession of a third consecutive junior world title after he defeated Sahak HOVHANNISYAN (ARM), 7-2 in the 60kg gold-medal bout. "I'm very happy to win the third gold medal in the junior category. I was before in the cadet finals three times and I lost," said Kamal.  
In his gold-medal bout, the Turkish wrestler trailed after the first period, but he expected to be in that position. "The match plan was (to be) safe in the first (period)…Safety first." The second period was pivotal for Kamal in picking up his third world. After playing it safe in the first period, Kamal said, "In the second period, I go full power." That's exactly what he did. In the final three minutes, Kamal got to work quickly, smothering Hovhannisyan with a right-side gut wrench follow by a four-point lift from the right side and commanded the 7-1 lead. He conceded a second-period point but ended up carrying the Turkish flag around the mat at a World Championships for the third consecutive year with a 7-2 victory. 
Kamal's attention now shifts towards the Senior World Championships, where he'll be Turkey's 60kg world team representative. The new minted three-time junior world champ begins his quest to win a senior world gold on September 16.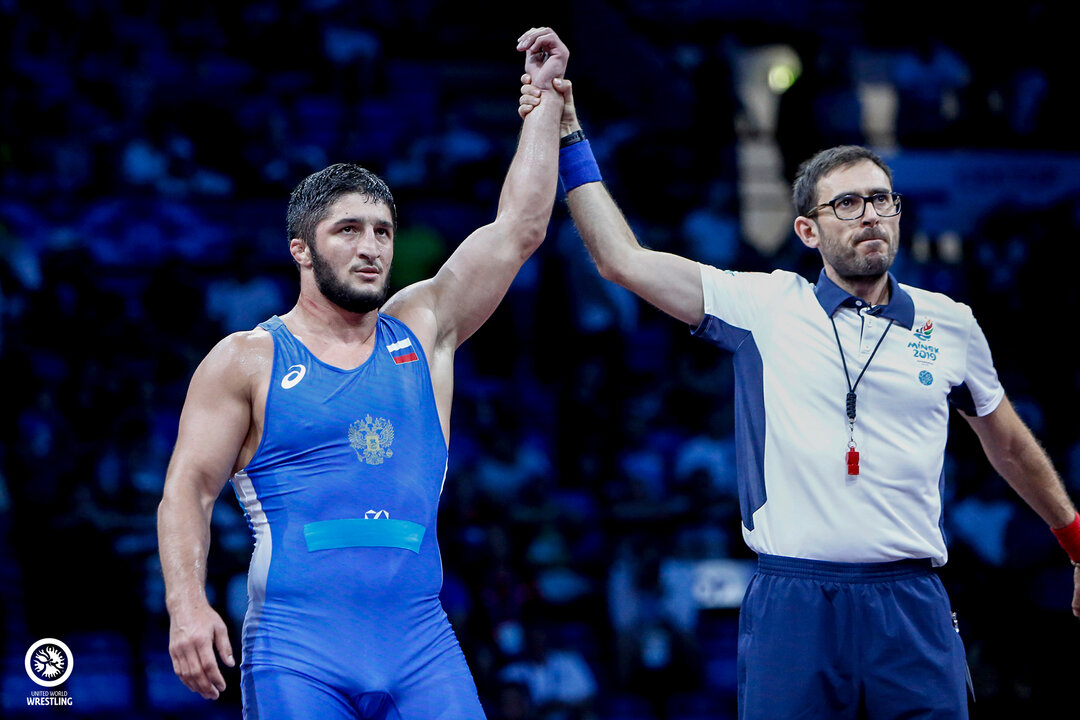 3. Russia's Freestyle World Team Set 
The final wrestle-offs for Russia's freestyle team took place last weekend, and a trio of world champions will be heading to Nur-Sultan looking to defend their world titles from last year's Budapest World Championships. 
The three world champs who hadn't locked up their spot until last weekend were Zaur UGUEV (57kg), Zaurbek SIDAKOV (74kg) and Abdulrashid SADULAEV (97kg).
At 57kg, defending world champion Zaur Uguev was excused from the Russian National Championships after a bronze-medal finish at the European Games. 
To make his third straight world team, Uguev had to take out Arian TYUTRIN ​​​​to earn his spot on the world team. There were questions surrounding Ugev's health coming into the match, but he clearly showed he's the best 57kg wrestler in the most dominant freestyle nation on earth with a 10-0 win in his wrestle-off. 
In the 74kg wrestle-offs, defending world and European Games champion Zaurbek Sidakov, who was also granted a release from the Russian National Championships, earned his spot on this year's team as he narrowly snuck got past 2016 world champion Magomed KURBANALIEV, 2-1. 
Four-time world and Olympic champion Abdulrashid Sadulaev was the final wrestler to cement his spot on the world team. The defending European champion and European Games gold medalist pulverized Vladislav BAITSAEV, 10-0 in their wrestle off. 
Sadualev's win last weekend leaves hope for the wrestling community to see the rematch between the three-time world and Olympic champions "The Russian Tank" and Kyle "Captain America" Snyder in the 97kg finals. 
Russia's Freestyle World Team: 
56kg – Zaur UGUEV 
61kg – Magomedrasul IDRISOV 
65kg – Gadzhimurad  RASHIDOV 
70kg – David BAEV
74kg – Zaurbek SIDAKOV
79kg – Gadzhi  NAVIEV
86kg – Artur NAIFONOV
92kg – Alikhan  JABRAILOV
97kg – Abdulrashid SADULAEV 
125kg – Anzor KHIZRIEV 
4. Dake Downs Dieinger in Two Straight Matches, Will Represent USA at 79kg 
Reigning 79kg world champion Kyle DAKE (USA) returned from injury and defeated Alex DIERINGER (USA) in two straight matches to make his second consecutive United States world team. Dake scored a tactical 3-2 victory in match one, then opened up a little in the second match and grabbed the 4-1 victory -- booking his ticket to the 2019 World Championships. 
Last year, in his World Championships debut, Dake outscored his opponents 37-0 en route to his first world title. After defeating Dierging in two straight matches last weekenk, Dake heads to Kazakhstan as the favorite to repeat in a weight depleted due to Olympic weight changes. 
USA's Freestyle World Team: 
57kg - Daton FIX 
61kg - Tyler GRAFF
65kg - Yianni DIAKOMIHALIS / Zain RETHERFORD
70kg - James GREEN 
74kg - Jordan BURROUGHS 
79kg - Kyle DAKE 
86kg - Pat DOWNEY 
92kg - J'den COX 
97kg - Kyle SNYDER 
125kg - NickGWIAZDOWSKI 
5. The Countdown Begins to the World Championships
We're officially under a month away from the start of the 2019 World Championships in Nur-Sultan, Kazakhstan. Today marks the 25th day until the first whistle at the Barys Arena in Kazakhstan's capital city formally known as Astana.
This year's World Championships will hold immense weight because the top-six wrestlers in each weight category will qualify their nation's spot for the 2020 Tokyo Olympic Games. 
The schedule for this year's Worlds is much different than that of the Budapest World Championships. Unlike last year, where Greco-Roman closed out the 2018 World Championships, Greco-Roman will instead kick things off this year -- beginning on September 14. Women's wrestling will be sandwiched in between Greco-Roman and freestyle -- starting on September 17. Finally, freestyle will close out the World Championships, with the potential third match-up between the three-time world and Olympic champions Abdulrashid Sadualev and Kyle Snyder squaring off the 97kg gold medal. The pair have split the last two world titles at 97kg, with Snyder winning in Paris and Sadualev exacting revenge in Budapest by picking up the 70-second fall. 
Here is the World Championships SCHEDULE.