Weekly FIVE! December 24, 2018
Monday, December 24, 2018 - 03:38 By Eric Olanowski
Reviewing the new Ranking Series point structure and tournament locations. Also taking a look at Icho's win over Kawai, the #UWWAwards, and the 2018 Greco-Roman World Clubs Cup. 
1. Wrestling Revamps Ranking Series System, Names 2019 Host Locations
The United World Wrestling Bureau has approved new regulations for the 2019 Ranking Series. The recommendations were brought forward by the Technical Commission at a meeting last week in Belgrade.
The most important changes to the 2019 Ranking Series centered around the allocation of points at world championships, continental championships, and Ranking Series events. The points were rebalanced to emphasize participation, and success, at the world and continental championships.
New worldwide rankings have been updated on the United World Wrestling website. The 2018 World Championships results are the basis of the rankings, as each year the world championships results will be the first points for the following year.
The seeding process for the World Championships and Olympic Games will now also include a field of the top four wrestlers in each weight category with lower seeded athletes bumping up, should one of the top four not participate in the world championships. The previous version of the world championships did not replace top seeds when they were absent of the competition.
Click HERE to see locations for the freestyle, Greco-Roman, and women's wrestling Ranking Series events.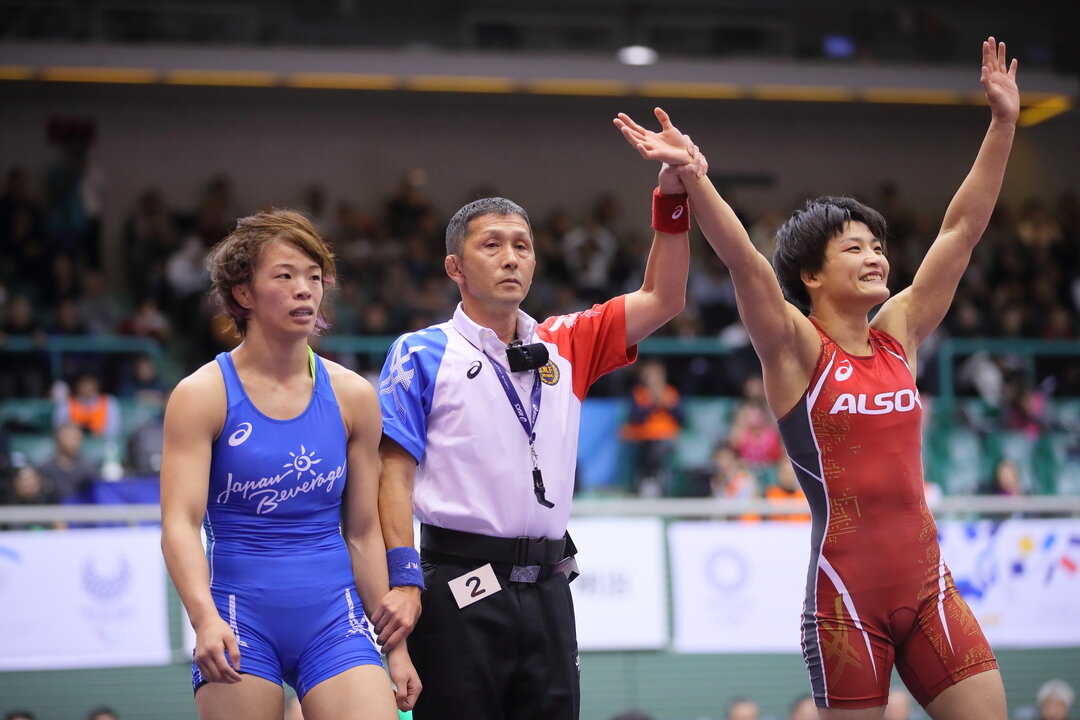 2. Icho Pulls Off Dramatic Win over Kawai to Move Step Closer to Shot at Olympic 5-peat
Adding another chapter to her bulging legend, Kaori ICHO pulled off a dramatic last-second victory over the new titan on the block, and moved a step closer to gaining a shot at winning a historic fifth Olympic gold medal in her home country.
Icho scored a takedown with 10 seconds left to clinch a 3-2 victory over fellow Rio 2016 Olympic champion Risako KAWAI in a nationally televised women's 57kg final that brought a close to the All-Japan Championships in Tokyo.
Icho's stunning victory came a day after Kawai, this year's world champion at 59kg, edged the four-time Olympic champion 2-1 in a preliminary round-robin group match, handing Icho her first loss to a Japanese opponent since 2001.
I knew it was going to be a tough match, but I'm happy I could pull it off," said Icho, who let out a short scream of joy and clenched her fists after the victory. "It's been awhile since I've felt this nervousness, so I thought to just try and stay relaxed."
The 34-year-old Icho won her first national title since 2015 and 13th overall dating back to 2002, despite spending more than two years away from the mat after winning the gold in Rio, which made her the first woman in Olympic history to win four straight titles in a single event.
She returned to competition in September as a prelude for the All-Japan Championships, also referred to as the Emperor's Cup and which was serving as the first stage in the qualifying process for the Tokyo 2020 Olympics.
Click HERE to read the full recap of the final day of wrestling at the Emperor's Cup. 
Day One: Emperor's Cup Wrap 
Day Two: Emperor's Cup Wrap 
Day Three: Emperor's Cup Wrap 
3. Bonne, Bacsi and Gray Named Comeback Athletes of the Year
United World Wrestling named Yowls BONNE-RODRIGUEZ (CUB), Peter BACSI (HUN), and Adeline GRAY (USA) the 2018 Comeback Athletes of the Year.
In freestyle, Cuba's Yowls Bonne-Rodriguez won his first world title just days before his 35th birthday. Bonne finally obtained the elusive world gold medal after three previous attempts, scoring come-from-behind wins in the quarterfinals and finals.
In the quarterfinals, Bonne trailed Iran's Mohammadbagher YAKHKESHI by two points with five seconds left when he hit a four-point inside trip and stole the match, 10-8.
Then, in the finals, Bonne trailed Russia's Gadzhimurad RASHIDOV  2-0 before scoring a massive five-point move, which ultimately catapulted him to the top of the podium with a 5-5 criteria win.
This was Bonne's third world medal, previously finishing up the 2014 and 2017 World Championships with bronze medals.
Peter Bacsi, the 35-year-old Hungarian, won his first world championship since 2014 earning himself this year's Greco-Roman Comeback Athlete of the Year.
Basci trailed Turkey's Emrah KUS 3-0 in the 82kg gold medal bout but scored four unanswered points to give the host nation their first and only gold medal of the Budapest World Championships.
The 2018 World Championships were rumored to be Bacsi's last, but after his surprise victory he didn't rule out the 2019 Astana World Championships, though he did confirm he will not be making a run for Hungary's 2020 Tokyo Olympic team.
Adeline Gray (USA) was named the women's wrestling Comeback Athlete of the Year after returning from a year absence to win her fourth world title.
The American's impressive road to her fourth world title went through reigning Olympic champion Erica WIEBE (CAN), and reigning world champion, Yasmin ADAR (TUR).
In the semifinals, Gray edged Wiebe, 3-1, and wrapped up the gold-medal bout early with a 13-1 win over Adar, winning the gold medal in a weight class that featured eight previous world champions.
4. Burroughs and Chamizo, Snyder and Sadulaev Headline Biggest Rivalries of the Year
United World Wrestling has named four of the Biggest Rivalries of the Year. There were two in freestyle, and one in Greco-Roman and women's wrestling.
The freestyle season saw more than one top-level rivalry, so a pair were selected for this category. The first freestyle rivalry selected was the 74kg showdown between Jordan BURROUGHS (USA) and Frank CHAMIZO (ITA), and the second was Abdulrashid SADULAEV (RUS) and Kyle SNYDER (USA).
Perhaps no weight category was more competitive in 2018 than women's wrestling's 76kg. Lead by reigning world champion, Yasmin ADAR (TUR), four-time world champion, Adeline GRAY (USA), and Rio Olympic champion, Erica WIEBE (CAN). It was the American Adeline Gray who prevailed and won her fourth world title.
In Greco-Roman, Kyrgyzstan's Akzhol MAKHMUDOV (KGZ) was looking for redemption coming into the Junior World Championships the American Kamal Ameer BEY (USA) was victorious in the 2017 junior world finals. Makhmudov dominated the bronze-medal bout at the Junior World Championships and picked up the 8-1 win.
5.  Iran Team Wins GR World Clubs Cup, Azizli & Kayaalp Remain Undefeated
Iran's Team Bimeh Razi Ardabil defeated Team Russia to capture 2018 Greco-Roman World Clubs Cup title in Ardabil city of Iran. 
The Iranian team, lifted by Eldaniz AZIZLI and Sergey SEMENOV, the pair of reigning world 2018 world champions, defeated Russia, 8-2 to claim the 2018 Greco-Roman World Clubs Cup team title. 
Azerbaijan's 55kg world champion Eldaniz Azizli gave Bimeh Razi their first win of the finals with a technical fall victory over Vitalii Kabaloev (RUS). 
Bimeh Razi added wins from Mehrdad MARDANI and Saman ABDEVALI (Bimeh) and took a three match lead into the 67kg matchup between Maksim SURKOV (RUS) df. Mohammad ELYASI (Bimeh). Surkov put Russia on the board with a 1-1 criteria win, and closed the scored to 3-1. Denis MURTAZIN (RUS) gave Russia their second and final win of the night with a 10-8 win over Boroumand ASLAN. 
Bimeh Razi closed out the gold-medal bout on a five match win steak, including two 5-0 shutout wins at 82kg and 87kg, and a fall from Russia's reigning 130kg world champion, Sergey Semenov, who was competing for the Iranian side. 
In the bronze medal match, Iran's Sina Sanat Izeh narrowly defated Turkey, 6-4. 
In the fifth-place match, Georgia defeated Iran's Shohadaye Modafe Haram, 6-4, while Ukraine beat Serbia, 8-2 in the seventh-place bout. 
Click HERE for full results of the final day of the 2018 Greco-Roman World Clubs Cup.
Day One: Greco-Roman World Clubs Cup Wrap 
Weekly FIVE! In Social Media 
1. REPOST: @usawrestling you don't wanna miss this one! 🔥🔥🔥@btslosangeles#wrestlelikeagirl
2. Over the next two weeks @unitedworldwrestling will share our most popular videos and photos from 2018. 
#FrankChamizo VS  #JordanBurroughs
📷 @beatthestreets 
В течении следующих двух недель мы будем делиться с вами лучшими публикациями 2018 года. 
#ФрэнкЧамизо VS  #ДжорданБарроуз
#thebestof2018
#лучшееиз2018
3. Over the next two weeks @unitedworldwrestling will share our most popular videos and photos from 2018. 
#DavidTaylor 📷 @kadircaliskan
В течении следующих двух недель мы будем делиться с вами лучшими публикациями 2018 года. 
#ДэвидТэйлор
#thebestof2018
#лучшееиз2018
4. Best photos of 2018 GR World Clubs Cup in Iran, Ardabil city.

Phtos by @alireza_akbari_62 
بهترین تصاویر از مسابقات کشتی فرنگی باشگاه های جهان در اردبیل
5. Check out the 2019 Ranking Series events! Link in stories!