Weekly FIVE! February 19, 2019
Monday, February 18, 2019 - 20:00 By Eric Olanowski
Previewing this weekend's Hungarian Grand Prix and reviewing results from the 25th Annual Klippan Lady Open. Also looking at Makhmudov's injury,  Ramonov's return, and Magomed Kurbanaliev opening up his sports school in Dagestan.
1. Hungarian Grand Prix Begins This Weekend 
Azerbaijan's reigning world champion Eldaniz AZIZLI headlines a Hungarian Grand Prix field of over 175 wrestlers from 25 different nations which boasts an impressive eight returning world medalists (listed in bold in below link).
Though they only enter three wrestlers, Azerbaijan has arguably the most successful team in the tournament. Their three entries are Azizli, Rasul CHUNAYEV, and Sabah SHARIATI. 
Azizli is coming off a run to his first world title and is the No. 1 ranked wrestler in the world at 55kg, while Chunayev and Shariati both hold Rio Olympic bronze medals. 
Chunayev, who's 25 points is good enough for the No. 4-ranking in the world at 72kg has three world medals to go along with his Rio bronze-medal finish. In 2015, he won the world title and grabbed bronze medals at the 2014 and 2018 world championships.
The last Azeri entry is Sabah Shariati, who will be making his 2019 season debut at 130kg. 
Korea and Serbia are two other nations that enter stacked squads into the second Ranking Series event of the year.
Korea's team features Olympic champion KIM Hyeonwoo, two-time world champion RYU Hansu, and reigning 130kg world bronze medalist KIM Minseok. 
Kim Hyeonwoo brings 25 Ranking Series points into the Hungarian Grand Prix and is ranked third in the world after a bronze-medal finish at last weekend's Zagreb Open. 
Kim Minseok, the fifth-ranked wrestler in the world at 130kg, is looking to bounce back after failing to medal at the Zagreb Open, and two-time world champion Ryu Hansu will make his season debut at 67kg. 
Viktor NEMES, the 2017 world champion and reigning world bronze medalist Mihail KAJALA lead Serbia's team into the second Ranking Series event of the year. Both wrestlers are ranked fourth in the world at 77kg and 97kg respectively. 
The Hungarian Grand Prix begins on February 23 at the Olimpiai Sportpark in Gyor, Hungary.
Click here for full list of entries. 
Schedule 
Friday (February 22) 
Till 12:00 - Final entries for GR cat. 55, 63, 72, 82, 97 kg
15:00 - Referee meeting
16:00 - Technical conference – all teams 
17:00 - Draw – GR cat. 55, 63, 72, 82, 97 kg

Saturday (February 23) 
08:00 - Medical examination & Weigh-in for GR cat. 55, 63, 72, 82, 97kg
10:00 - Qualification rounds and repechage for GR cat. 55, 63, 72, 82, 97kg
Till 12:00 - Final entries/ Inscriptions définitives pour GR cat. 60, 67, 77, 87, 130kg
16:30 - Draw – GR cat. 60, 67, 77, 87, 130kg
17:00 - Opening Ceremony 
18:00 - Finals for GR cat. 55, 63, 72, 82, 97kg Award ceremonies 
Sunday (February 24) 
8.30- Medical examination & Weigh-in for GR cat. 60, 67, 77, 87, 130kg
10.00 - Qualification rounds and repechage for GR cat. 60, 67, 77, 87, 130kg
16.00 - Finals for GR cat. 60, 67, 77, 87, 130kg and Award ceremonies
Monday (February 25) 
Departure of the delegations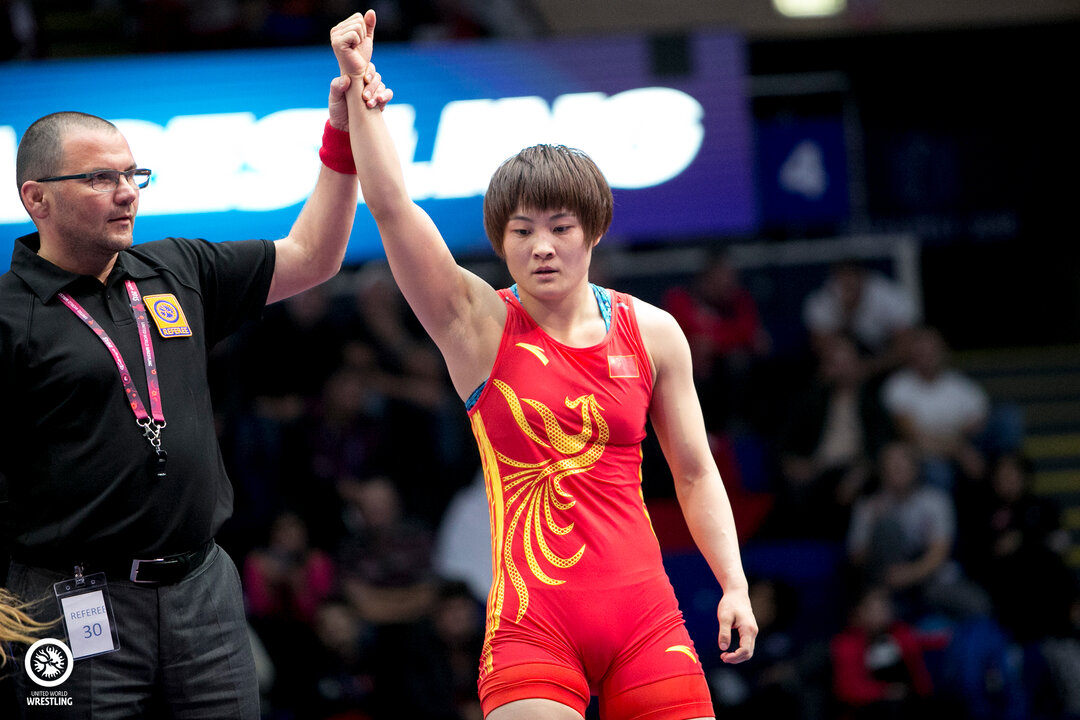 China's reigning world champion NINGNING Rong grabbed her first Klippan Lady Open title. (Photo: Martin Gábor )
2. China Wins Four Golds at 25th Annual Klippan Lady Open 
The 25th Annual Klippan Lady Open, one of the oldest all women's wrestling tournaments in the world, took place in Sweden last weekend and four different nations had wrestlers claim a gold medal, but it was China who led the way with a quartet of gold medalists. 
China's 2018 world champion Rong NINGNING and Rio Olympic bronze medalist YANAN Sun (CHN) were the leaders of the Chinese squad that had four champions. 
Rong, who made her first Klippan Lady Open appearance, won the 57kg gold medal, while Sun improved on her 2015 fifth-place finish by winning the 50kg title. 
The other two Chinese champions were FENG Zhou (CHN) and JUAN Wang (CHN). The pair won the 68kg and 76kg championships respectively. 
The host nation of Sweden finished with the second most gold medalists, grabbing a trio of titles. 
Jenny FRANSSON, Sweden's 2016 Rio bronze medalist, won her second consecutive 72kg Klippan Lady Open title and third overall while making her tenth Lady Open appearance. 
The other two Swedish wrestlers who won gold medals were Moa NYGREN (SWE) Henna JOHANSSON (SWE). 
Nygren, who was wrestling in her fifth Klippan Lady Open had never placed higher than eight before winning the 62kg title on Sunday. 
Johansson finally got over the hump and claimed a Klippan Lady Open title after nine previous attempts. 
Japan grabbed two titles and Russia rounded out the winners with a solo gold medalist.
Umi IMAI (JPN) and Sena NAGAMOTO (JPN) won the 53kg and 55kg gold medals respectively, while Russia's Svetlana LIPATOVA (RUS) won the last gold medal, which came at 59kg. 
50kg 
GOLD - YANAN Sun (CHN) 
SILVER -  Remina YOSHIMOTO (JPN)
BRONZE - Nadezhda SOKOLOVA (RUS) 
BRONZE -  Iwona MATKOWSKA (POL)
53kg 
GOLD -  Umi IMAI (JPN)
SILVER -  QIANYU Pang CHN)
BRONZE - Annika WENDLE (GER) 
BRONZE - Ekaterina POLESHCHUK (RUS)
55kg 
GOLD - Sena NAGAMOTO (JPN) 
SILVER -  Vanesa KALADZINSKAYA (BLR) 
BRONZE - Diana WEICKER (CAN) 
BRONZE -  Marina SIMONYAN (RUS)
57kg 
GOLD - NINGNING Rong (CHN)
SILVER -  Iryna KURACHKINA (BLR) 
BRONZE - Roksana ZASINA (POL)
BRONZE -  Ramóna GALAMBOS (HUN)
59kg 
GOLD - Svetlana LIPATOVA (RUS) 
SILVER -  Pei XINGRU (CHN)
BRONZE - Lauren LOUIVE (USA) 
BRONZE - Emma JOHANSSON (SWE)
62kg
GOLD - Moa NYGREN (SWE)
SILVER -   Jessica BROUILLETTE (CAN)
BRONZE - Veranika IVANOVA (BLR) 
BRONZE -  JUAN Kang (CHN)
65kg
GOLD -  Henna JOHANSSON (SWE)
SILVER -   Gabriella SLEISZ (HUN)
BRONZE - Kriszta INCZE (ROM)
BRONZE - Naomi RUIKE (JPN)
68kg (One bronze) 
GOLD - FENG Zhou (CHN)
SILVER -  Natalia KHRAMENKOVA (RUS) 
BRONZE - Alena SUKHAREVA (RUS)
72kg 
GOLD -  Jenny FRANSSON (SWE) 
SILVER -  CHUCHU Yan (CHN)
BRONZE - Yuka KAGAMI (JPN)
BRONZE - Tatiana KOLENIKOVA (RUS)
76kg 
GOLD - JUAN Wang (CHN)
SILVER -   Epp MAE (EST) 
BRONZE - Masako FURUICHI (JPN) 
BRONZE -  Francy RADELT (GER)
3. Kyrgyzstan's Makhumdov to miss Two Months
The future of Kyrgyzstani Greco-Roman wrestling Akzhol MAKHMUDOV (KGZ) is set to have surgery to repair torn ligaments in his left knee and is expecting to miss at least two months. 
Makhmudov told United World Wrestling that he will depart Kyrgyzstan on February 18 and will travel to Germany where he'll have surgery February 20. 
The 19-year-old expects to return to the mat in mid-April and projects that he'll compete at the September's Astana World Championships, which are seven months away. 
If you're not familiar with Makhmudov, he's the three-time age-level Greco-Roman world medalist who introduced himself to the senior level by forging an 8-6 win over Paris 2017 world silver medalist Demeu ZHADRAYEV (KAZ) in the 72kg Asian finals. That match, which took place in Bishkek Kyrgyzstan's Kozhomkul Sports Palace, was voted United World Wrestling's Greco-Roman Match of the Year. 
In his memorable post-match interview, Makhmudov thanked the Kyrgyzstani fans for their support, saying, "When I heard it, I thought, 'I can die here on the floor, but I will still win. This win will be for them.'"
4. Olympic Champion Ramonov Returns After Three-Month Layoff 
Rio Olympic champion Soslan RAMONOV (RUS) returned to the mat for the first time since undergoing spinal surgery in early November to correct a back issue that has long troubled him. 
Ramonov told United World Wrestling, "I've returned to the mat. I'm going to wrestle at the Russian National Championships and possibly the World Championships." (The dates for this year's Russian National Championships have not been announced, but they're usually one month before the World Championships so we can expect them to be in late July or early August.)  
Last November, Ramonov told UWW, "It's true that I had an operation on my back, but I've already got back to work and started physical therapy. I expect to return to the mat in January, and hopefully enter a tournament at 65kg closer to the fall." 
Ramonov's November announcement that he's dropping back down to 65kg should raise eyebrows of wrestling fans around the world because the Russian was arguably the most dominant wrestler in the world during his run to the 65kg Rio Olympic gold medal. On that run, he outscored his Olympic opponents 53-11 and thumped the returning Olympic champion Toghrul ASGAROV (AZE) 11-0 in the gold-medal bout.
But, since his title-winning performance in Rio, Ramonov hasn't been the same and a big reason is that he bumped up to 70kg. While up at 70kg, Ramonov has failed to make it back on the Russian world team in back-to-back years after earning medals at three consecutive World Championships and Olympic Games. 
For a healthy Ramonov to represent Russia in Astana, he'll have to make a run in one of the countries deepest weight classes. The 65kg weight class in Russia houses returning 65kg world bronze medalist Akhmed Chakaev (RUS), returning two-time 61kg world runner-up Gazhimurad RASHIDOV (RUS) and Yariguin runner-up Nachyin KUULAR. 
5. Kurbanaliev Opens Up Wrestling School in Dagestan  
Russia's 2016 world champion Magomed KURBANALIEV recently opened the doors to his namesake sports facility, the Kurbanaliev Sports School, which is "located high in the mountains of Dagestan, in the village of Bezhta that's in the Tsunta district." 
"This sports school is located in my small homeland, where I was born and raised," said Kurbanaliev. 
The reigning European champion went further, saying he aspired to open the school because "We did not have the right conditions for normal training, and there was only a small room and a mat. Our youth had no place to train, and I understand them." 
In addition to freestyle wrestling, the Kurbanaliev Sports School will also be a practice facility for students training boxing, sambo, and volleyball. 
The gym is currently open for wrestling practices, but Kurbanaliev won't officially celebrate the grand opening until the summer. "The official opening will take place in the summer, and now training has begun in various sports." 
For more information about the Kurbanaliev Sports School, please visit the school's official Instagram account. 
Weekly FIVE! In Social Media 
1. Big Move Monday -- Rəsul Çunayev (AZE) -- 2018 Dan Kolov
2. Sunday Smiles 😃. 📸: Lu Marin
3. #ScoreThat - Who do you think scored on this exchange? Was it red or was it blue? (Find out by watching the full match, which is linked in our bio).
4. We traveled to Puerto Rico with members of the USA Women's national team as they took part in a 10-day training camp on the island. Video: Lu Marin @ Lu Marin Creative
5. Four days until the #HungarianGP2019 .