Weekly FIVE! January 28, 2019
Monday, January 28, 2019 - 16:51 By Eric Olanowski
Reviewing the Ivan Yariguin and the Dave Schultz Memorial. Also looking at Punia's win over Aliyev and the first Greco-Roman Ranking Series event of the season. 
 
1. Russia Sweeps Freestyle Competition at Ivan Yariguin 
The stars more than aligned for the Russian Federation as they erupted for an impressive ten out of ten freestyle gold medals at the first Ranking Series even of the year, the Ivan Yariguin, and won the team title 118 points ahead of second place Mongolia. 
The region of Dagestan led the way to a mind-blowing seven gold medalists. Anzor KHIZRIEV (125kg) and Muslim SADULAEV (57kg) handed Chechnya their pair of gold medals while reigning world champion Zaurbek SIDAKOV gave Ossetia the remaining gold medal. 
Outside of Russia's dominating performance, one of the biggest storylines came at 97kg when two-time world champion and Rio Olympic gold medalist Kyle SNYDER (USA) failed to medal. Snyder was upset by Rasul MAGOMEDOV (RUS), 6-5 in the opening round, and was knocked out of the tournament after Magomedov lost to Mongolia's ULZIISAIKHAN Batzul in the quarterfinals. 
Final Wraps 
Day One 
Day Two 
Day Three 
Day Four 
Team Scores
GOLD - Russia (250 points)
SILVER - Mongolia (118 points) 
BRONZE - Turkey (83 points) 
FOURTH - United States (64 points) 
FIFTH - China (53 points)
FINALS RESULTS 
57kg - Muslim SADULAEV (RUS) df. Abasgadzhi MAGOMEDOV (RUS), 4-4 
61kg - Magomedrasul IDRISOV (RUS) df. Nikolai OKHLOPKOV (ROU), 7-0 
65kg - Akhmed CHAKAEV (RUS) df. Nachyn KUULAR (RUS), 2-1 
70kg - Magomedrasul GAZIMAGOMEDOV (RUS) df. Mandakhnaran GANZORIG (MGL), 10-0 
74kg - Zaurbek SIDAKOV (RUS) df. Yakup GOR (TUR), 5-4 
79kg - Akhmed GADZHIMAGOMEDOV (RUS) df. Magomed RAMAZANOV (RUS), 6-2 
86kg - Dauren KURUGLIEV (RUS) df. Fatih ERDIN (TUR), 12-1 
92kg - Magomed KURBANOV (RUS) df. BAASANTSOGT Ulziisaikhan (MGL), 13-2 (Round 4) 
97kg - Shamil MUSAEV (RUS) df. Aliaksandr HUSHTYN (BLR), 11-9 
125kg - Anzor KHIZRIEV (RUS) df. Taha AKGUL (TUR), 7-3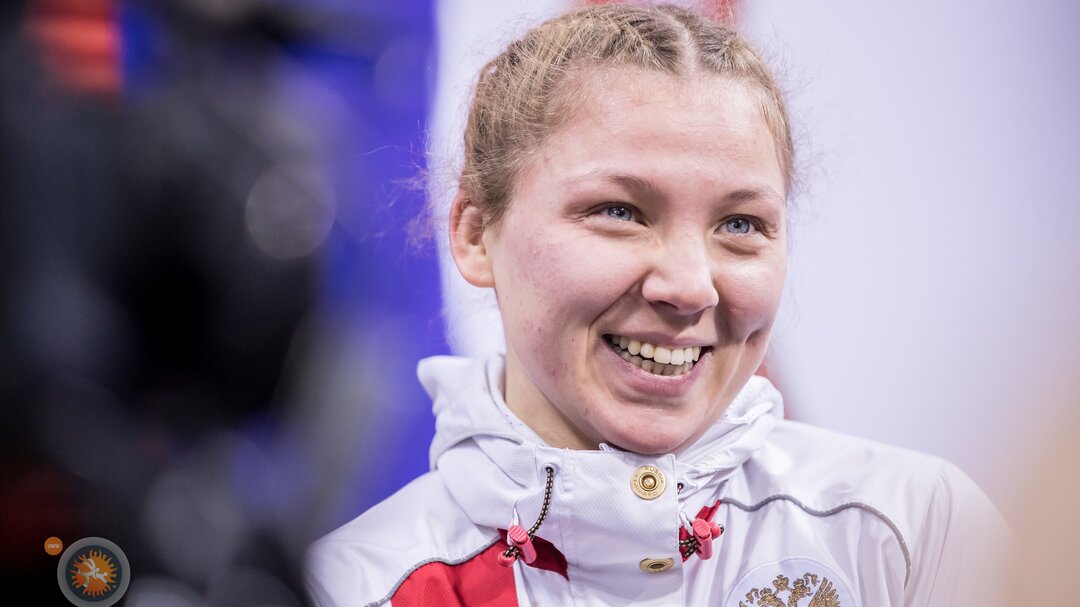 Viktoriia VAULINA (55kg) smiles on her way to recieve her 55kg gold medal (Phot: Sachiko Hotaka) 
2. Russian Women Claim Three Golds, Yariguin Team Title 
The host nation Russia matched their freestyle countrymen's performance at the Ivan Yariguin and also claimed the women's wrestling team title,  finishing 38 points ahead of second place Mongolia. 
Russian, along with Japan finished with a trio of women's wrestling champions, while Mongolia and the United States had a pair of gold medalists. 
Arguably, the most notable storyline from women's wrestling came from the United States' Tamyra MENSAH-STOCK (USA), who scored a first-period fall over Japan's Yuka KAGAMI (JPN) in the 72kg gold-medal bout and became the first American wrestler across any division to win three Yariguin titles. 
Final Wraps 
Day One 
Day Two 
Day Three 
Day Four 
FINALS RESULTS 
50kg - Kika KAGATA (JPN) df. Anzhelika VETOSHKINA (RUS), 10-0 
53kg - Sarah Ann HILDEBRANDT (USA) df. Natalia MALYSHEVA (RUS), 6-4 
55kg - Viktoriia VAULINA (RUS) df. Nao TANIYAMA (JPN), 7-0 
57kg - Tserenchimed SUKHEE (MGL) df. Olga KHOROSHAVTSEVA (RUS), 10-5 
59kg - Yuzuka INAGAKI (JPN) df. Svetlana LIPATOVA (RUS), 4-3 
63kg - Anzhela FOMENKO (RUS) df. Anna SHCHERBAKOVA (RUS), inj. def. 
65kg - Mariia KUZNETSOVA (RUS) df. Misuzu ENOMOTO (JPN), 11-4 
68kg - SORONZONBOLD Battsetseg (MGL) df. Davaanasan ENKH AMAR (MGL), 4-0 
72kg - Tamyra Mariama MENSAH (USA) df. Yuka KAGAMI (JPN), 4-0 
76kg - Hiroe MINAGAWA SUZUKI (JPN) df. Vasilisa MARZALIUK (BLR), 3-1 
Team Scores
GOLD - Russia (191 points)
SILVER - Mongolia (153 points) 
BRONZE - Japan (145 points) 
FOURTH - United States (79 points) 
FIFTH - Uzbekistan (57 points)
3. Punia Knocks Off Three-Time World Champion Aliyev 
India's 2018 world runner-up Bajrang PUNIA (IND) knocked off three-time world champion Haji ALIYEV (AZE), 8-6 in the India Pro League as returning PWL champions NCR Punjab Royals prevailed over M.P Yodah.  
The Indian wrestler was the aggressor in the opening period and grabbed an activity point and a takedown and commanded the 3-0 lead before Aliyev returned the favor and grabbed a takedown of his own. Punia led 3-2 with less than a minute until the break. Punia increased his lead to three points with a head-inside single and took the 5-2 lead into the final three minutes.  
In the second period, it was Aliyev who scored first, transitioning from a double to a single leg and converted the attack into two points, yet Punia still led 5-4. The pair traded takedowns, but the Indian wrestler controlled the 7-6 advantage with 50 seconds left. Punia received a point after the Azeri clearly pulled his singlet, and closed out the match with an 8-6 victory. 
Click here to watch Punia defeat Aliyev in the Indian Pro League.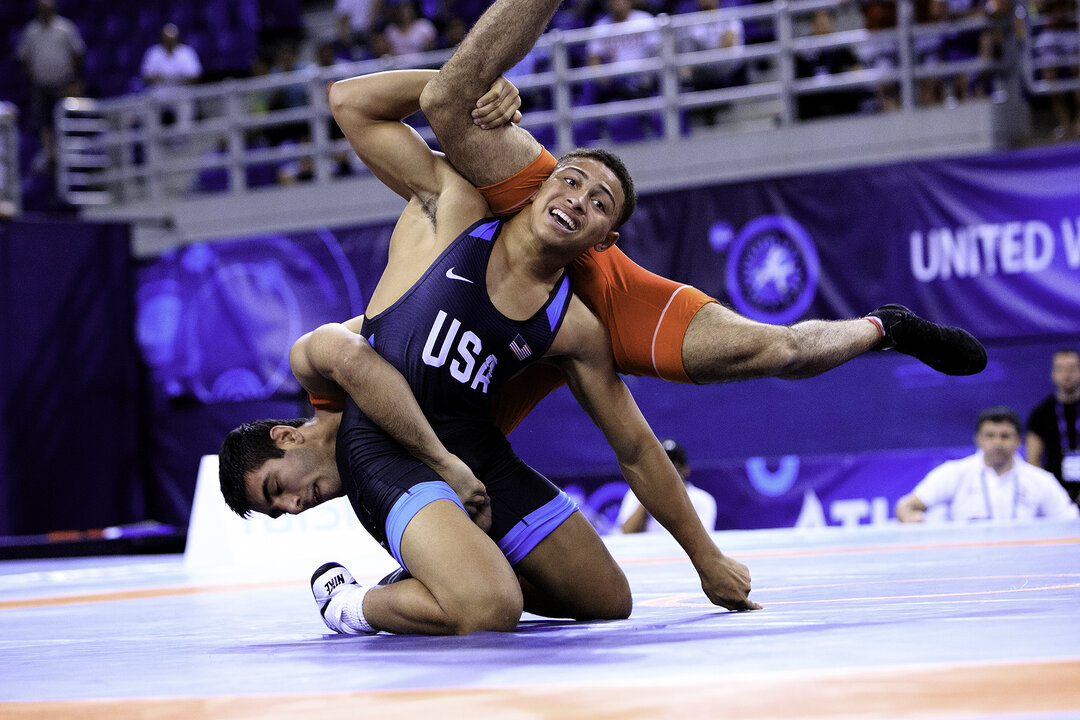 Aaron BROOKS (USA), 2017 cadet world champion, won the 79kg gold medal at the Dave Schultz, which was his first senior-level competition. (Photo: Max Rose-Fyne) 
4. Dave Schultz Concludes in Colorado Springs 
The Dave Schultz Memorial wrapped up in Colorado Springs, Co, USA, and the United States won nine of the ten gold medals. Moldova's Anatolii BURUIAN was the lone non-American gold medalist. 
Of the eight American champions, two U23 world medalists and an age-level world champion were among the victors. 
Aaron BROOKS (USA), the 2017 cadet world champion and 2018 junior world finalist, captured the 79kg gold medal with a dominating 13-0 victory over Nathan JACKSON (USA) to win his first senior-level tournament. 
Richard LEWIS (USA), the 2017 U23 world champion at 70kg scored a 10-0 technical superiority win over Dan VALLIMONT (USA) in the 74kg finalists, while Ty WALZ (USA), the 2017 U23 world bronze medalist, scored the 11-0 shutout win over Blaize CABELL (USA) to win the 97kg title.
Another interesting note, Frank MOLINARO (USA), the 2016 Olympian,  returned to individual competition for the third time since falling to Frank CHAMIZO (ITA) in the bronze-medal bout at the Rio Olympic Games. Molinaro beat Brandon SORENSEN (USA), 3-1 and claimed the 70kg gold medal. 
Final results
57kg - Anatolii BURUIAN (MDA) df. Steven TAKAHASHI (CAN), 14-4
61kg - Cody BREWER (USA) df. Samat NADYRBEK UULU (KGZ), 10-0
65 kg - Bernard FUTRELL (USA) df. Evan HENDERSON (USA), 10-0
70 kg - Frank MOLINARO (USA) df. Brandon SORENSEN (USA), 3-1
74 kg - Richie LEWIS (USA) df. Dan VALLIMONT (USA), 10-0
79 kg - Aaron BROOKS (USA) df. Nathan JACKSON (USA), 13-0
86 kg - Pat DOWNEY (USA) df.  Kenneth COURTS (USA), 12-2
92 kg - Timothy DUDLEY (USA) df. Scottie BOYKIN (USA), 8-6
97 kg - Ty WALZ (USA) df. Blaize CABELL (USA), 11-0
125 kg - Michael KOSOY (USA) df. Jere HEINO (FIN), 10-0