Weekly FIVE! July 16, 2019
Tuesday, July 16, 2019 - 14:30 By Eric Olanowski
Discussing the four No. 1 seeds that changed hands at the Yasar Dogu, Japan's wrestle-offs, and Wiebe's hot streak. Also looking at results from the Junior Asian Championships and next week's Oleg Karavaev. 
1. Four No. 1 Seeds Change Hands After Yasar Dogu 
Four No.1 seeds changed hands after the final Ranking Series event of the year, the Yasar Dogu, that wrapped up last weekend in Istanbul, Turkey.
Frank CHAMIZO (ITA) and Kyle SNYDER (USA) gained the top spots in freestyle at 74kg and 97kg, respectively, while the Turkish one-two punch of Buse TOSUN (TUR) and Yasemin ADAR (TUR) now control the top seed at 72kg and 76kg, respectively. 
Frank Chamizo, a two-time world champion, came into the Yasar Dogu four points behind reigning world champion Zaurbek SIDAKOV (RUS) but passed the Russian with a runner-up finish in Istanbul. His potential semifinal opponent will be Budapest world runner-up Avtandil KENTCHADZE, who is ranked fourth at 74kg. 
Kyle Snyder sat two points behind rival Abdulrashid SADUALEV (RUS), but grabbed a gold medal last weekend in Turkey and slid ahead of "The Russian Tank" for the top spot at 97kg. 
Buse Tosun was nine points behind reigning world champion Justina DI STASIO (CAN), but collected 14 Ranking Series points, and will be the No. 1 ranked wrestler in the world at 72kg. 
Yasemin Adar leaped last year's world champion Adeline GRAY (USA) for the top spot at 76kg after finished in third place at the Yasar Dogu. Adar will take on Rio Olympic champion and fourth-seeded Erica WIEBE (CAN) in the semifinals if both wrestlers remain undefeated until that point in Nur-Sultan.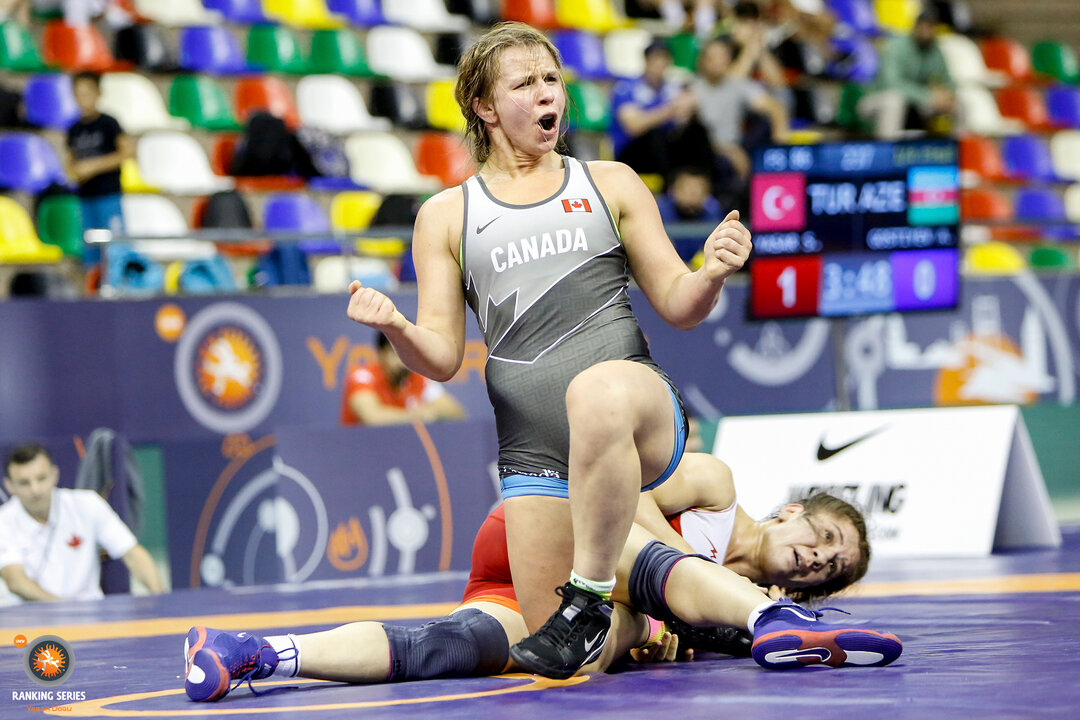 Erica WIEBE (CAN) defeated world champion Yasemin ADAR (TUR) en route to her Yasar Dogu title. (Photo: Gabor Martin)
2. Wiebe Upends World or Olympic Champion at Third Consecutive Tournament
Canada's Olympic champion Erica Wiebe defeated 2017 world champion Yasemin Adar and extended her streak to three consecutive tournaments where she's defeated a world or Olympic champion. Wiebe, the Rio Olympic champion, "upset" now-top-ranked Yasemin Adar, 6-2 in the Yasar Dogu quarterfinals and kept her winning streak over a world or Olympic champion alive.
In the Sassari City Tournament, Wiebe stuck Olympic champion Natalia VOROBIEVA (RUS) in the opening period, then followed that up with a victory over reigning world champion Justina Di Stasio to win the Canada Cup title three weeks ago.
After her quarterfinals win against Adar at this Yasar Dogu, Wiebe defeated No. 2-ranked Aline ROTTER FOCKEN (GER) before closing out the gold-medal bout with a 2-1 victory over Aline DA SILVA FERREIRA (BRA). 
The Canadian earned the fourth seed at the World Championships and could meet Yasemin Adar again in the semifinals if the seeds hold true in Nur-Sultan.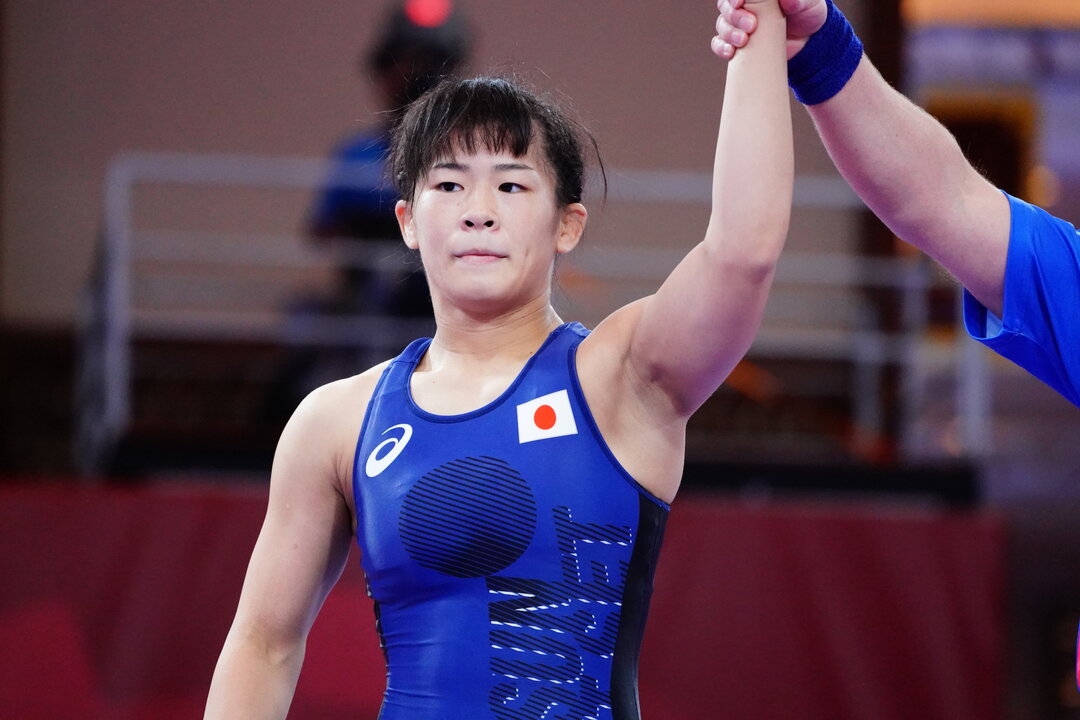 Haruna OKUNO (JPN) will wrestle in a special wrestle-off at 55kg. (Photo: Sachiko Hotaka)
3. Okuno, Ota Enter Japan World Team Playoffs in Non-Olympic Weights
World champion Haruna OKUNO and Rio 2016 Olympic silver medalist Shinobu OTA, who missed out on places on Japan's team to this year's World Championships in Olympic weight classes, have entered the playoffs for spots in non-Olympic divisions, the Japan Wrestling Federation announced on its website.
Okuno, the world champion last year in Budapest at 53kg, will move up to 55kg---the same weight class she won a world gold at Paris 2017. Okuno was defeated in the Japan team qualifying at 53kg by Mayu Mukaida, the world champion at 55kg who dropped down to the Olympic weight.
Likewise, Asian champion Ota failed to displace 2017 world champion Kenichiro FUMITA at Greco-Roman 60kg, and will now try to make the team at 63kg in the non-Olympic weight playoffs, to be held July 21 at the National Training Center in Tokyo.
Click HERE to see Ken Marantz' full breakdown.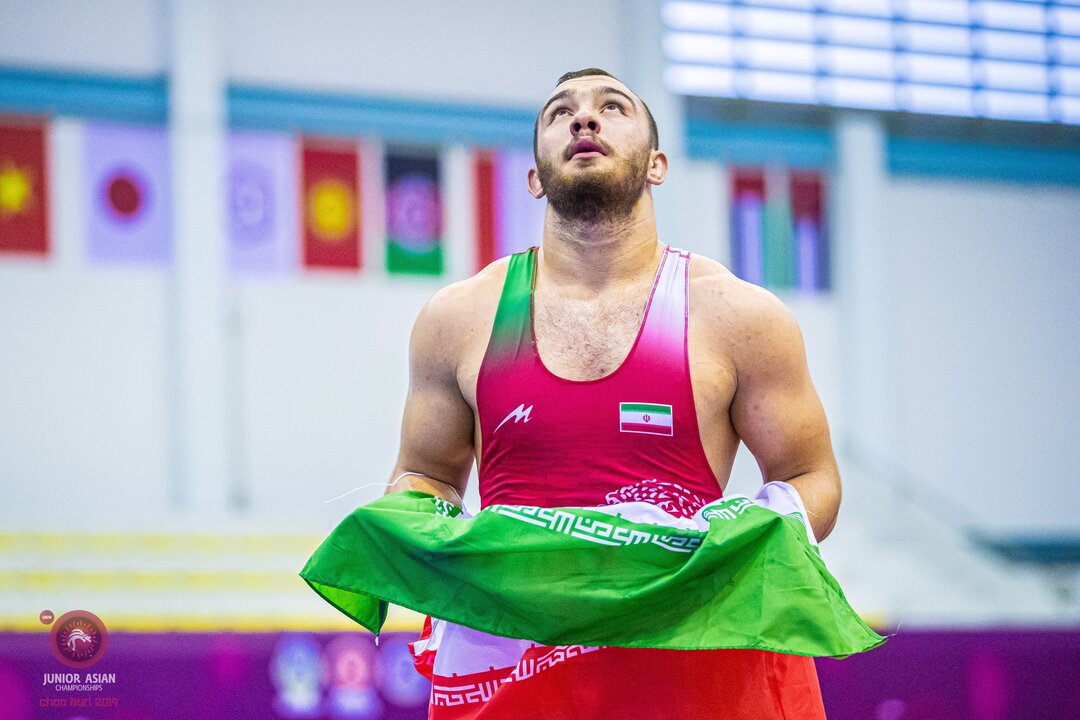 Amir Hossein Abbas ZARE (IRI) was one of six Iranian freestyle wrestlers who reached the top of the podium at the Junior Asian Championships in Chon Buri, Thailand. (Photo: Sachiko Hotaka)
4. Junior Asian Championships Closeout in Chon Buri 
The Junior Asian Championships closed out in Chon Buri, Thailand, and the three-team titles went to Iran in freestyle and Greco-Roman, and Japan in women's wrestling. 
In freestyle, for the second straight day, Iran won three gold medals, bringing the gold medal haul to six over the two-day freestyle competition. Iran finished with 201 points, 55 points ahead of runner-up Japan. India finished third in the team standings with 129 points.
Iran capped off a dominant performance in Greco-Roman by claiming four more gold medals, bringing their total gold-medal haul in Greco-Roman to seven over two days. 
Iran finished the Greco-Roman competition with 218 points, which was enough to win the team title by 72 points over runner-up Kazakhstan. India finished third in the team standings, one point behind Kazakhstan.
Japan finished the women's wrestling competition with 200 points and earned medals in all ten weight categories. The medal haul included four gold medals, two silver medals, and four bronze medals. China finished second in the team standings with 157 points, while India was third with 123 points.
Belarus' returning world bronze medalist Viktar SASUNOUSKI will be looking for his third Oleg Karavaev title. (Photo: Gabor Martin)
5. Oleg Karavaev Begins Next Friday
The regular season closes out next week with the final Greco-Roman Ranking Series event, the Oleg Karavaev. The two-day tournament, which will be held in Minsk, Belarus, begins on July 26 and can be followed live on www.unitedworldwrestling.org. 
Though they are not official until 24 hours before the tournament begins, the entries for the Oleg Karavaev currently feature nearly 175 wrestlers from 19 different nations. Those entries are scheduled to be released later this week.