Weekly FIVE! June 11, 2019
Tuesday, June 11, 2019 - 13:06 By Eric Olanowski
Discussing Final X results plus Russia and the USA sweeping their continental c'ships. Also looking at the newest set of world rankings and Russia's European Games roster. 
1. First Set of Final X Matches Wrap up in New Jersey 
The United States wrapped up the first of two Nur-Sultan World Team selection tournaments, dubbed "Final X," last weekend on the campus of Rutgers University. Nearly 5,400 fans were in attendance on Saturday to watch the 14 wrestlers who punched their ticket to the 2019 World Championships. 
The biggest storyline wasn't reigning world J'den COX or two-time world bronze medalist Gable STEVESON sweeping their opponents, or David TAYLOR forfeiting his Nur-Sultan spot to Pat DOWNEY. What caused the most chatter at Final X was the 65kg matchup between USA's 2017 world team member Zain RETHERFORD and Yianni DIAKOMIHALIS, who is coming off a win over No. 1-ranked Bajrang PUNIA (IND). 
Retherford won the first match, 10-4, and also won the second match, but that match is currently under protest. 
Diakomihalis, clearly unhappy with the timing of a late challenge that awarded Zain the second match on criteria, announced on his twitter that he's protesting the match, saying, "Currently protesting the call to potentially have a wrestle-off to decide match 3/who wrestles at the world championships."
The controversial moment of the match came with 65 seconds left in the second match. 
Retherford, trailing 6-4, shot a head outside single and got chest wrapped. Two points were awarded to each wrestler, which meant Diakomihalis controlled the 8-6 advantage and tied the series at one match apiece. But, after the final scramble that lasted over a minute, Retherford's corner, manned by Olympic champion Cael SANDERSON, threw the brick to review the two-and-two. Ultimately, the call was overturned and instead of awarding both wrestlers two, Diakomihalis' two was erased, giving Retherford the 6-6 victory on criteria. 
It's not clear if Diakomihalis will be awarded the third match, but if he does, the winner of that rubber match will punch their ticket to the 2019 Nur-Sultan World Championships. 
The second and final set of matchups will take place this Saturday on the campus of the University of Nebraska. 
RESULTS 

Men's freestyle
65kg - Zain RETHERFORD df. Yianni DIAKOMIHALIS, two matches to none (10-4, 6-6) 
86kg - Pat DOWNEY df. David TAYLOR, two matches to none (injury default) 
92kg - J'den COX df. Bo NICKAL, two matches to none (4-2, 5-0) 
125kg - Nick GWIAZDOWSKI df. Gable STEVESON, two matches to none (4-4, 3-3) 
Women's freestyle
50kg - Whitney CONDER df. Victoria ANTHONY, two matches to none (7-4, fall) 
57kg - Jenna BURKERT df.  Becka LEATHERS, two matches to none (4-2, 5-0)
65kg - Forrest MOLINARI df.  Maya NELSON, two matches to one (3-5, 12-2, 4-1) 
68kg - Tamyra MENSAH-STOCK df. Alexandria GLAUDE, two matches to none (fall, 10-0) 
72kg - Victoria FRANSIS df.  Alyvia FISKE, two matches to none (7-2, fall) 
Greco-Roman
55kg - Max NOWRY df. Brady KOONTZ, two matches to none (3-0, 11-5)
67kg - Ellis Coleman df.  Jamel Johnson, two matches to none (9-1, 6-0)
77kg - Pat SMITH df. Kamal BEY, two matches to one (2-11, 2-1, 6-3)
82kg - John STEFANOWICZ df. Kendrick SANDERS, two matches to none (8-5, 3-2) 
87kg - Joe RAU df. Ben PROVISIOR, 2 two matches to none (2-1, 5-1)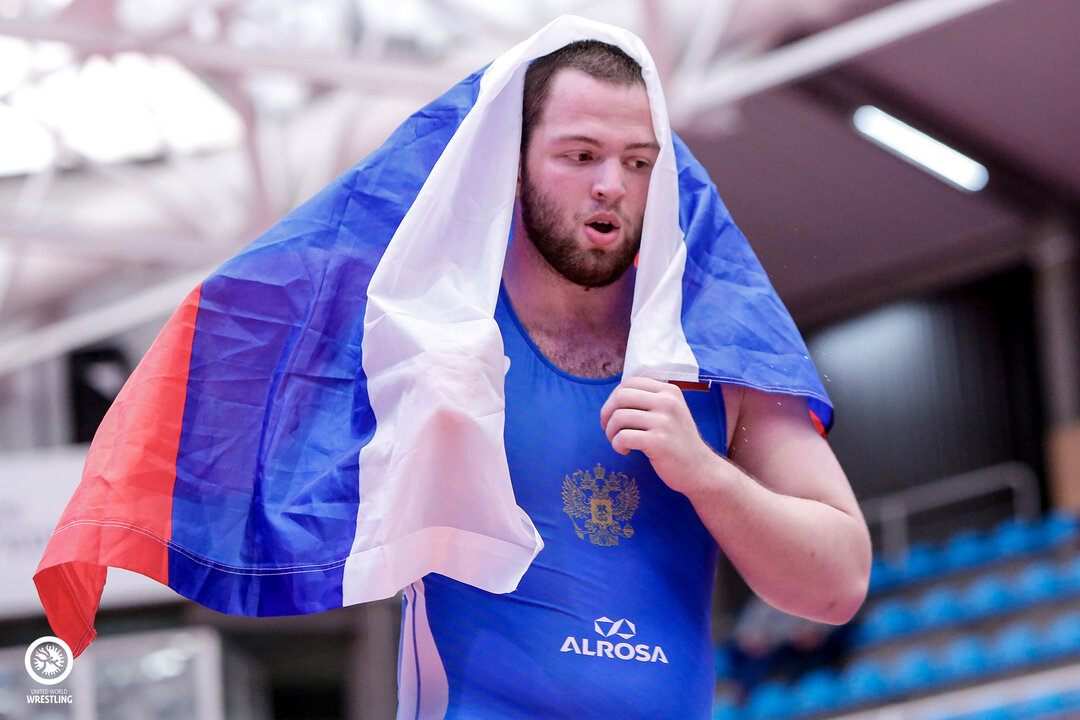 Saipudin MAGOMEDOV (RUS) was one of Russia's nine Junior European champions. He was the 125kg title. (Photo: Gabor Martin)

2. Russia Sweeps Team Titles at Junior European Championships 
The Russian Federation swept the freestyle, Greco-Roman, and women's wrestling team titles at the 2019 Junior European Championship -- doing so by winning a combined nine gold medals. Their freestyle and women's wrestlers each won a quartet of titles, and their Greco-Roman squad grabbed a solo gold medal.
In freestyle, Russia (205 points) medaled at all ten weight classes and captured the team title 89 points ahead of second place Moldova (116 points). Though Azerbaijan had two champions, which was one more than Moldova, they finished in third place with 115 points. 
The Russian women had 154 points, won four golds and two bronzes, and edged a Ukrainian (144 points) team that medaled in seven weight classes by ten points. Belarus had two champions and closed out the women's wrestling portion of the tournament in third place with 126 points. 
Russia's Greco-Roman team inserted four wrestlers into gold-medal bouts, but only won one of those four finals matches. They finished with 159 points and narrowly edged Georgia (151 points), who won three individual titles, by eight points. Hungary, who had a trio of women reach the top of the podium in Spain, rounded out the top three with 124 points.
3. USA Wins Freestyle, Greco-Roman, and Women's Wrestling Junior Pan-American Team Titles 
The United States dominated the Junior Pan-American Championships in Guatemala, City, Guatemala, and won team titles in freestyle, Greco-Roman, and women's wrestling. 
Their freestyle wrestlers reached the finals in all ten weights and won eight gold medals. The United States (240 points) doubled second place Canada's (120 points) point total. Canada had five wrestlers medal and finished seven points ahead of Mexico, who had 113 points. 
Mexico's Greco-Roman team won four of the ten titles but had to settle for a second-place finish after the American wrestlers medaled in all ten weight classes. The United States ended the Greco-Roman competition with 190 points, Mexico finished with 130 points, and Colombia, with their pair of golds, finished in third with 122 points. 
The American women placed nine wrestlers into the finals, won three gold medals, and won the team title with 210 points. Canada won a silver and six bronzes and finished in second place with 134 points. Brazil, who had 102 points, captured a pair of golds and two bronze medals and finished in third place. 
4. Russia Released European Games Lineup 
The Russian Federation recently released their roster for the upcoming European Games, which takes place in Mink, Belarus (June 25-30). Their six-man roster features returning world champions Zavur UGUEV (57kg), Zaurbek SIDAKOV (74kg), and Abdulrashid SADULAEV (97kg). 
They'll be led by No. 1-ranked three-time world and Rio Olympic champion Abdulrashid Sadulaev. Sadulaev, the pound-for-pound best wrestler in the world, is coming off winning his fourth European Championship gold medal and will be looking to defend his European Games title from 2015. 
Uguev will be making his second appearance since winning the 57kg world title in Budapest. He sat out the majority of the year with an apparent knee injury but made his return at the Ali Aliev Tournament where he won the gold medal. 
Sidakov, the No. 1-ranked wrestler in the world at 74kg, will be making his third appearance of the year. In January, Sidakov won the Ivan Yariguin, then competed in the World Cup where he went 2-0.  
The team also features two-time world bronze medalist Ahmed CHAKAEV (65kg), and world fifth-place finishers Dauren KURUGLIEV (86kg) and Anzor KHIZRIEV (125kg). 
Russia's European Games Team 
57kg - Zavur UGUEV – 2018 world champion 
65kg - Ahmed CHAKAEV - two-time world bronze medalist 
74kg - Zaurbek SIDAKOV - World Champion 
86kg - Dauren KURUGLIEV - 2017 European Champion 
97kg - Abdulrashid SADULAEV - Olympic champion, three-time world champion.
125kg - Anzor KHIZRIEV – European bronze medalist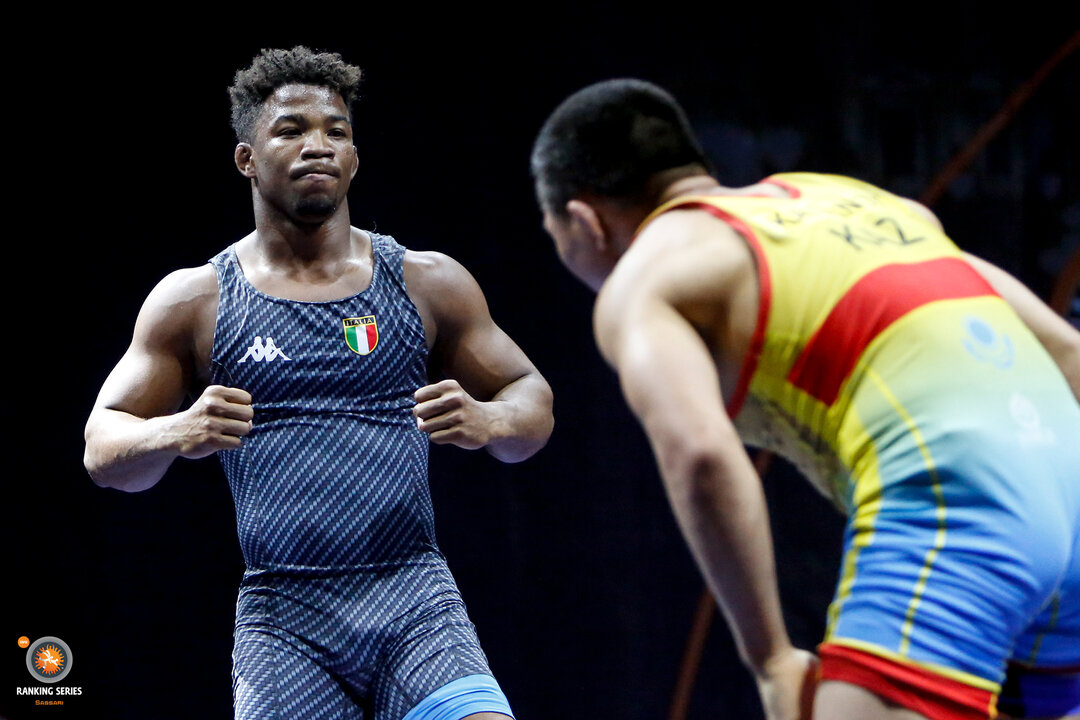 Frank CHAMIZO (ITA) won the Sassari in his home country of Italy and jumped to the No. 2 spot at 74kg in the latest world rankings. (Photo: Gabor Martin)
5. Updated World Rankings Published on UWW's Homepage 
United World Wrestling has released the latest set of point-based rankings. This month's rankings have been updated with the points from the third Ranking Series event, the Sassari City Matteo Pellicone Memorial, which took place on the Italian island of Sardinia. 
After June's set of rankings, the point-based rankings will only be updated one additional time before September's 2019 Nur-Sultan World Championships. They'll be updated after the final freestyle and women's wrestling Ranking Series event of the year, the Yasar Dogu (July 11-14), and the last Greco-Roman Ranking Series event, Oleg Karavaev (July 26-28). 
Though several wrestlers have locked up their top four seed at the World Championships, many are still within contention to slide into a top-four seed. With that being said, you can expect the final two Ranking Series events to be stacked with loads of talented wrestlers who are looking to solidify one of the top-four seeds at their respective weight classes. 
Weekly FIVE! In Social Media 

1. Big Move Monday -- BANDARENKA M. (BLR) -- 2019 Junior European C'ships
2. Scenes from our upcoming Wrestling 360 Documentary on the Canadian women's team featuring Olympic champion @eweebz . 
3. Big Move From Day 3 // Junior Panams #WrestleGuatemalaCity
4. Kerymov (UKR) Wins in athletic fashion in the early rounds of freestyle competition. 
5. Big Move from Day One of #wrestleguatemalacity ... Gabriel ROSILLO KINDLEAN (CUB)