Weekly FIVE! June 25, 2019
Tuesday, June 25, 2019 - 12:38 By Eric Olanowski
Discussing the European Games and last weekend's Cadet European Championships. Also looking at women's wrestling rankings, Alili making North Macedonian history, and tickets going on sale for the #WrestleNurSultan World Championships. 
1. The European Games Underway in Minsk, Belarus 
The 2nd European Games started this morning in Minsk, Belarus and Stevan MICIC (SRB) and Ali SHABANAU (BLR) scored the biggest upsets of the first day of competition. They both defeated Turkish wrestlers who are ranked No. 1 in the world at their respective weight classes. 
Micic, Serbia's first-ever freestyle European medalist (bronze in 2018), scored a 6-5 come-from-behind win over reigning European champion Suleyman ATLI (TUR). Micic's six points all came in the second period. The Serbian scored a pair of takedowns and an exposure to end the No. 1-ranked wrestler's gold-medal hopes at 57kg.
Micic will square off with Taras MARKOVYCH (UKR) in the semifinals. The winner of that match will most likely have reigning world champion Zavur UGUEV (RUS). 
Ali Shabanau also stopped the world's No. 1 ranked wrestler. The Belarusian trailed Turkey's No. 1 -ranked Faith ERDIN 3-1 with less than five seconds left when he hit an underhook throw by to take the 3-3 lead on criteria as time expired. 
Shabanau will wrestle Ahmed DUDAROV (GER) in the semifinals. Whoever wins that match will take on the winner of Alexander GOSTIYEV (AZE) and Dauren KURUGLIEV (RUS). 
The third weight competing on Monday was 74kg. 
Reigning world champion Zaurbek SIDAKOV (RUS) made it to the semifinals after scoring a 5-3 quarterfinals win against his world finals opponent Avtandil KENTCHADZE (GEO). He'll take on Azamat NURYKAU (BLR) for a spot in the finals. 
The winner of Sidakov and Nurykau will wrestle in the 74kg gold-medal bout against the winner of Soner DEMIRTAS (TUR) vs. Vasyl MYKHAILOV (UKR). 
The final opening-day weight being wrestled was 125kg. U23 world champion Givi MATCHARASHVILI (GEO) will face two-time world medalist Jammaladdin MAGOMEDOV (AZE) on the top half, and Anzor KHIZRIEV (RUS), the two-time fifth-place finisher will meet European bronze medalist Oleksandr KHOTSIANIVSKYI (UKR) on the bottom half.
The Day 1 semifinals for the first four freestyle weight classes are scheduled to begin at 18:00 local time.
RESULTS
57kg 
SEMIFINAL - Mahir AMIRASLANOV (AZE) vs. Zavur UGUEV (RUS) 
SEMIFINAL - Taras MARKOVYCH (UKR) vs. Stevan MICIC (SRB)
74kg 
SEMIFINAL -Soner DEMIRTAS (TUR) vs. Vasyl MYKHAILOV (UKR) 
SEMIFINAL -Zaurbek SIDAKOV (RUS) vs. Azamat NURYKAU (BLR)
86kg 
SEMIFINAL -Alexander GOSTIYEV (AZE) vs. Dauren KURUGLIEV (RUS) 
SEMIFINAL -Ali SHABANAU (BLR) vs. Ahmed DUDAROV (GER)
125kg
SEMIFINAL - Givi MATCHARASHVILI (GEO) vs. Jammaladdin MAGOMEDOV (AZE)
SEMIFINAL - Anzor KHIZRIEV (RUS) vs. Oleksandr KHOTSIANIVSKYI (UKR)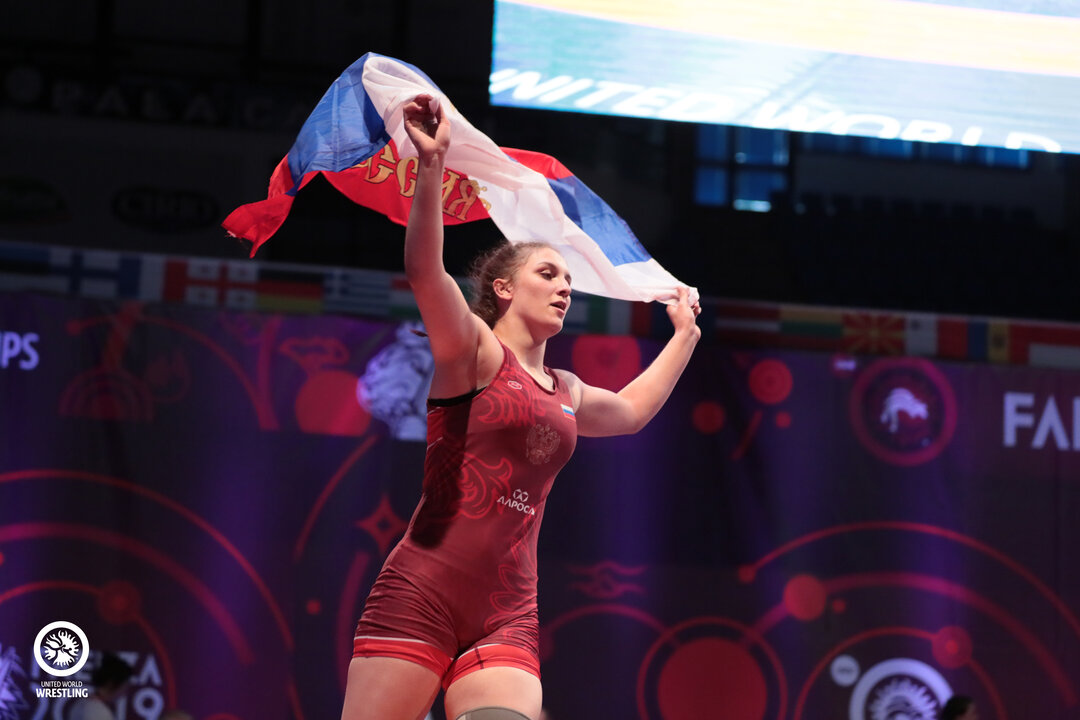 lga KOZYREVA (RUS) celebrates with the Russian flag after her 12-2 victory Jennifer ROESLER (GER) in the 73kg finals. (Photo: Kadir Caliskan)
2. Cadet European Championships Wrap up in Italy With Russia Sweeping Team Races
The Cadet European Championships wrapped up in Faenza, Italy last weekend and for the second straight age-group European Championships, the Russian Federation swept the team race. Their junior team also won the freestyle, Greco-Roman and women's wrestling team tiles two weeks ago in Pontevedra, Spain. In total, through the cadet, junior, and senior European Championships, Russia has won eight of nine team titles – only dropping the women's wrestling team race at the senior European Championships. 
In freestyle, seven different nations won a gold medal, but Russia's four gold medalists pushed their team to the top of the standings with 190 points. They finished 37 points ahead of second place Azerbaijan and 50 points ahead of third place Georgia. 
Russia's Greco-Roman squad was the team that kick-started the team title winner parades after they opened up the Cadet European Championships with six finalists and three gold medalists. Similar to freestyle, Azerbaijan (points) and Georgia (117 points) rounded out the top three in the team race. 
Russia's most dominant performances of the weekend came from their women, who scored an impressive 220 points from ten medals. They capped off the weekend with six gold medals after inserting eight into gold-medal bouts. Ukraine (140 points) and Belarus (83 points) were second and third respectively in the women's wrestling team race.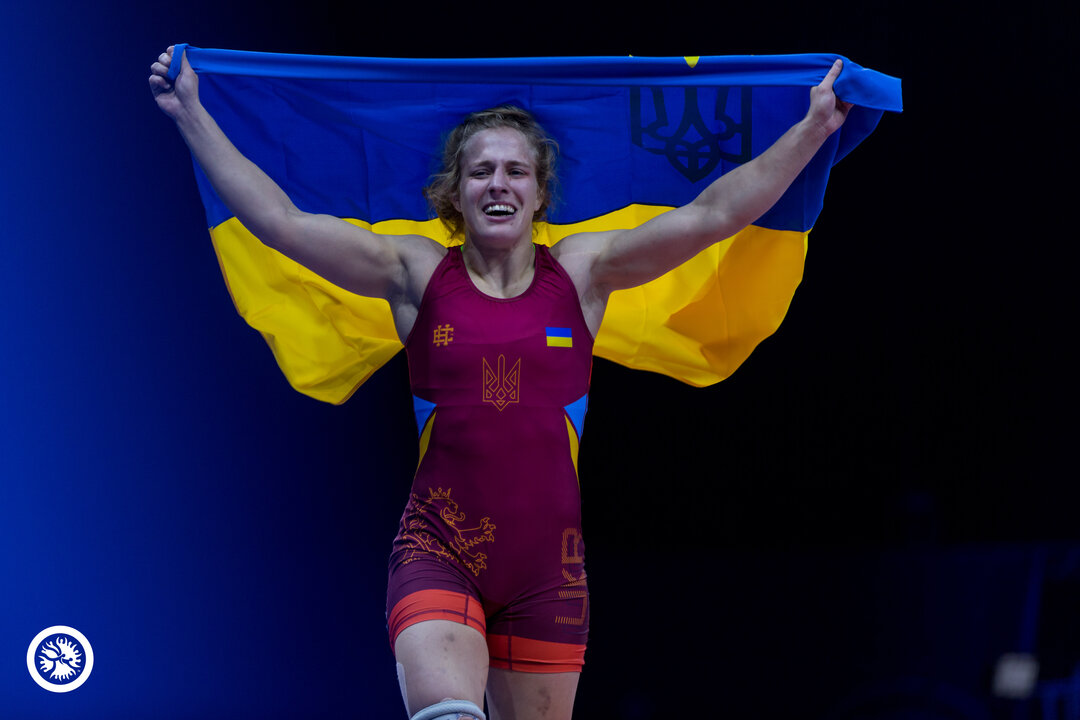 Alla CHERKASOVA (UKR) is one of the five wrestle who has locked up their No. 1 seed for the World Championships. (Photo: Max Rose-Fyne) 
3. Five Women's Wrestling No. 1 Seeds to be Determined at Yasar Dogu 
The fourth and final Ranking Series event, the Yasar Dogu, is set to have huge implications when it comes to seeding the top-four women's wrestlers at September's Nur-Sultan World Championships. Heading into Istanbul, 25 of the top-40 seeds are still open for the taking. Combining that with freestyle's 23 top-four seeds that remain available, the Yasar Dogu could determine 48 of the 80 freestyle and women's wrestling top-four seeds.
Come Nur-Sultan, there will be 40 seeded wrestlers, but only 15 wrestlers have cemented their seed heading into the Yasar Dogu. Of those 25 openings still up for grabs, there are 74 wrestlers who head into the Yasar Dogu with enough points to overthrow one of the current top-four ranked wrestlers.
CLICK HERE FOR WEIGHT-BY-WEIGHT RANKINGS BREAKDOWN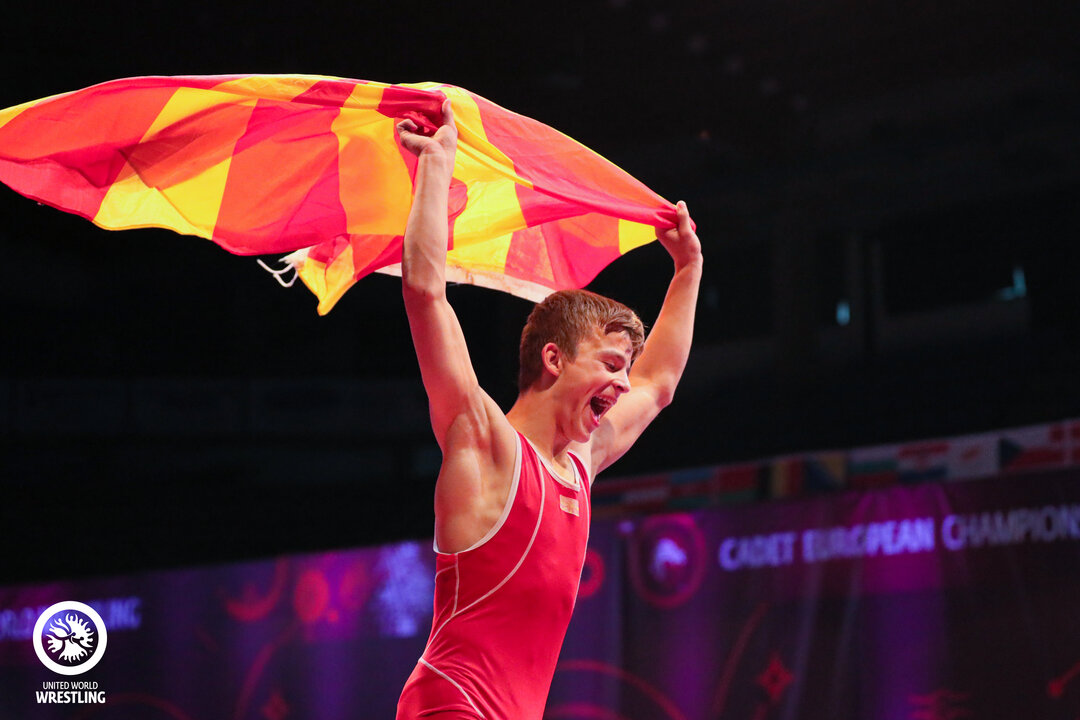 Besir ALILI (MKD) became North Macedonia's first-ever cadet European champion. (Photo: Kadir Caliskan) 
4. Alili Makes North Macedonian History, Wins European Gold 
Coming into Saturday's European finals, North Macedonia had three wrestlers reach the gold-medal bout but never had a cadet wrestler win a continental title in any style. Besir ALILI (MKD) changed that after winning his nations first-ever cadet European title with a 7-6 come-from-behind win against Harutyun HOVHANNISYAN (ARM) in the 48kg finals.
The match couldn't have started any worse for Alili, but he wasn't going to be denied a gold medal. His Armenian opponent hit a slide by to start the match, and as Alili squared up, Hovhannisyan shot a fireman's carry. With Alili's arm trapped, Hovhannisyan came up to his feet and thunderously tossed the Macedonian to his back. The referrers awarded five points to Hovhannisyan for his spectacular throw, leaving Alili down 5-0 less than 30 seconds into the match. To end the exchange that left him behind 5-0, Alili was able to somehow worm his way on top for the reversal, cutting his deficit to four points. 
With under 30 seconds left in the first period, Alili pulled Hovhannisyan's head down to the mat and locked up a front head pinch, rolling his Armenian opponent over his back three consecutive times. His six points from the front head pinches, coupled with the reversal, gave Alili the 7-5 lead heading into the break. 
From there, there was nothing flashy from Alili's end, just sound defense and near perfect position that helped him cruise to the 7-6 victory after being down 5-0 to start the match.
5. Tickets for 2019 Wrestling World C'Ships in Nur-Sultan Now on Sale
United World Wrestling announced the start of ticket sales for the 2019 Senior Wrestling World Championships, which are set to take place September 14-22 at the Barys Arena in Nur-Sultan, Kazakhstan.
The 2019 Wrestling World Championships should draw even more fan attention as it will serve as the first qualification event for the 2020 Olympic Games in Tokyo. The top six finishers in each Olympic weight category in Nur-Sultan will secure an Olympic qualification for their nation. The remaining qualification spots will be earned at continental competitions and a "Last Chance Qualifier" during the 2020 competition calendar.
All-session passes and single-day tickets for the 2019 Senior Wrestling World Championships are available NOW and can be purchased at: https://kassir.kz/category/chempionat-mira-po-borbe.
Schedule: 2019 Senior Wrestling World Championships 
Saturday, September 14 
GR – 55-63-72-82kg 
Sunday, September 15 
GR – 55-63-72-82kg 
GR – 67-87-97kg 
Monday, September 16 
GR – 67-87-97kg 
GR – 60-77-130kg 
Tuesday, September 17 
GR – 60-77-130kg 
WW – 50-53-55-72kg 
Wednesday, September 18 
WW – 50-53-55-72kg 
WW – 57-59-65-76kg 
Thursday, September 19 
WW – 57-59-65-76kg 
WW – 62-68kg 
FS – 57-65kg 
Friday, September 20 
WW – 62-68kg 
FS – 57-65kg 
FS – 70-74-92-125kg 
Saturday, September 21 
FS – 70-74-92-125kg 
FS – 61-79-86-97kg 
Sunday, September 22 
FS – 61-79-86-97kg
Weekly FIVE! In Social Media 
1. Wrestling 360: King Vlad Goes for Gold
2. #best10 from Day 6 at the Cadet European Championship in #WrestleFaenza
3. Big Moves From Day 6// Cadet European Championships Faenza2019
4. Big Moves From Day 4// Cadet European Championships Faenza2019
5. Big Move From Day 3// Cadet European Championships Faenza2019