Weekly FIVE! May 14, 2018
Monday, May 14, 2018 - 12:31 By
Reviewing Thursday's Beat the Streets, the Youth Olympic Games qualifiers and Yazdani making Iran's world team.  
1. Cadet European Championships Begin Monday 
The 2018 Cadet European Championships begin Monday, May 14 in Skopje, Macedonia. 
The second cadet continental championship will serve as a qualifier for the 2018 Youth Olympic Games which take place this October. 
The first place finisher in freestyle and Greco-Roman will qualify their countries spot in the five designated weight classes, while the first and second place finishers in women's wrestling will qualify their nations spot for the 2018 Youth Olympic Games.  
European Championship Schedule
Youth Olympic Weight Classes 
Freestyle - 48kg, 55kg, 65kg, 80kg, and 110kg 
Greco-Roman - 45kg, 51kg, 60kg, 71kg, and 92kg 
Women's Wrestling - 43kg, 49kg, 57kg, 65kg, and 73kg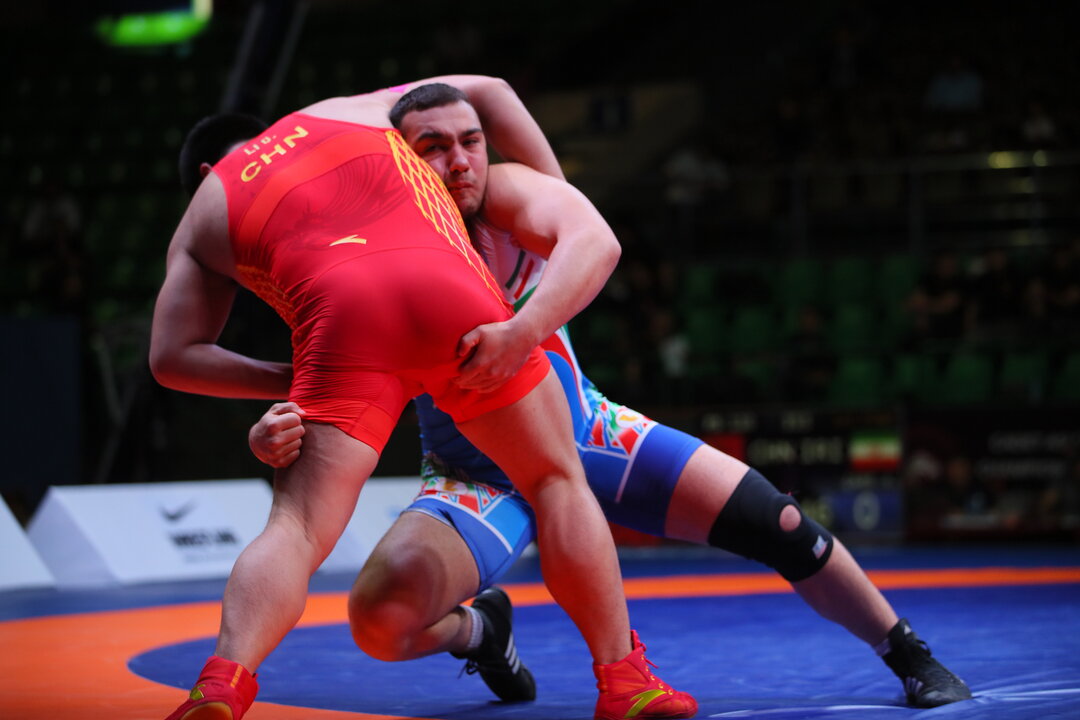 Amir ZARE (IRI) closes out the 2018 Cadet Asian Championship with a 10-0 win over Kumar ANIRUDH (IND). (Photo by Sachiko Hotaka)
2. Iran's Cadets Illuminate Uzbekistan 
Iranian freestyle wrestlers left the 2018 Cadet Asian Championships with medals in all but one weight class. 
Iran claimed an impressive six golds and three bronzes to close out the first cadet continental championship of the year. 
Even more impressive, in their six finals bouts, Iranian wrestlers picked up four technical superiority wins and averaged nearly ten points a match! 
3. Beat the Streets Match-up Order Announced 
The wait is almost over!
Three Olympic champions in Togrul ASGAROV (AZE), Jordan BURROUGHS (USA)  and Helen MAROULIS (USA) are set to compete at Beat the Streets which begins this Thursday, May 17 at 2:30 PM in New York, New York. 
The final two duals, USA vs. Nigeria and USA vs. Cuba start at 6:30 PM.
Women's Freestyle
USA vs. Nigeria 
57kg: Helen MAROULIS (USA) vs. Odunayo ADEKUROYE (NGR)
59 kg: Alli RAGAN (USA) vs. Adeniyi AMINAT (NGR)
68 kg: Tamyra STOCK (USA) vs. Blessing OBORUDUDU (NGR)
FREESTYLE
USA vs. Cuba
57kg – Josh RODRIGUEZ (USA) vs. Reineri ORTEGA (CUB)
70kg – James GREEN (USA) vs. Franklin MAREN CASTILLO (CUB)
79kg – Kyle DAKE (USA) vs. Livan LOPEZ AZCUY  (CUB)
92kg – J'den COX (USA) vs. Yurieski TORREBLANCA QUERALTA (CUB)
97kg – Kyle SNYDER (USA) vs. Reineris SALAS PEREZ (CUB)
125kg– Nick GWIAZDOWSKI (USA) vs. Yudenny ESTEVEZ (CUB)
Age-level Match-up - Patrick GLORY (USA) vs. Gavin TEASDALE (USA) 
Co-Main Event – Jordan BURROUGHS (USA) vs. Frank CHAMIZO (ITA)
Main Event  – Jordan OLIVER (USA) vs. Togrul ASGAROV (AZE) 
5. Youth Olympic Qualifications by Country 
The 2018 Youth Olympic Games will take place October 12-14 in Buenos Aires, Argentina. 
The highest placing athlete from the Asian Championships qualified their countries spot for the Games in both freestyle and Greco-Roman. 
In women's wrestling, the top two athletes from the Asian Championships qualified their nations spot for the Buenos Aires Games. 
Qualifiers After the Cadet Asian Championships 
Freestyle 
48kg - UZB
55kg - JPN 
65kg - IRI
80kg - IRI 
110kg - IRI
Greco-Roman 
45kg - IRI 
51kg - JPN  
60kg - UZB
71kg - JPN
92kg - IRI 
Women's Wrestling 
43kg - JPN and MGL 
49kg - JPN and UZB 
57kg - JPN and IND 
65kg - JPN and CHN 
73kg - JPN and UZB 
Full Cadet Asian Championship Results   
Weekly FIVE! In Social Media

1. Big Move Monday! @vlasovroma90 #kaspeuro2018
2. Happy Mother's Day, wrestling fans!
3. One of the most anticipated matches in years will go down May 17th in NYC. If you live in the area go ahead and support @beatthestreets, which provides wrestling opportunities to disadvantaged youth around the city. —>http://bit.ly/rotr-tix
4. Preparing for the match #wrestling #sportsgirl #cadet #asia #борьба
5. A few Black and Whites from the 2018 European Championships Kaspiysk.  #wrestling #kaspiysk2018 #unitedworldwrestling