Weekly FIVE! May 14, 2019
Tuesday, May 14, 2019 - 14:19 By Eric Olanowski
Discussing next week's Sassari City Matteo Pellicone Memorial, along with results from the International Ukrainian Tournament, and the Beach Wrestling World Series. Also looking at Gadzhimagomedov's surgery and the latest set of Greco-Roman rankings. 
1. Sassari City Matteo Pellicone Memorial Begins Next Thursday 
United World Wrestling's third Ranking Series event of the year, the Sassari City Matteo Pellicone Memorial, is just over a week away. It'll be the first-ever Ranking Series event which will feature freestyle, Greco-Roman, and women's wrestling under one roof. 
The three-day tournament, which begins on May 23, will take place 655km west of Rome on the Italian island destination of Sardinia. The thought of wrestling with the breeze of the Tyrrhenian Sea on your back has intrigued some of the sports biggest stars to sign up for the event. Though registration is not official until 24 hours before the first whistle, here are some of the stars that fans can expect to see in Sardinia: 
GR 77kg - KIM Hyeonwoo (KOR) – Olympic champion
FS 70kg - Soslan RAMONOV (RUS) – Olympic champion 
WW 76kg - Erica WIEBE (CAN) – Olympic champion
WW 72kg - Anna FRANSSON (SWE) – Olympic bronze
FS 74kg - Frank CHAMIZO (ITA) –  Two-time world champion 
GR 67kg - RYU Hansu (KOR) – World champion 
WW 76kg - Aline ROTTER FOCKEN (GER) – World champion
WW 55kg - Vanesa KALADZINSKAYA (BLR) – World champion
WW 55kg - Sofia MATTSSON (SWE) – World champion
GR 77kg - Tamas LORINCZ (HUN) – World runner-up 
FS 74kg - Khetik TSABALOV (RUS) - World runner-up 
FS 65kg - Gadzhimurad RASHIDOV (RUS) – Two-time world silver 
GR 87kg -Erik SZILVASSY (HUN) – U23 World champion 
WW 57kg - Grace Jacob BULLEN (NOR) – U23 World champion
FS 57kg - Suleyman ATLI (TUR) – Ranked No. 1 at 57kg 
FS 68kg - Fatih ERDIN (TUR) – Ranked No. 1 at 86kg
2. Brazilian Women, Georgian Men Sweep Beach Gold in Rio
Brazilian funk music thumped Saturday afternoon as four of the nation's beach wrestling women captured gold at the second stop of the Beach Wrestling World Series (BWWS). The Brazilian side, who laughed and danced their way to the unlikely quadruple gold also each collected 1000 CHF for winning their respective weight classes at the event.
Kamila BARBOSA (50kg), Camila FAMA (60kg), Brenda AGUIAR DOS SANTOS (70kg), and Aline DA SILVA FERREIRA (BRA) each cruised their way to gold over the course of the two-day event, creating a buzz among the hometown crowd.
Also similar to the first stop, four Georgians made the finals of the event, only this time all four Georgians managed to take home top billing.
3. Nine Europeans Ranked First in Latest Greco-Roman World Rankings
United World Wrestling has released their latest point-based Greco-Roman world rankings, and European nations own nine of the ten top spots heading into the final pair of Ranking Series events before the Nur-Sultan World Championships.
Even more impressive, the Russian Federation owns five of Europe's nine top-spots. The five No. 1-ranked Russian wrestlers are Sergey EMELIN (60kg), Stepan MARYANYAN (63kg), Artem SURKOV (67kg), Musa EVLOEV (97kg), and Sergey SEMENOV (130kg). 
In addition to the Russian-five, Azerbaijan's Eldaniz AZIZLI (55kg), Germany's Frank STAEBLER (72kg) , Turkey's Emrah KUS (82kg), and Ukraine's Zhan BELENIUK (87kg) also hold the top spot at their respective weight classes. 
The lone non-European top-ranked wrestler is Korea's  Olympic champion Hyeonwoo KIM who is ranked No. 1 at 77kg.
4. Gadzhimagomedov Undergoes Surgery After European C'ship Injury 
Russia's reigning 79kg world bronze medalist Akhmed GADZHIMAGOMEDOV underwent surgery to repair a torn meniscus and cruciate ligament in his right knee – but he's expected to make a full recovery before July's Russian National Championships, where he's expected to move down to 74kg.
Gadzhimagomedov hurt his right knee in the closing seconds of the first period in his European Championship semifinals bout against Oleksii DOMANYTSKYI (UKR). Gadzhimagomedov stopped an arm spin attempt and went down in pain, grabbing his right knee. He was up 3-0 at that point and continued wrestling on one knee in the second period. The Russian scored a pair of heroic takedowns, and ultimately won the bout, 7-0. 
But, Gadzhimagomedov medically forfeited out of his finals match against reigning world runner-up Jabrayil HASANOV (AZE) and settled for a silver medal.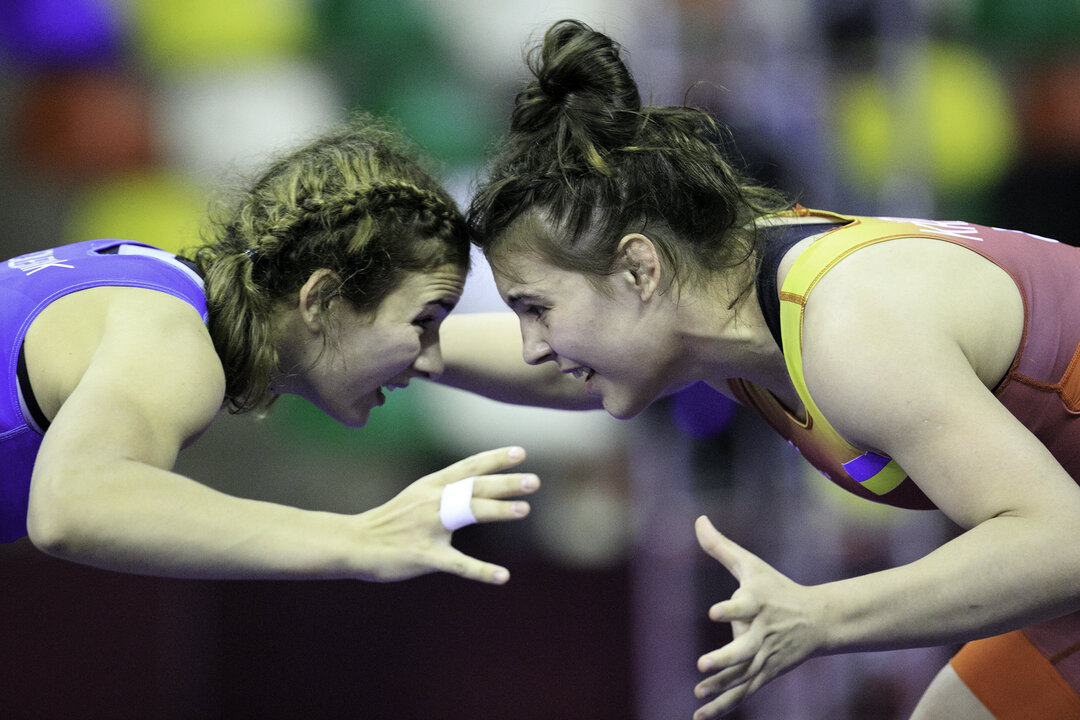 Olena KREMZER (UKR) defeated Anzhelina LYSAK (UKR) to win the 59kg title. (Photo: Gabor Martin)
5. International Ukrainian Tournament Concludes in Kiev
The International Ukrainian Tournament wrapped up in Kiev, Ukraine, and according to sources in the Ukrainian Wrestling Federation, the host nation will use last weekend's results as the determining factor for June's European Games. The highest placing Ukrainian wrestler at each weight will represent their nation in Minsk, Belarus, at the 2019 European Games. 
Of the nine gold medals up for grabs (no entries at 72kg), Ukrainian wrestlers won seven of those nine titles. Arguably, the most notable upset of the tournament came at 57kg, where Irina KHARIV (UKR) shocked reigning European runner-up Tatyana KIT (UKR) to steal the European Games spot. 
Additionally, European champions Alla CHERKASOVA (68kg) and Iryna HUSYAK (55kg), and European runner-up Lilya HORISHNA (53kg), sat out of last weekend's competition. It's not clear if they've done enough to automatically grant themselves a spot in the lineup at the European Games, or there will be a special wrestle-off prior to June's competition.
Japan's Miyuu NAKAMURA (50kg) and Vasilisa MARZALIUK (76kg) were the two non-Ukrainian wrestlers who reached the top of the podium in their respective weight classes. 
Nakamura, the 2016 junior world champion, upset returning world bronze medalist No.2-ranked Oksana LIVACH (UKR) in the 50kg finals. In her finals, No. 19 Vasilisa Marzaliuk defeated Ukraine's European Championship representative Alla BELINSKAYA in the 76kg gold-medal bout. 
Results

50kg    
GOLD - Miyuu NAKAMURA (JPN)
SILVER - Oksana LIVACH (UKR)  
BRONZE Anna LUKASIAK (POL)
BRONZE - Maria VINNIK (UKR)
53kg
GOLD - Yuliia BLAHINYA (UKR)  
SILVER - Kristina BEREZA(UKR)
BRONZE - Paula KOZLOV (POL)
BRONZE - Maria PPREVOLARAKL (GRE)
55kg
GOLD - Alina AKOBIYAN (UKR)  
SILVER - Zalina SIDAKOVA (BLR)           
BRONZE - Khristina DEMKO (UKR)
57kg
GOLD - Irina KHARIV (UKR)         
SILVER - Tatyana KIT (UKR)          
BRONZE - Irina KURCHKINA (BLR)
59kg    
GOLD - Olena KREMZER (UKR)    
SILVER - Anzhelina LYSAK (UKR)            
BRONZE - Sofia BODNAR (UKR)
62kg    
GOLD - Yulia TKACH (UKR)                                              
65kg    
GOLD - Irina KOLIADENKO (UKR)          
SILVER - Tatyana RYSHKO (UKR)
BRONZE - Anastasia LAVRENCHUK (UKR)
68kg    
GOLD - Kristina BEREZA (UKR)                                        
72kg                                                                        
No Competition 
76kg    
GOLD - Vasilisa MARZALIUK (BLR)        
SILVER - Alla BELINSKAYA (UKR)         
BRONZE - Irina PASICHNIK (UKR)
Weekly FIVE! In Social Media 
1. Big Move Monday -- DATUNASHVILI Z. (GEO) -- 2015 European Games
2. Talk about earning the No.1 ranking in the world? Here's @koreawrestlingfederation 's Olympic champion and No.1-ranked (at 77kg) KIM Hyeonwoo's (71 points) resume since the World Championships: 
World Championships:🥉 Asian Championships:🥇 Zagreb Open:🥉 Hungarian GP:🥉 
3. The Hungarian head-scratcher. 
Who should Hungary 🇭🇺 enter into the #WrestleNurSultan World Championships at 87kg?
No. 3 Erik SZILVASSY - U23 🌎🥇and European🥉or No. 5 Viktor LORINCZ - 2x 🌎🥉, Hungarian GP and Zagreb Open 🥇. Lorincz is 2-0 against Szilvassy in 2019
4. Saturday smiles with No. 5 RYU Hansu 🇰🇷. 📸: @sachikohotaka
5. Hungary's 🇭🇺 reigning world champion Peter BACSI has retired since winning world gold on home soil - meaning the 82kg seeds (as of now) at the #WrestleNurSultanWorld Championships will be: 
No. 1 - Emrah KUS 🇹🇷.
No. 2 - @saeid.abdovali68 🇮🇷.
No. 3 - Viktar SASUNOUSKI 🇧🇾.
No. 4 - @bisultanov_077 🇩🇰.