Weekly FIVE! May 7, 2018
Monday, May 7, 2018 - 20:51 By
Discussing new potential weight changes and Russian lead slips. Also taking a look at Stadnik and Aleksanyan's dominating Euro performances along with the Burroughs and Chamizo super match-up on Mat 17.   
1. Weight Changes on the Horizon 
Newly minted European champions Jenny FRANSSON (SWE) and Abdulrashid SADULAEV (RUS) announced that they would be moving weight classes in preparation for October's 2018 World Championships in Budapest, Hungary.
The chants of "Rashid" pour throughout the Palace of Sport and Youth as Abdulrashid Sadulaev won the colossal match-up between Olympic champions, holding off Sharif SHARIFOV (AZE), 2-1 to win the 92kg European title. 
In a post-match interview, Sadulaev, the four-time European champion announced that he would be moving up to 97kg for Russian Nationals. 
If this is true, we could potentially see the 2017 World Championship rematch between the reigning world and Olympic champion, Kyle SNYDER (USA) and Abdulrashid Sadulaev. Snyder won that 2017 match-up, 6-5.  #SnyderLaev2018/ #SnyderLaev2 
Jenny Fransson, the 2016 Olympic bronze medalist closed out her European Championship gold medal performance with a fall over Anastasiya ZIMIANKOVA (BLR) in the 72kg finals. 
After the match, Fransson, the 2018 Klippan Lady Open champion said "The goal now moves to the World Championships where I'll be moving weight classes. I'll be moving down to the Olympic weight of 68kg. 
With Mother's Day last this week, Stadnik, a mother of two said "I dedicate this win to my children. I have to leave them so often to go train, and the compensation for me being gone so much is this gold medal."
3. Russians Fail Late 
Azerbaijani's Giorgi EDISHERASHVILI (AZE) and Haji ALIYEV (AZE) stunned the sold-out Palace of Sport and Youth after picking up buzzer beater takedowns on Russian opponents to win European gold medals. 
Giorgi Edisherashvili stole his second 57kg European title by picking up a four-point throw with three seconds left to defeat last year's European bronze medalist, Zavur UGUEV (RUS), 4-3.
Haji ALIYEV (AZE), the reigning 61kg world champion gave Azerbaijan another gold medal with a last-second takedown to defeat reigning 65kg European champion, Ilias BEKBULATOV (RUS), 8-7.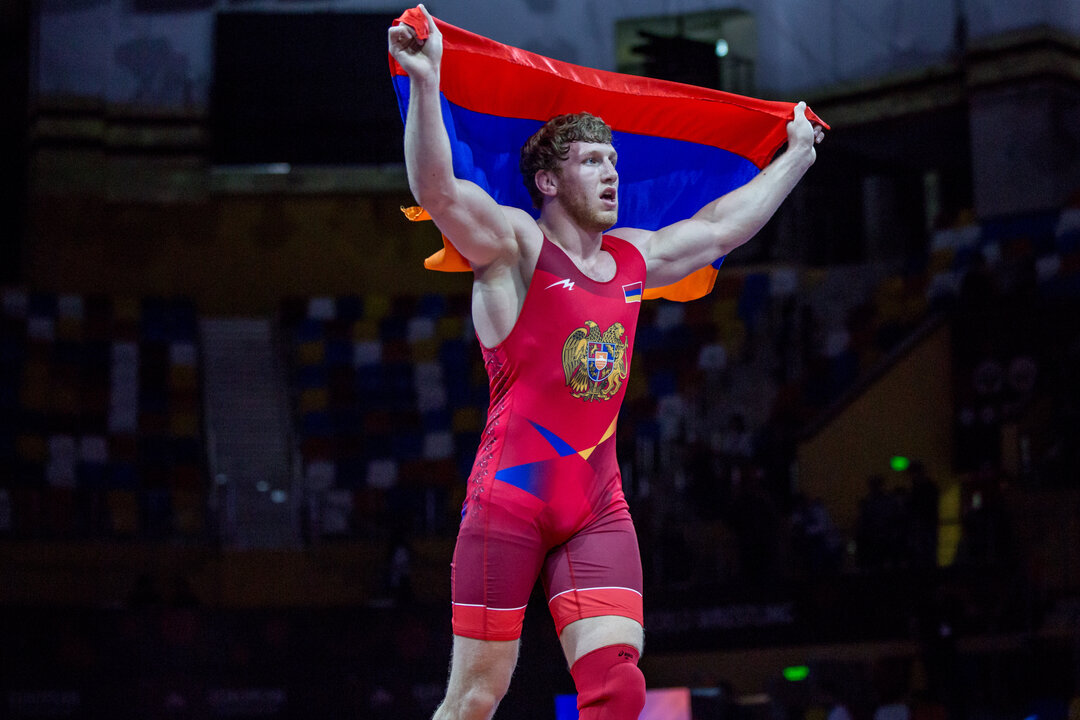 Four-time European champion, Artur ALEKSANYAN (ARM). (Photo by Max Rose-Fyne) 
4."The White Bear" Reclaims Continental Gold 
Armenia's Artur ALEKSANYAN (ARM) the four-time world and Olympic champion reclaimed European gold for the first time since 2014 by routing Mikheil KAJAIA (SRB), 7-0 in the 97kg gold-medal match. 
The Armenian, who outscored his opponents 34-0 on his way to his fourth title has only lost twice in the past five seasons, with both of those losses coming at European Championships. 
"I feel very proud that I could become a European champion for the fourth time, and that I could bring one more gold medal to our country," said Aleksanyan. 
5. Burroughs and Chamizo Clash Next Week 
Jordan BURROUGHS (USA), the five-time world and Olympic champion is set to take on the two-time world champion, Frank CHAMIZO (ITA) at Beat the Streets in New York City in just over a week. 
Burroughs is coming off an undefeated World Cup, and Chamizo is coming off a third-place finished at the 2018 European Championships where he defeated 2017 world silver medalist, Khetig TSABOLOV (RUS) in the quarterfinals.
Chamizo bounced back to in the bronze-medal bout, picking up a 10-0 technical superiority victory over Akhsarbek GULAEV (SVK) after falling to eventual champion, Soner DEMIRTAS (TUR), 2-1 in the semifinals. 
Weekly FIVE! In Social Media 
1. ALIYEV (AZE) comes back big in the last 15 seconds after spending the majority of the match behind to get Azerbaijan another Gold! -
2. Always wrestle till the final whistle!!! KURACHKINA (BLR) wins gold but only just. The referee awarded ZASINA (POL) 2 points with one second remaining on the clock to tie the score 4-4. KURACHKINA wins as she had more high scoring moves. -
3. CUERO MUNOZ (COL) df. BEY (USA) 10-7 in a back and fourth match ? Bay suffered rib injury. #uww #wrestling #panams2018
4. Thankfully for Rashidov (RUS) he didn't have the long walk home ?
5. 57kg BRONZE - Stevan MICIC (SRB) df. Levan VARTANOV (ESP), 10-0 giving Serbia their first freestyle European Championship medal ever!