Weekly FIVE! November 19, 2018
Monday, November 19, 2018 - 14:42 By Eric Olanowski
Reviewing results from the U23 World Championships and the U15 Asian Schoolgirl Championships. Also looking at December's World Clubs Cup. ​​​​​​​
1. Bullen Gets Revenge to Win U23 World Championship
Grace BULLEN (NOR) stunned 2018 Senior World champion Ningning RONG (CHN) in the final seconds of the 59kg gold match of the 2018 U23 World Championships in Bucharest, Romania.
"I'm so thrilled. The last two days have been really amazing with how I've technically done in the matches and not only using my physical strength all the time," Bullen said. "[Beating Rong] means more than winning gold. If I had faced her earlier in the bracket and won that way, I think it would feel as amazing as it does right now."
Two weeks ago, Bullen and Rong met up in the 57 kg semifinals of the Senior World Championships in Budapest, Hungary, with Rong taking a 12-2 win. This time, Bullen came out on top.
Down 2-1 with 12 seconds left, Rong had Bullen's leg in the air and the Norweigan whipped her opponent to her back for four points to steal the match, 5-2, and bring the crowd to its feet in the exciting finish.
In addition to her World crown, Bullen now owns a 2014 Cadet World gold, 2014 Youth Olympic Games gold and a 2017 Junior World bronze.
Also of note, Yudari SANCHEZ RODRIGUEZ (CUB) became the first Cuban women's wrestling world champion in any age group. 
Sanchez, a 2017 Junior World silver medalist, and 2017 U23 World bronze medalist, won the crown at 68 kg, taking out Miwa MORIKAWA (JPN). Morikawa is a 2018 Junior World bronze medalist and 2016 Cadet World silver winner.
The Cuban shut down Morikawa's offense and produced a 6-2 decision for the gold medal.
Women's Wrestling U23 World Champions
50kg - Momoka KADOYA (JPN)
53kg - Miho IGARASHI (JPN)
55kg - Saki IGARASHI (JPN)
57kg - Alexandria TOWN (CAN)
59kg - Grace BULLEN (NOR)
62kg - Yukako KAWAI (JPN)
65kg - Ayana GEMPEI (JPN)
67kg - Yudari SANCHEZ RODRIGUEZ (CUB)
72kg - Buse TOSUN (TUR)
76kg - Paliha PALIHA (CHN)
Team scores       
1. Japan – 188
2. Russia – 113
3. China – 106
4. Ukraine – 81
5. USA – 76
2. Elsayed Wins Egypt's First World Gold Since 2006
For the first time in 12 years, at any age group and in any style, Egypt produced a world champion with Mohamed Ibrahim ELSAYED winning the U23 World title at 67kg in Greco-Roman in Bucharest, Romania. The last Egyptian World champion was Mohamed Ibrahim Abdelfattah, who won a 2006 senior-level world gold in Greco-Roman at 84kg.
For Elsayed, it was a dominant run to the gold. At the break, Elsayed held a 2-0 lead over 2012 Cadet World champion Karim JAFAROV (AZE). From there, the Egyptian kept piling on the points, eventually shutting out his opponent for an 8-0 technical fall.
Also making history was Daniel CATARAGA (MDA) who became the first two-time U23 World champion in history, winning the 77kg Greco-Roman U23 world title.
After winning the 2017 U23 World title at 71kg, Cataraga bumped up to 77kg to claim his second, putting together a solid tournament to do so. In the gold-medal match, Cataraga faced 2018 U23 European champion Rajbek Alvievich BISULTANOV (DEN).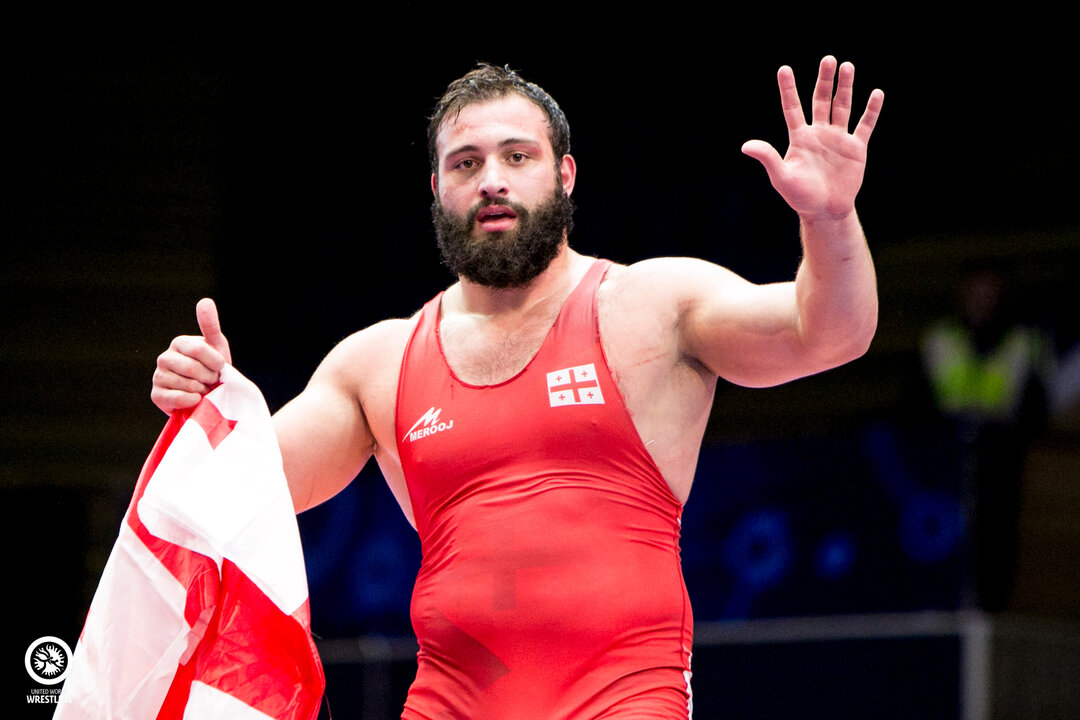 The newly minted U23 world champion Zviadi PATARIDZE (GEO) holds up six fingers to symbolize his three junior world titles and two cadet world championships. (Photo by Max Rose-Fyne)
Meanwhile, Zviadi PATARIDZE (GEO) added a U23 world gold to his five age-level world gold medal collection.
In the heavyweight finale, Pataridze, last year's U23 world runner-up, battled back from a five-point deficit against Osman YILDIRIM (TUR) to win gold at 130kg.
Yildirim led 5-0 at the break before Pataridze slowly chipped away at the lead, drawing a passivity, two caution-and-twos and a step out point to win his sixth age-group World championship.
Greco-Roman Wrestling U23 World Champions
55kg - Nugzari TSURTSUMIA (GEO)
60kg - Kenichiro FUMITA (JPN)
62kg - Katsuaki ENDO (JPN)
67kg - Mohamed Ibrahim ELSAYED (EGY)
72kg - Cengiz ARSLAN (TUR)
77kg - Daniel CATARAGA (MDA)
82kg - Gela BOLKVADZE (GEO)
87kg - Semen NOVIKOV (UKR)
97kg - Aleksandr GOLOVIN (RUS)
130kg - Zviadi PATARIDZE (GEO)
Team results (top five)
1. Georgia – 126
2. Russia – 101
3. Turkey – 87
4. Japan – 80
5. Azerbaijan – 71
3. Olympic Silver Medalist Higuchi Wins to U23 World Title 
Among Japan's pair of U23 freestyle world champions was 2016 Rio silver medalist, Rei HIGUCHI (JPN) at 65kg.
Higuchi relied on a takedown with 14 seconds left to defeat Morteza GHIASI CHEKA (IRI) to advance to the 65kg finals against 2018 Yasar Dogu runner-up Ali RAHIMZADE (AZE).
In the finals, 2016 Olympic silver medalist Higuchi edged in a 5-4 battle. Rahimzade rallied from a 4-1 deficit to tie the score as the clock ran out, but Higuchi held criteria. Azerbaijan's corner challenged, looking for a fleeing call, but lost the challenge, resulting in another point for Higuchi.
Japan's second champion was 57kg gold medalist Toshihiro HASEGAWA (JPN). In the finals, Hasegawa, a 2013 cadet world bronze medalist, went up 4-0 halfway through the first period against Kumar RAVI (IND) before locking up a cradle and getting the pin at the 2:08 mark.
Freestyle U23 World Champions 
57kg - Toshihiro HASEGAWA (JPN)
61kg - Magomedrasul IDRISOV (RUS)
65kg - Rei HIGUCHI (JPN)
70kg - Taimuraz SALKAZANOV (SVK)
74kg - Avtandil KENTCHADZE (GEO)
79kg - Nika KENTCHADZE (GEO)
86kg - Kamran GHASEMPOUR (IRI)
92kg - Shamil ZUBAIROV (AZE)
97kg - Givi MATCHARASHVILI (GEO)
125kg - Said GAMIDOV (RUS)
Team results
1. Russia – 181
2. Georgia – 108
3. Iran – 105
4. Japan – 93
5. USA – 92
4. Rising Star Fujinami Leads Japan Gold Rush at Asian U-15 Girls
Having already surpassed her world medalist brother in one aspect, Akari FUJINAMI (JPN) continues to establish herself as a likely future star in Japan's women wrestling.
Fujinami, a junior high schooler who this summer became a world cadet champion, stormed to victory in the 54kg division to lead a gold rush by the host country at the Asian U-15 Girls Championships on Friday in Fujimi, north of Tokyo.
Fujinami was one of six Japanese who made it to the top of the medal podium in the 10 weight classes, with Miu OBATA (39kg),  Yu SAKAMOTO (46kg), Moe KIYOOKA (50kg), Kanami YAMANOUCHI (58kg) and Ayano MORO (62kg) also emerging victorious. Japan also won two silver medals.
India claimed three golds, including a victory at 42kg by world cadet bronze medalist SWEETY (IND), along with three silvers and a bronze, while Uzbekistan took the remaining title in the heaviest weight of 66kg as well as four bronzes. It was a bittersweet day for Mongolia, which had to settle for four silver medals to go with one bronze.
Women's Wrestling U15 Asian Champions 
36kg - Komal KOMAL (IND)
39kg - Miu OBATA (JPN)
42kg - Sweety SWEETY (IND)
46kg - Yu SAKAMOTO (JPN) 
50kg - Moe KIYOOKA (JPN)
54kg - Akari FUJINAMI (JPN)
58kg - Kanami YAMANOUCHI (JPN)
62kg - Ayano MORO (JPN)
66kg - Rushana ABDIRASULOVA (UZB)
Team Standings
1. Japan - 202
2. India - 181 
3. Kazakhstan -125 
4. Mongolia - 114
5. Uzbekistan - 105
5. Tehran to Host 2018 World Wrestling Clubs Cup in Three Weeks 
Tehran, Iran is set to host the fifth annual World Wrestling Clubs Cup on December 13-14. 
Last year, 16 World and Olympic medalists took part in the two-day competition, but it was Iran's Easy Pipe Kashan who edged defending champions from the United States, Titan Mercury, 6-4, while Setaregan Sari (IRI) downed Khimori (MGL) in the third-place dual.
2017 Finals Results 
57kg - Reza ATARI (Easy Pipe) df. Thomas GILMAN (TMWC), 6-4 
61kg- Vladimir KHINCHEGASHVILI (Easy Pipe) df. Alan WATERS (TMWC), 7-0
65kg- Farzad AMOUZAD KHALILI df. (Easy Pipe) Bernard FUTRELL (TMWC), 6-3
70kg- Mohammad NADERI (Easy Pipe) df. Franklin GOMEZ (TMWC), 2-2
74kg- Nazariy KULCHYTSKYY (TMWC) df. Hossein ELYASI (Easy Pipe), 5-4 
79kg- Kyle DAKE (TMWC) TF. Reza AFZALI (Easy Pipe), 12-0
86kg- David TAYLOR (TMWC) df. Alireza KARIMI (Easy Pipe), 3-1 
92kg- Hossein SHAHBAZI (Easy Pipe) df. Nickolas HEFLIN (Titan), 4-2
97kg- Kyle SNYDER (TMWC) TF. Vladislav BAITSAEV (Easy Pipe), 11-0
125kg - Geno PETRIASHVILI (Easy Pipe) df. Nick GWIAZDOWSKI (Titan), 6-5
Weekly FIVE! In Social Media 
 
1. Big throws and Takedowns at U23 World Championships 2018. #uww #unitedworldwrestling
2. Iran 💪💪. Ghasempour wins gold 🇮🇷💪🇮🇷
طلای قاسم پور برای ایران. پرچم بالاست 💪💪 🇮🇷
#unitedworldwrestling #uww #wrestling
3. Big Move From Day 6 and the fastest fight 🤼‍♂️🚄 // #Bucharest2018 #freestylewrestling #olympic #wrestling#bigmove #throw #takedown
4. Big Move From Day 4 // #Bucharest2018 #grecoromanwrestling #olympic #wrestling#bigmove #throw #takedown
5. An amazing throw by Pilidis from Greece who comes back from behind to get the win! 🇬🇷💪#unitedworldwrestling #uww #wrestling