Weekly FIVE! November 5, 2018
Monday, November 5, 2018 - 16:26 By Eric Olanowski
Reviewing results from the Iranian Freestyle League and the American Wrestling League draft. Also looking at Russia's Ivan Yarygin qualification process.   
1. Gadzhimagomedov, Karimi, Kurbanaliev Give Iran FS League Title to Bimeh
Using Russian and Iranian stars, Bimeh Razi Babol captured the 2018 Iran Freestyle League title, earning a 26-15 victory over Setaregan Sari in the final match in Gorgan city.
Sari's team opened up the finals with back-to-back wins from Nader HAJAGHANIA (IRI) and Mehran SHEIKHI (IRI) 57kg and 61kg respectively, before 2016 Asian champion Meysam NASIRI (IRI) downed Farzad AMOUZAD (IRI), 6-2, giving Bimeh their first team victory.
Russia's 2016 world champion Magomed KURVANALIEV (RUS) evened things up after a 15-4 technical fall at 70kg. 
In the fifth match, it was Hossein ELYASI (IRI) who kept Sari's hopes alive, beating Reza AFZALI, 6-4, breaking the two to two tie and giving Sari the 3-2 lead.
Bimeh, won four of the final five bouts, including wins from Budapest world bronze medalists, Akhmed GADZHIMAGOMEDOV (RUS) (79kg) and Alireza KARIMI (IRI) (92kg) to defeat Setaregan Sari 26-15 to capture 2018 Iran Freestyle League Title.
Final Match: Bimeh Razi Babol df. Setaregan Sari, 26-15 (6-4)
57kg- Nader HAJAGHANIA (Sari) df. Mehran REZAZADEH (Bimeh), 5-3
61kg- Mehran SHEIKHI (Sari) df. Behnam EHSANPOUR (Bimeh), 5-2
65kg- Meysam NASIRI (Bimeh) df. Farzad AMOUZAD (Sari), 6-2 
70kg- Magomed KURBANALIEV (Bimeh) df. Mohammad Mehdi YEGANEH JAFARI (Sari) by TF, 15-4
74kg- Hossein ELYASI (Sari) df. Reza AFZALI (Bimeh), 6-4
79kg- Akhmed GADZHIMAGOMEDOV (Bimeh) df. Fariborz BABAEI (Sari) by TF, 10-0
86kg- Alireza KARIMI (Bimeh) df. Masoud MADADI (Sari) by FALL
92kg- Mohammad Javad EBRAHIMI (Bimeh) df. Sina GHOLAMI (Sari), 8-3
97kg- Vladislav BAITSAEV(Bimeh) df. Amir MOHAMMADI (Sari), 6-0
125kg- Jaber SADEGHZADEH (Sari) df. Abbas FOROUTAN (Bimeh), 8-7
2. United World Wrestling Joins World Taekwondo in Worldwide Peace Initiative
United World Wrestling has joined with World Taekwondo and the Taekwondo Humanitarian Foundation (THF) to sign a landmark Memorandum of Understanding (MoU) to promote humanitarian, peace and development-supporting activities around the world.
United World Wrestling president Nenad LALOVIC met with World Taekwondo President Chungwon CHOUE the World Wrestling Championships in Budapest on October 22 to sign the agreement.
"We have followed the development of this humanitarian fund and have seen what it can achieve and look forward to joining World Taekwondo's effort to diversity athletic opportunities in the camps," said Lalovic. "We trust that wrestling and taekwondo will add light to the lives of the children in these refugee camps."
The agreement will allow full cooperation and information exchange between the three organizations. They aim to commit to developing close cooperation in the following areas:
Promoting sport as a powerful vehicle towards peace, social development, and integration of vulnerable populations;
Uniting forces in offering sport for development and peace activities, in particular in THF's existing Azraq Taekwondo Academy in Azraq Refugee Camp, Jordan, and potentially other locations worldwide; 
Exchanging and sharing of expertise, know-how, information, and publications.
Click here for the full release.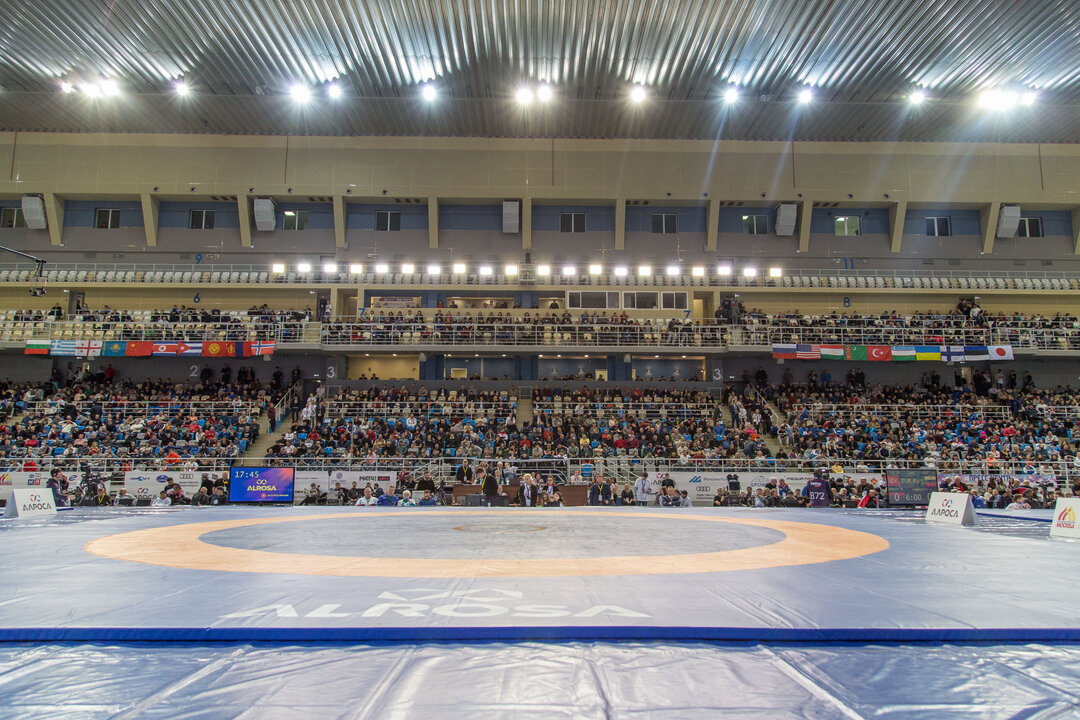 Photo from Max Rose-Fyne of the 2018 Ivan Yarygin competition venue. 
3. Russia's Ivan Yarygin Qualification Process Announced 
The best Russian wrestlers will head to Vladikavkaz, Ossetia, Russia this weekend to compete at the 2018 Alans for an opportunity to head to Krasnoyarsk, Russia in January to wrestle in the Ivan Yarygin - which is often called the toughest tournament in the world. 
The only wrestlers that are exempt from the Alans are Magomedrasul GAZIMAGOMEDOV (RUS), Abdulrashid SADULAEV (RUS), Zaurbek SIDAKOV (RUS), and Zavur UGUEV (RUS) who all won gold medals at the 2018 World Championships.
Only three Russian wrestlers at each weight will qualify for the Ivan Yarygin. The first qualifying criteria is the world team member from the 2018 world championships, followed by the gold medalist of the Alans, and finally, the winner of January's Mindiashvili Grand Prix.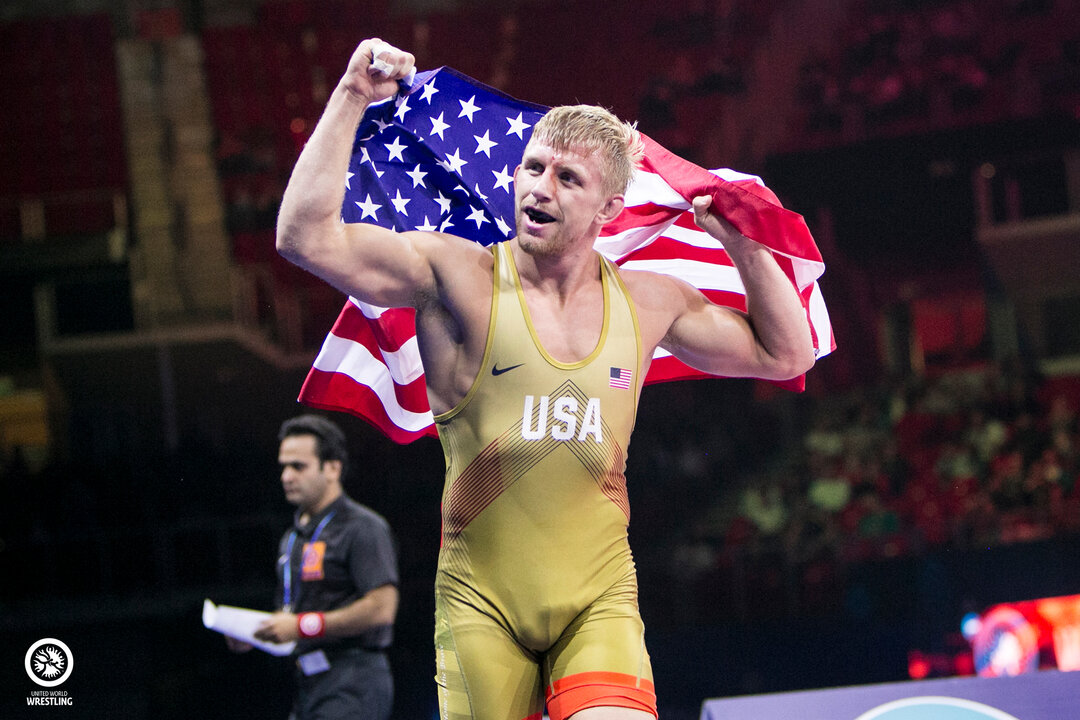 Kyle DAKE (USA) carries the American flag after winning his first world title. (Photo by Max Rose-Fyne)
4. World Champs Dake and Taylor Draft Team for Inaugural "American Wrestling League I The Beginning"
Reigning world champions Kyle DAKE (USA) and David TAYLOR (USA) drafted their teams for the inaugural "American Wrestling League I The Beginning" which takes place at the U.S. Cellular Center in Cedar Rapids, Iowa on November 30. 
Though there will be only ten matches, on Saturday night, each of the rookie world champions drafted ten starters, along with ten back-ups to compete at the ten international weight categories.  
Each of the starters from Team Dake and Team Taylor will pick up $2,500 to show, and $5,000 to win.
Fans can follow all of the AWL action live on trackwrestling.com on November 30. 
Team Kyle DAKE 
57kg - Zach SANDERS and Alan WATERS
61kg – Tony RAMOS and Nick SIMMONS 
65kg – Jordan OLIVER and Josh KINDIG 
70kg – James GREEN and Frank MOLINARO 
74kg – Isaiah MARTINEZ and Richie LEWISH 
79kg – Nate JACKSON and Josh ASPER
86kg – Nick HEFLIN and Pat DOWNEY 
92kg – Hayden ZILLMER and Deron WINN
97kg – Jacob KASPER and Ty WALZ
130kg – Dom BRADLEY and Ceron FRANSISCO  
Team David TAYLOR 
57kg – Nico MEGALUDIS and Frank PERRELLI 
61kg – Cory CLARK and Bryce MEREDITH 
65kg – Zain RETHERFORD and Evan HENDERSON 
70kg – Brandon SORENSEN and Anthony COLLICA 
74kg – Tommy GANTT and Joey LAVALLEE
79kg – Alex DIERINGER and Dan VALLIMONT 
86kg – Sammy BROOKS and Brett PFARR
92kg – Michael MACCHIAVELLO and Ben PROVISOR 
97kg – Kyven GADSON and Blaize CABELL 
130kg – Adam COON and Robbie SMITH 
5.  U23 World Championships Begin November 12 
Next week,  the Polyvalent Hall in Bucharest, Romania will host the 2018 U23 World Championships. Wrestling begins on Monday, November 12. 
Greco-Roman wrestling will kick off the championships, followed by women's wrestling, and will end with freestyle. 
Click here for the full schedule. 
Weekly FIVE! In Social Media 
1. Big Move Monday! #grecoromanwrestling #olympic #wrestling#activewrestling #5pointsthrow 
#budawrestle2018
2. Nice action in 82kg Peter Bácsi two times World Champion,2018 Budapest #grecoromanwrestling #olympicwrestling 
@unitedworldwrestling
3. 🚀 #Budawrestle2018
4. Russia's U23 world squad. 
5. Kyle Dake and David Taylor AWL draft picks