Weekly FIVE! October 22, 2019
Tuesday, October 22, 2019 - 13:23 By Eric Olanowski
Reviewing the U23 World Championships which start next Monday and Yanan SUN'S quest for Olympic Gold. Also looking at results from the World Military Games, Akhmad Kadyrov Cup and much more. 
1. U23 World Championships Less Than a Week Away
The U23 World Championships begin next Monday (October 28) in Budapest, Hungary, and 35 of the 631 registered athletes are returning U23 world medalists -- including ten reigning champions. 
Greco-Roman will house five of the ten returning gold medalists. There will be three freestyle wrestlers who'll look to defend their titles, and a pair of women's wrestling champs from a year ago.  
Nugzari TSURTSUMIA (GEO), who last month reached the top of the senior world podium in Nur-Sultan, headlines the lengthy list of returning Greco-Roman U23 world gold medalists. His fellow compatriot, Zviadi PATARIDZE (GEO), will look to defend his U23 world title from a year ago. The Georgian big man is chasing his seventh age-group world title. 
Mohamed ELSAYED (EGY) and Katsuaki ENDO (JPN) are both entered at 67kg, which could set up a colossal matchup of returning U23 gold-medal winners from last season. El Sayed is coming off a fifth-place finish in Nur-Sultan, where he qualified Egypt for the 2020 Olympic Games at 67kg. 
The fifth and final Greco-Roman champ from a year ago is Semen NOVIKOV (UKR). He's entered at 87kg. 
Freestyle's three 2018 gold-medal winners are Taimuraz SALKAZANOV (SVK), Kamran GHASEMPOUR (IRI) and Shamil ZUBAIROV (AZE). They'll compete at 74kg, 86kg and 92kg, respectively. 
Japan's Saki IGARASHI (55kg) and China's Paliha PALIHA (76kg) are the two women's wrestlers who are on a quest to repeat as U23 world champions. Marina SEDNEVA (KAZ) and Andreea ANA (ROU), who finished with bronze medals at the 2018 U23 World Championships, will join Igarashi in the 55kg bracket, while Paliha is the lone returning medalist entered at 76kg. 
The full list of the 631 wrestlers will be released this week on www.unitedworldwrestling.org. 
2. Rising Sun: Chinese Star Aims for Olympic Glory in Land of Top Rivals
Once SUN Yanan (CHN) made the bold decision at 15 to leave home for the unknown to pursue a wrestling career, she knew there was no turning back.
"At the beginning, I told myself I needed to be independent because I already left home," she recalls. "I cannot go back. If I go back, it would be shameful."
Sun has never looked back and, despite her late start in the sport, has forged a solid career that includes a world gold medal, an Olympic bronze and numerous other laurels. After a setback at the recent World Championships, the 27-year-old has her sights set firmly on the Tokyo 2020 Olympics.
"Step by step, I felt I really enjoyed wrestling and it already became part of my life," Sun says of her development in the sport. "And I wanted to realize my dream to be more confident and become a perfect lady because of wrestling. I really grew up."
The 27-year-old Sun speaks easily and openly through an interpreter during an interview at last week's Tokyo 2020 test event, a women's tournament in the six Olympic weights. While Sun attended with the Chinese team but did not take part, the trip gave her a first glimpse of the Olympic venue, located in the Makuhari Messe convention center in neighboring Chiba city.
"I'm very excited when I imagine that next year maybe I will compete here at the Olympics," she says. "I hope I can be much stronger and show my best next year."
Sun secured a spot for China at 50kg by placing fifth at the World Championships in the Kazakh capital of Nur-Sultan last month. Although she finished out of the medals, she showed she could still be a factor in the weight class.
Click HERE to read Ken Marantz's full feature on Yanan SUN (CHN).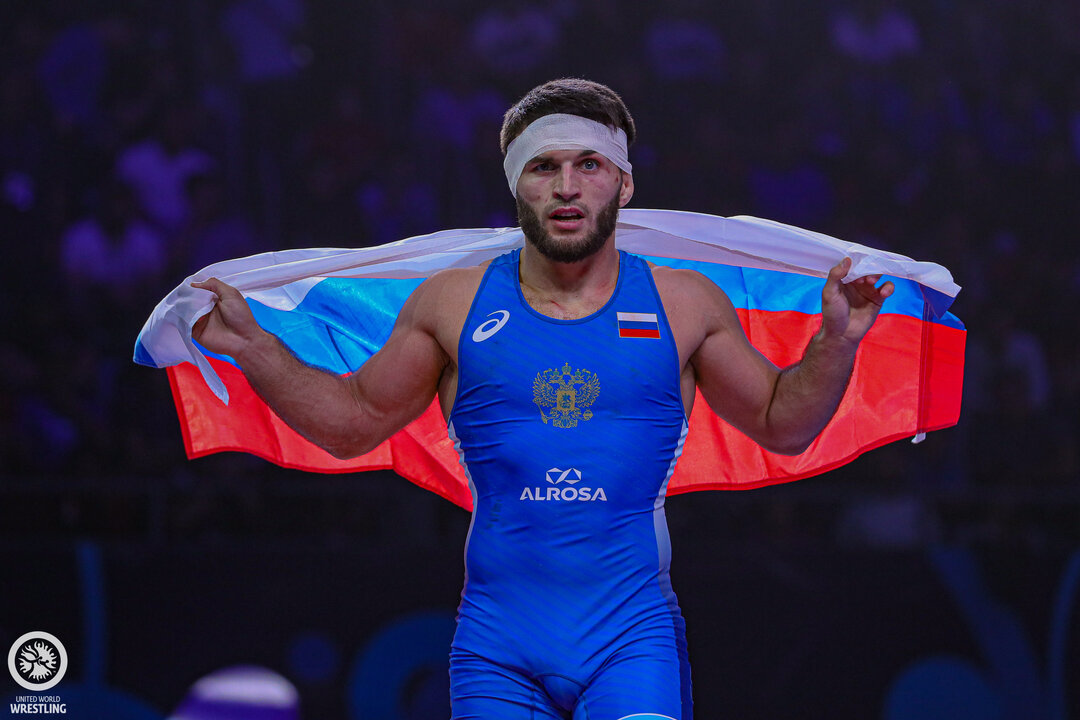 Gadzhimurad RASHIDOV (RUS) was one of three Russian wrestlers who won a World Military Games gold medal. (Photo: Kadir Caliskan)
3. Russia Opens Up World Military Games with Three Freestyle Golds 
Russia kicked off the 7th CISM World Military Games in Wuhan, China, by going three-for-three in gold-medal matches, while The Democratic People's Republic of Korea's Gwang un PAK (57kg) won the fourth Day 1 gold medal. Taha AKGUL (TUR) and Hossein MOHAMMADIAN (IRI) claimed the remaining pair of freestyle gold medals, which came on the second day of wrestling in China.  
The three Russian champions were headlined by the 65kg reigning world champion, Gadzhimurad RASHIDOV (RUS). His fellow Russian compatriots who also won gold at the World Military Games were Khetik TSABALOV (RUS) and Artur NAIFONOV (RUS). Those two won the 74kg and 86kg titles, respectively. 
Rashidov, the now-three-time world finalist, outscored his four opponents 41-0 en route to his first World Military Games title. That 41-0 mark includes a 10-0 win over Vasyl SHUPTAR (UKR) in the 65kg finals. In addition to his 10-0 win over Shuptar in the finals, Rashidov also grabbed technical superiority victories over Gerchek HEMRAYEV (TKM), TIAN Zhenguang (CHN) and Bavyrzhan TOREBEK (KAZ). 
Tsavolov, a 2014 world champion and 2017 world silver medalist, took down Nurkoza KAIPANOV (KAZ), 12-0, in the 74kg finals. Artur Naifonov, a 2019 world bronze medalist, defeated Ahmed DUDAROV (GER), 10-0, in the finals at 86kg. 
Gwang un Pak, who hung on to defeat Andrei DUKOV (ROU), 2-2, was awarded the fourth opening day gold medal. 
On the second day of wrestling, Turkey's Rio Olympic champion Taha Akgul blanked Yadollah MOHEBI (IRI), 3-0, in the 125kg finals and Iran's Hossein Mohammadian defeated Aliaksandr HUSHTYN (BLR), 3-1, to claim gold at 97kg. 
Click here for full results from the 7th CISM World Military Games.
Freestyle 
57kg – Gwang un PAK (PRK) df. Andrei DUKOV (ROU), 2-2 
65kg – Gadzhimurad RASHIDOV (RUS) df. Vasyl SUPTAR (UKR), 10-0 
74kg – Khetik TSABALOV (RUS) df. Nurkoza KAIPANOV (KAZ), 12-0 
86kg – Artur NAIFONOV (RUS) df. Ahmed DUDAROV (GER), 10-0 
97kg – Hossein MOHAMMADIAN (IRI) df. Aliaksandr HUSHTYN (BLR), 3-1
125kg – Taha AKGUL (TUR) df. Yadollah MOHEBI (IRI), 3-0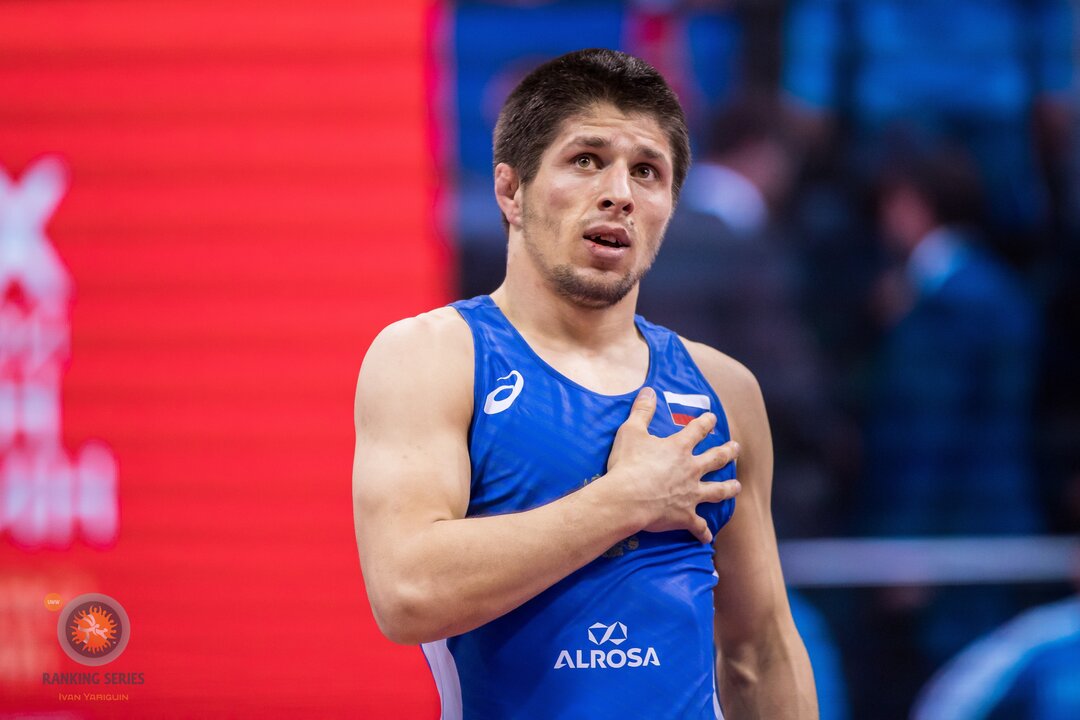 Two-time world champion Magomedrasul GAZIMAGOMEDOV (RUS) grabbed the 74kg gold medal at the Akhmad Kadyrov Cup. (Photo: Sachiko Hotaka)
4. Gazimagomedov Grabs 74kg Gold at Akhmad Kadyrov Cup; Olympic Champ Ramonov Returns 
Chechnya's capital city of Grozny hosted the Akhmad Kadyrov Cup last weekend, and two-time world champion Magomedrasul GAZIMAGOMEDOV (RUS) highlighted the list of ten Russian winners. 
Gazimagomedov, up from his Budapest world-title winning weight of 70kg, won his first 74kg competition after a third-place finish at July's Russian National Championships. His win in the finals came over Musa BAZIEV (RUS). 
Another notable champion was Akhmed CHAKAEV (RUS). The two-time world bronze medalist won his third consecutive Akhmad Kadyrov Cup with a win over Muslim SAJDULAEV (RUS) in the 65kg finals. 
Outside of the champions, Rio Olympic gold medalist Soslan RAMONOV (RUS) returned to the mat after a 13-month layoff. He was recovering from back surgery. Ramonov finished in second place at 70kg, dropping his finals match to Rasul ARSANALIEV (RUS). After his runner-up finish, Ramonov took to his social media account to announce that he'll be heading back down to his Olympic gold-winning weight of 65kg for this weekend's Vladimir Semenov Memorial -- which takes place in Nefteyugansk, Russia. 
In that post, Ramonov roughly said, "After a year's pause, the first start, yesterday I enjoyed the fights. Today I was completely empty! Unfortunately, my body was not ready to go through the whole tournament...but this is all fixable. I will work even more. The next competition is in a week, at 65kg in the city of Nefteyugansk."
RESULTS
57kg - Muslim SADULAEV (RUS) df. Abubakar MUTALIEV (RUS)
61kg - Zelimkhan ABAKAROV (RUS) df. Muslim MEHTIKHANOV (RUS)
65kg - Akhmed CHAKAEV (RUS) df. Muslim SAJDULAEV (RUS)
70kg - Rasul ARSANALIEV (RUS) df. Soslan RAMONOV (RUS)
74kg - Magomedrasul GAZIMAGOMEDOV (RUS) df. Musa BAZIEV (RUS)
79kg - Kahaber HUBEZHTY (RUS) df. Adam KHASIEV (RUS)
86kg - Muslim DADAEV (RUS) df. Dzhabrail SHAPIEV (UZB)
92kg - Anzor URISHEV (RUS) df. George RUBAEV (MDA)
97kg - Alikhan ZHABRAILOV (RUS) df. Tamerlan RASUEV (RUS)
125kg - Batradz GAZZAYEV (RUS) df. Baldan TSYZYPOV (RUS)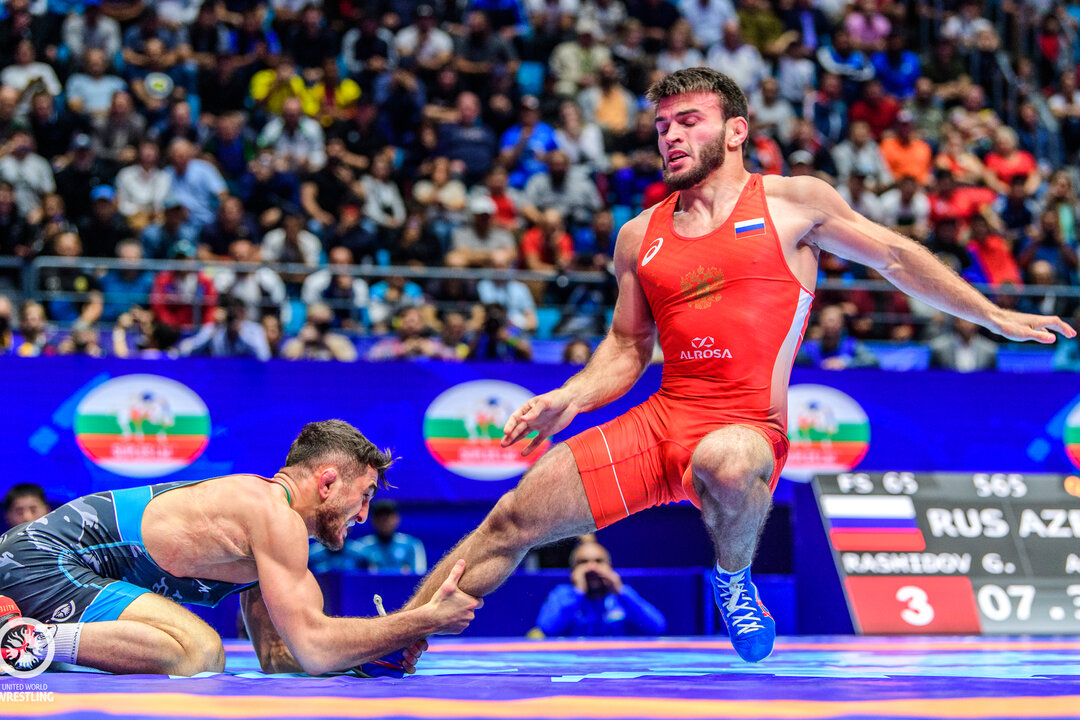 Haji ALIYEV (AZE), a three-time world champion, will have to travel to the European Olympic Qualifier to lock up Azerbaijan's spot at the Toyko Olympic Games. (Photo: Tony Rotundo)
5. European Olympic Qualifier: Who Hasn't Qualified at 65kg 
The first six Olympic berths at each weight were claimed at the Nur-Sultan World Championships, and countless world medalists still have a lot of work to do to get their nation's spot locked up for next August's Tokyo Olympic Games. In particular, two of Europe's best 65kg wrestlers are still in jeopardy of missing the Olympic Games, but still have two shots at locking up their nation's spot. 
At 65kg, there are only two continents who have qualified spots for the Olympics. Those continents are Asia and Europe. Asian nations have four wrestlers, while European countries have two wrestlers. But missing out of those European qualifiers are two of the best wrestlers in the world at the weight, Haji ALIYEV (AZE) and Vladimer KHINCHEGASHVILI (GEO). 
Aliyev, a three-time world champion, failed to qualify Azerbaijan for the Olympics at 65kg. The Rio Olympic bronze medalist dropped his opening round match at the World Championships to eventual world champion Gadzhimurad RASHIDOV (RUS). Then, Aliyev scored a 10-1 win over Reda HUSSEN (EGY) in his first repechage match but fell to 2018 world champion Takuto OTOGURO (JPN) in a heartbreaking 11-9 match. He was knocked out of the tournament after his second loss and finished in 12th place. 
Khinchegashvili, a Rio Olympic champion and London silver medalist, also failed to qualify his nation for the Toyko Olympic Games. The Georgian opened up his 2019 World Championships campaign with a 4-0 win over YUN Junsik (KOR) but lost 5-1 in his next match to eventual bronze medalist Iszmail MUSZUKAJEV (HUN). The Hungarian dropped a 3-2 nail biter against Rashidov -- knocking Khinchegashvili out of the tournament with a 22nd-place finish. 
The pair will have to travel to the European Olympic Qualifier in Budapest, Hungary (March 19 – 22) and finish top-two to qualify Azerbaijan and Georgia for the Olympic Games at 65kg. If they fail to make the finals in Budapest, their last opportunity will be the World Olympic Qualifier in Sofia, Bulgaria (April 30 – May 03). 
Qualified Nation – Qualifying Wrestler 
RUS via Gadzhimurad RASHIDOV (Europe)
KAZ via Daulet NIYAZBEKOV (Asia) 
IND via Bajrang BAJRANG (Asia)
HUN via Iszmail MUSZUKAJEV (Europe) 
JPN via Takuto OTOGURO (Asia)
MGL via Tulga TUMUR OCHIR (Asia)
Weekly FIVE! In Social Media
1. Big Move Monday -- Sahakyan G. (POL) @gevorguww -- Senior Worlds 2019
2. The largest Referee and Coaches course ... EVER! More than 300 participants in Wuhan, China delivered by Ibrahim CICIOGLU (TUR).
3. #ScoreThat - Who came out on top of this exchange? Was it blue (@lorincztomi12) or red (@alexkessidis)?
4.  Which World Champion becomes Olympic Champion? 
5.  Happy Friday, Wrestling Fans!