Weekly FIVE! October 30, 2018
Tuesday, October 30, 2018 - 09:22 By Eric Olanowski
Sadulaev has now won three senior world titles to go along with an Olympic gold medal in Rio. He has suffered just one international loss since 2013. That loss came against Snyder at last year's World Championships.
Russia won the freestyle team title and crowned both freestyle gold medalists on Tuesday. The United States finished second in the team standings, while Georgia finished third.
2. Russia Sweeps Greco Gold Medals on Final Day of World Championships
Russia put the finishing touches on a world team title in Greco-Roman by sweeping the gold medals on the final day of the World Championships in Budapest, Hungary. 
Aleksandr CHEKHIRKIN (77kg), Musa EVLOEV (97kg) and Sergey SEMENOV (130kg) came through to win gold medals in Greco-Roman for Russia on Sunday.
Chekhirkin captured his gold medal by defeating crowd favorite Tamas LORINCZ (HUN) 3-1 in the gold-medal match at 77kg. The Russian led 1-1 on criteria after the opening period and added to his lead in the second period off a passivity and then scored a late step out to win by two.
Evloev upgraded his world medal from silver to gold as he topped Kiril MILOV (BUL) 7-2 in the gold-medal match at 97kg.
The final Russian gold medal went to Sergey Semenov who dominated Adam COON (USA) 9-0 in the gold-medal match at 130kg. The 23-year-old Russian heavyweight used two four-point throws to cruise to the technical fall victory. Semenov was a gold medalist at the U23 World Championships last year and won two world gold medals as a junior. 
In addition to closing out the Greco-Roman championships with three day nine gold medals, Russia also used championships performances from Sergey EMELIN, Stepan MARYANYAN (RUS), and Artem SURKOV (RUS) to win the team title. 
Russia finished with 178 team points in Greco-Roman, 89 points ahead of runner-up Hungary (89). Turkey finished third in the team standings with 75 points.
4. Olli Makes History, Wins Finlands First Women's Wrestling Gold Medal 
In the gold-medal match at 65kg, Petra OLLI (FIN) held on to defeat Danielle LAPPAGE (CAN) 6-5 and claimed Finland's first women's wrestling world title after winning a silver medal back in 2015.
Lappage, a 2010 junior world champion, looked strong early, scoring first off the shot clock and adding a takedown to go up 3-0. Olli inched closer with a takedown late in the first period and then grabbed the lead on criteria less than a minute into the second period after scoring a point off a caution. 
Olli extended her lead to 5-3 midway through the second period with a takedown off a duckunder. Trailing by two with 10 seconds left, Lappage shot a single leg and secured a last-second takedown to make the score 5-5. However, a finger caution broke the tie and gave Olli a 6-5 victory.
Though Ollie was the only wrestler to win her countries first-ever gold medal at the 2018 World Championships, three other wrestlers made history for their nations in their respective styles.
They were 125kg freestyle runner-up DENG Zhiwei (CHN), and bronze medalists Taimuraz FRIEV NASKIDAEVA (ESP) (FS86kg) and Lianna de la Caridad MONTERO HERRERA (CUB) (WW55kg).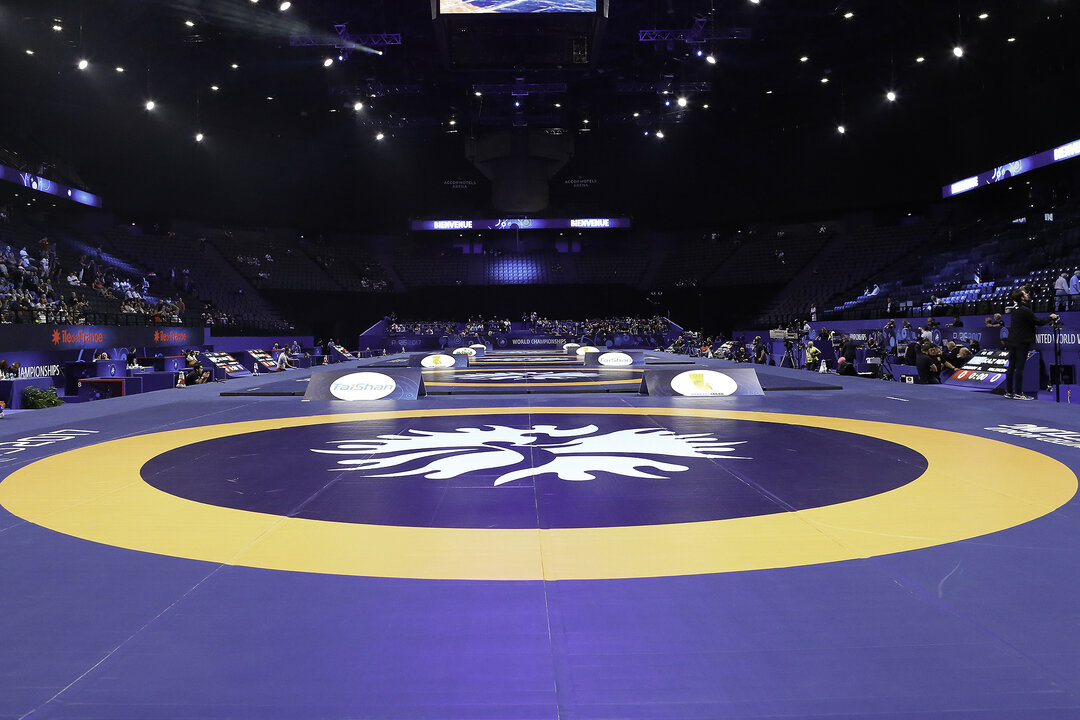 5.  U23 World Championships Begin November 12 
In less than two weeks, the Polyvalent Hall in Bucharest, Romania will host the 2018 U23 World Championships. Wrestling begins on Monday, November 12. 
Greco-Roman wrestling will kick off the championships, followed by women's wrestling, and will end with freestyle. 
Click here for the full schedule. 
Weekly FIVE! In Social Media 
1. OFF THE MAT - Short clip from behind the scenes at #budawrestle2018 with Yazdani and Taylor. Head to our stories to watch the full video. - #budawrestle2018 #uww
2. Yowlys Bonne Rodriguez - Becoming a World Champion // 'For me, he's (Julio Mendieta Cuellarone) one of the best. Thanks to him I am here. He trusted me even when I didn't trust myself. I almost wanted to quit. He was the one who said you have the talent, you can make it. You can be a champion!' #budawrestle2018
3. Thomas Bach (IOC President) and Nenad Lalovic (UWW President) congratulate Frank Staebler after winning his third World Title #budawrestle2018
4. Olympic champion @davorstefanek shares his #BudaWrestle2018 🥈with his son, Matija.
5. What goes up, must come down!!! 😲😲😲😲🇨🇺 #budawrestle2018