Weekly FIVE! October 8, 2019
Tuesday, October 8, 2019 - 15:00 By Eric Olanowski
Discussing 63kg world champion Ota moving up to 67kg for an Olympic run and Japan's 50kg Asian Olympic Qualifier spot to be determined at Emperor's Cup. Also looking at last weekend's Tokyo Test Event, Uruguay's training facility and this week's Veteran World Championships. 
1. World Champ Ota Moving up to 67kg for Olympic Run
Shinobu OTA (JPN) is no stranger to the Olympic Games. The electric ball of energy fell short in finals of the Rio Olympic Games and settled for a silver medal. Since his runner-up finish in 2016, Ota has represented Japan twice at the World Championships -- including a gold-medal performance at the 2019 World Championships in Nur-Sultan, Kazakhstan. 
But for Ota to represent Japan at the 2020 Tokyo Olympic Games in his home country, he'll have to move up to 67kg from his Nur-Sultan winning-weight of 63kg. He was expected to drop down to 60kg to challenge Kenichiro FUMITA (JPN) for the spot, but Fumita sealed up his place on Japan's Olympic team by demolishing his way to a third consecutive world title. Fumita won a senior-level world title in 2017, a U23 world title in 2018 and the aforementioned senior-level world gold this year. 
Japan's Shogo TAKAHASHI failed to qualify the weight at the World Championships after falling to Fredrik BJERREHUUS (DEN) in the second round at the World Championships -- leaving Japan eyeing the Asian Olympic Qualifier in late March in Xi'an, China, to earn a 67kg berth to the Olympic Games. 
In order for Fumita or Takahashi to lock up Japan's spot, they'll be met by stiff competition in Xi'an. Korea's two-time world champion RYU Hansu failed to qualify the weight for the Olympics and is also expected to be at the Asian Olympic Qualifier, too. 
Finally, Kazakhstan's four-time world medalist Almat KEBISPAYEV, who was this year's world bronze medalist at 63kg, is also rumored to be making the 4kg jump to 67kg for the Asian Olympic Qualifier. 
This will leave at least three multiple-time world medalists at 67kg jockeying for two of the spots from the Asian Olympic Qualifier. 
2. Japan 50kg Asian Olympic Qualifier Spot to be Determined at Emperor's Cup
Shortly after winning her second consecutive seior world title a season ago in Budapest, Yui SUSAKI (JPN) was looked at by many as one of the best pound-for-pound wrestlers in the world. Through her first two senior World Championships, Susaki was a perfect 9-0 and scored an impressive seven technical superiority victories and a fall en route to her pair of world titles. 
But the seven-time world champion (three cadet, two junior and two senior) was dealt a stunning loss to Yuki IRIE (JPN) and failed to make Japan's Nur-Sultan world team. Susaki was in danger of missing the 2020 Tokyo Olympic Games, but her rival Irie dropped her quarterfinals match in Nur-Sultan to SUN Yanan (CHN), who ended up falling to eventual champion Mariya STADNIK (AZE) in the semifinals, and left the door wide open for Susaki to return to Japan's lineup prior to the Olympic Games. 
Japan's focus at 50kg moves to December 19-22 Emperor's Cup. The winner of the 50kg weight class, which will feature Irie, Susaki and Rio Olympic champion Erie TOSAKA (JPN), will travel to Xi'an, China to try to secure Japan's spot at the 2020 Olympic Games.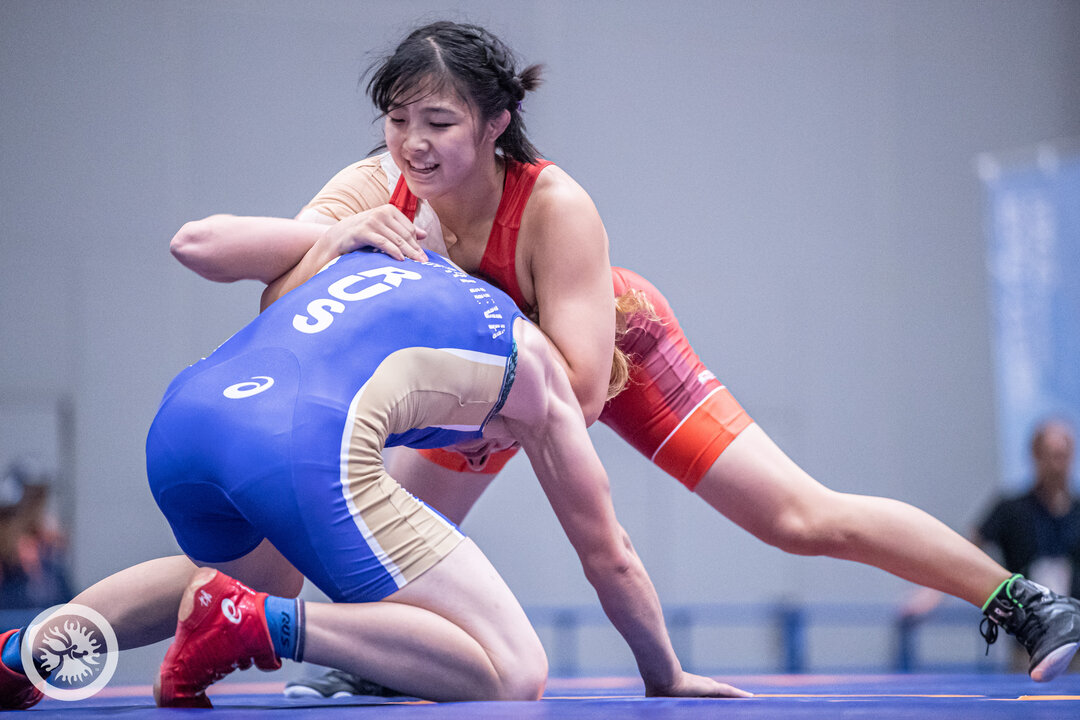 Yumeka TANABE (JPN) was one three Japanese wrestlers who won a gold medal at last weekend's Tokyo 2020 Test Event. (Photo: Sachiko Hotaka)
3. Rivals Japan, China Split Head-To-Head Finals on Final Day of Tokyo 2020 Test Event
Host Japan and rival China each came up with a victory in head-to-head duels as the last three gold medals were awarded to bring a close to the three-day Tokyo 2020 Olympic test event in women's wrestling at Makuhari Messe in neighboring Chiba city. 
LEI Chun (CHN) defeated teenager Miu SHIMIZU (JPN) 5-2 in the 50kg final, before 2018 world junior champion Umi IMAI (JPN) struck back for the host nation by edging LUO Lannuan (CHN) 3-2 for the 53kg gold.
In an all-Japan final at 57kg, Yumeka TANABE (JPN) gained the winning points on a late challenge to top Sena NAGAMOTO (JPN) 6-4.
With no spectator seating and only the set-up of the mats offering a glimpse of what the actual venue will look like during the Tokyo Games, the tournament served mostly to test the newly developed integrated scoring system and to give volunteers and staff experience with the flow of matches.
Here are Ken Marantz' Daily Wraps:
Preview
Day One Wrap
Day Two Wrap 
Day Three Wrap
Women's Wrestling Results
50kg (8 entries)
Gold – LEI Chun (CHN) df. Miu SHIMIZU (JPN), 5-2
Bronze – Remina YOSHIMOTO (JPN) df. Daria LEKSINA (RUS) by Fall, 4:10 (10-4) 
Bronze – Mariia VYNNYK (UKR) df. Chihiro SAWADA (JPN), 4-4
53kg (9 entries)
Gold – Umi IMAI (JPN) df. LUO Lannuan (CHN), 3-2
Bronze – Saki IGARASHI (JPN) df. PANG Qianyu (CHN) by Def. 
Bronze – Ibuki TAMURA (JPN) df. Katherine SHAI (USA), 7-3
57kg (8 entries)
Gold – Yumeka TANABE (JPN) df. Sena NAGAMOTO (JPN) 6-4 
Bronze – ZHANG Qi (CHN) df. RONG Ningning (CHN) by Def. 
Bronze – Hanako SAWA (JPN) df. Khadizhat MURTUZALIEVA (RUS), 3-2
62kg (8 entries)
Gold – Yui SAKANO (JPN) df. Atena KODAMA (JPN), 2-1
Bronze – LUO Xiaojuan (CHN) df. PEI Xingru (CHN) by Def.
Bronze – Ilona PROKOPEVNIUK (UKR) df. Anna SHCHERBAKOVA (RUS) by TF, 10-0, 4:04

68kg (8 entries)
Gold – WANG Xiaoqian (CHN) df. Naruha MATSUYUKI (JPN), 2-1 
Bronze – Alina RUDNYTSKA (UKR) df. Alexandra GLAUDE (USA), 4-3
Bronze –Rin MIYAJI (JPN) df. Alena STARODUBTSEVA (RUS), 9-6
76kg (9 entries)
Gold – Paliha PALIHA (CHN) df. ZHOU Qian (CHN) by Def.
Bronze – Romana VOVCHAK (UKR) df. Mizuki NAGASHIMA (JPN) by Fall, 3:19 (3-0)
Bronze – Justina DI STASIO (CAN) df. Yasuha MATSUYUKI (JPN), 3-0
4. Uruguay Wrestling Joins National Training Center Dedicated to Combat Sports
For several years the Uruguay Wrestling Federation struggled to find a dedicated training venue to help develop wrestling. Shuttled from building to building in the capital city of Montevideo the team last trained in the corridors of the national stadium.
But after years of struggling for a secure place to train, the Uruguay Wrestling Federation led by president Dante STEFFANO, has finally found a home.
With valuable contribution and support of Secretaria Nacional del Deporte and Uruguay National Olympic Committee, the first-ever combat training centre of Uruguay was inaugurated on the 30th September 2019. The centre includes space for the wrestling program.
In 2017 United World Wrestling contributed to the federation's initiative to launch more wrestling programs, receive wrestling mats, and launch a series of action plans to promote wrestling in schools and among the youth.
Click HERE to read more about the Uruguay Wrestling Federation.
5. Veteran World Championships Underway in Tbilisi, Georgia 
On Monday, over 600 veterans from 49 different nations kicked off their quest to become a world champion at the World Championships in Tbilisi, Georgia. The five-day freestyle and Greco-Roman competition started today and will go through Sunday (October 13). 
There are also a pair of major events that'll take place in the coming weeks. First, the World Beach Games will take place in Doha, Qatar, on October 14-15. 
Then, the U23 World Championships, where 631 athletes will represent 64 nations, begin in Budapest, Hungary, on October 28. 
Weekly FIVE! In Social Media
1. Big Move(s) Monday -- Veteran Worlds 2015
2. Who is your favorite World Champion?
3. Behind the Scenes: The Journey to 53kg Gold at the World Championships
4. What was your biggest upset at World Championships? 
5. When you realize wrestling at the @tokyo2020Olympic Games kicks off in 300 days!