Weekly FIVE! September 3, 2019
Tuesday, September 3, 2019 - 15:11 By Eric Olanowski
Discussing Iran's new freestyle line up and Retherford downing Diakomihalis to claim USA's 65kg world team spot. Also looking at the most wide-open weight at the World Championships and when rosters are scheduled to be released. 
1. Iran's New-Look Lineup 
Iran finalized their freestyle roster over the weekend and made two major unexpected updates to the top half of their lineup. 
Reza YAZADANI (IRI) and Parviz HADI (IRI) were entered at 97kg and 125kg respectively, but both suffered injuries during their final training cycle and will no longer compete in Kazakhstan. 
Yazdani, the two-time world champion, will be replaced by Ali Khalil SHABANIBENGAR (IRI) at 97kg. Shabanibengar was a runner-up at the Yasar Dogu, where he lost to Kyle SNYDER (USA) in the finals. 
Yadollah MOHEBI (IRI) will replace returning world bronze medalist Parviz Hadi at 125kg. This season, Mohebi won the Takhti Cup and Asian Championships and also finished in fifth place at the Yasar Dogu. 
Iran's Freestyle Lineup 
57kg - Reza ATRINAGHARCHI
61kg - Behnam Eshagh EHSANPOOR
65kg - Amirmohammad Babak YAZDANICHERATI
70kg - Yones Aliakbar EMAMICHOGHAEI
74kg - Reza Alireza AFZALIPAEMAMI
79kg - Bahman Mohammad TEYMOURI
86kg - Hassan Aliazam YAZDANICHARATI
92kg - Alireza Mohammad KARIMIMACHIANI
97kg - Ali Khalil SHABANIBENGAR
125kg - Yadollah MOHEBI
2. Retherford Takes Down Diakomihalis, to Represent USA at 65kg 
Zain RETHERFORD (USA) downed Yianni DIAKOMIHALIS (USA), 2-1, and will represent the United States of America at 65kg at the 2019 World Championships. 
Retherford won the first Final X series a few months ago, but after an arbitrator negated the result from the second match, Retherford had the 1-0 series lead coming into Monday's match. Retherford only needed to win one match to punch his ticket, while Diakomihalis needed to win two straight matches.
In their Monday matchup, all the action came in the first period. Retherford trailed 1-0 after a failed challenge but capitalized on a counter-offensive crotch lift and took the 2-1 lead into the second period. 
A scoreless final three minutes gave Retherford the victory he needed to punch his ticket to the 2019 World Championships in Nur-Sultan, Kazakhstan. 
This'll be his second trip to the World Championships. He also represented the United States at the 2017 World Championships in Paris, where he finished in 11th place. 
USA's Freestyle World Team: 
57kg - Daton FIX 
61kg - Tyler GRAFF
65kg - Zain RETHERFORD
70kg - James GREEN 
74kg - Jordan BURROUGHS 
79kg - Kyle DAKE 
86kg - Pat DOWNEY 
92kg - J'den COX 
97kg - Kyle SNYDER 
125kg - Nick GWIAZDOWSKI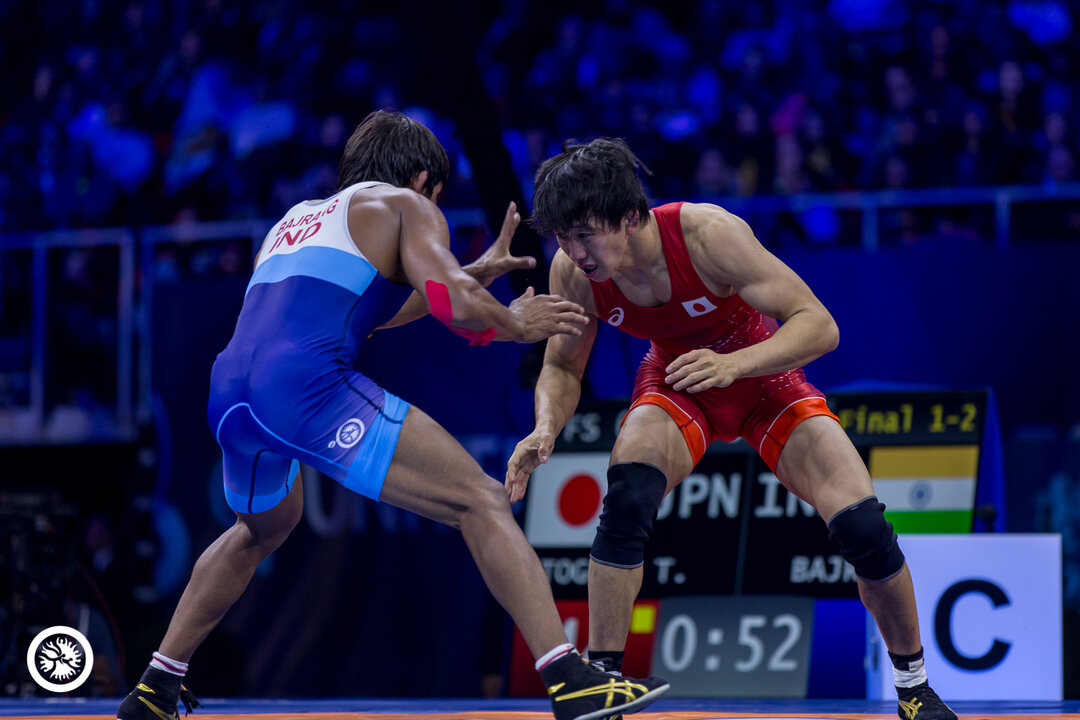 Takuto OTOGURO (JPN) returns to the World Championships with hopes of defending his 65kg title from a year ago. (Photo: Max Rose-Fyne)
3. The Most Wide-Open Weight: 65kg 
The most wide-open weight class for the World Championships is going to 65kg. There are three of the four returning world medalists who are currently entered, and an Olympic gold medalist and a three-time world champion.
The returning medalists, who finished with gold through bronze respectively, were Takuto OTOGURO (JPN), Bajrang PUNIA (IND), and Alejandro VALDES TOBIER (CUB). 
Although they failed to medal at last year's World Championships, two other wrestlers who have a shot at winning the 65kg world title are Haji ALIYEV (AZE) and Vladimer KHINCHEGASHVILI (GEO). 
Aliyev comes into the Nur-Sultan looking for his fourth world title since 2014. This season, the Azeri is undefeated and has won the European Championships and European Games. 
Khinchegashvili, the Rio Olympic champion, is another serious threat to win the world title at 65kg. He's coming off a European Games runner-up-finish where he fell to Aliyev in the gold-medal bout.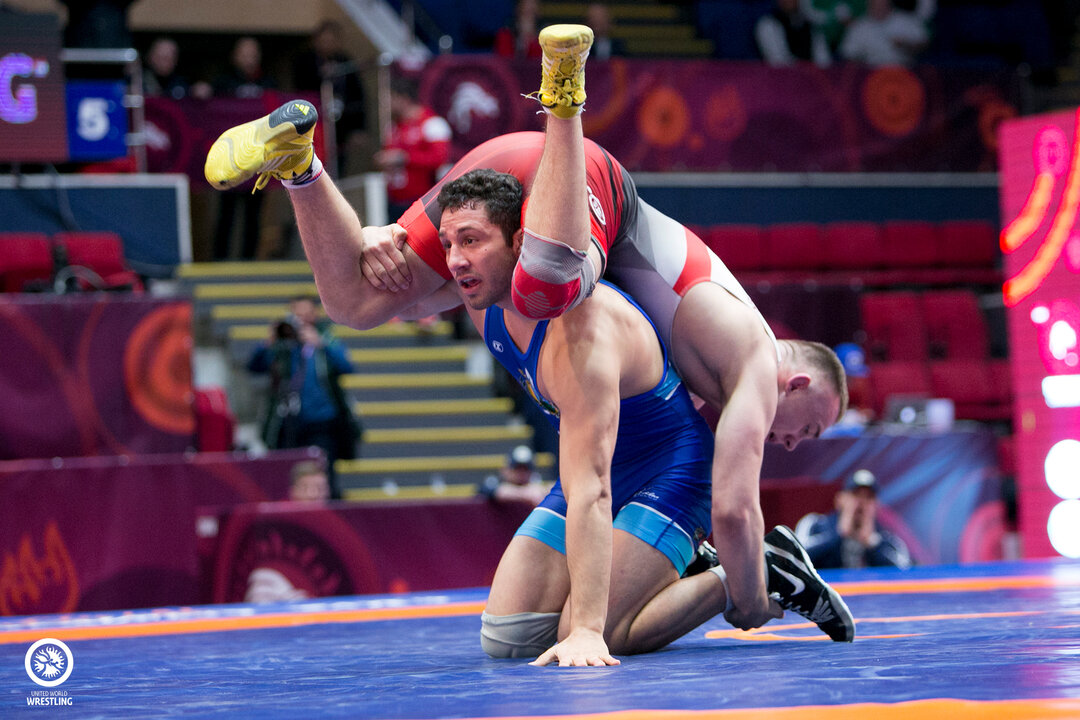 Myles AMINE (SMR), a European Games bronze medalist, will be the first freestyle wrestler from San Marino to compete at the World Championships. He's entered at 86kg. (Photo: Gabor Martin)
4. World Lineup to be Released This Week
The deadline for teams to make updates to their world team entries ends tomorrow, September 4. After the deadline has passed, United World Wrestling will be releasing the entries through the week. Currently, the entry list is just shy of 1000 wrestlers from 100 different nations.
5. World Championships Countdown: 11 Days
The wait is almost over. We're into the month of September, which means its officially World Championships month. The 2019 World Championships kick off on September 14 in Nur-Sultan, Kazakhstan. 
This year's World Championships will hold immense weight because the top-six wrestlers in each weight category will qualify their nation's spot for the 2020 Tokyo Olympic Games. 
The schedule for this year's Worlds is much different than that of the Budapest World Championships. Unlike last year, where Greco-Roman closed out the 2018 World Championships, Greco-Roman will instead kick things off this year -- beginning on September 14. Women's wrestling will be sandwiched in between Greco-Roman and freestyle -- starting on September 17. Finally, freestyle will close out the World Championships, with the potential third match-up between the three-time world and Olympic champions Abdulrashid Sadualev and Kyle Snyder squaring off the 97kg gold medal. The pair have split the last two world titles at 97kg, with Snyder winning in Paris and Sadualev exacting revenge in Budapest by picking up the 70-second fall. 
Here is the World Championships SCHEDULE. 
Weekly FIVE! In Social Media
1. Big Move Monday -- Sadulaev A. (RUS) -- Senior Worlds 2015
2. #TBT Petriashvili Edges Akgul to Win First World Title
3. Follow The Beach Wrestling World Series Final This Week-end!!
4. Will @hasan_yazdani73 reclaim his crown? Let us know what you think!
5. Tickets for #WrestleNurSultan are On Sale!