Wiebe Sticks Vorobeva in Battle of Olympic Champs
Friday, May 24, 2019 - 20:05 By Eric Olanowski
SASSARI, Italy (May 24) – In arguably the most anticipated women's wrestling match in the Ranking Series' two-year history, Rio Olympic champion Erica WIEBE (CAN) only needed two minutes to pick up the fall over London Olympic champion Natalia VOROBEVA (RUS).
In the first period of the 76kg finals, Wiebe ducked a front headlock attempt from her Russian opponent and used an unorthodox inside leg hook to throw Vorobeva on her back for the fall. "The secret to my success is I'm pretty dangerous from every position," Wiebe said when asked out the unconventional maneuver she used to pick up the fall. She went on to say, "Today was a test, and I'm happy with how I competed. I love being creative on the mats, and I love to get to wrestling positions. That's my bread and butter, so I went for it." 
The Budapest world bronze medalist went on to say "I wanted to go out there and compete. I wanted to make (Vorobeva) uncomfortable. I knew if I got her on her back, I wanted to stick her." That's exactly what she did to pick up her second career Ranking Series title and first since last year's Poland Open. 
Tamyra MENSAH (USA) defeated world runner-up Danielle LAPPAGE (CAN), 4-0 and won her third Ranking Series title of the year. (Photo: Gabor Martin)
In another highly anticipated women's wrestling matchup on Friday night, Tamyra MENSAH (USA), who hadn't even been in Italy for 24 hours, capped off her impressive run to a third consecutive Ranking Series title with a 4-0 win over Budapest world runner-up Danielle LAPPAGE (CAN). 
The American landed in Italy on Thursday at 22:30, didn't get to bed until well after midnight, then had to get up before sunrise for her final weight cut before weights. 
Mensah fought through all sorts of adversity to get to Sassari, including having to check her weight on a baggage scale at Chicago's airport - but her coach continued to hammer home that she needed to embrace the adversity and remind herself why she fell in love with the sport.  
The second-ranked wrestler in the world didn't use the long travel as an excuse, nor did she look at her extremely tough draw as a downfall. Mensah drew into Rio Olympic silver medalist Maryia MAMASHUK (BLR) in her first match. She won that match, 10-0. In her second match, she picked up a 5-1 win over Meerim ZHUMANAZAROVA (KGZ) and followed that up with a 9-2 semifinals routing of two-time European champion Anastasia BRATCHIKOVA (RUS).
In the finals, Mensah scored a pair of first-period takedowns to defeat Danielle Lappage, who was up from her Budapest weight of 65kg. 
Mensah's Friday night win in Sardinia helped her lock up the No. 2 seed at the Nur-Sultan World Championships.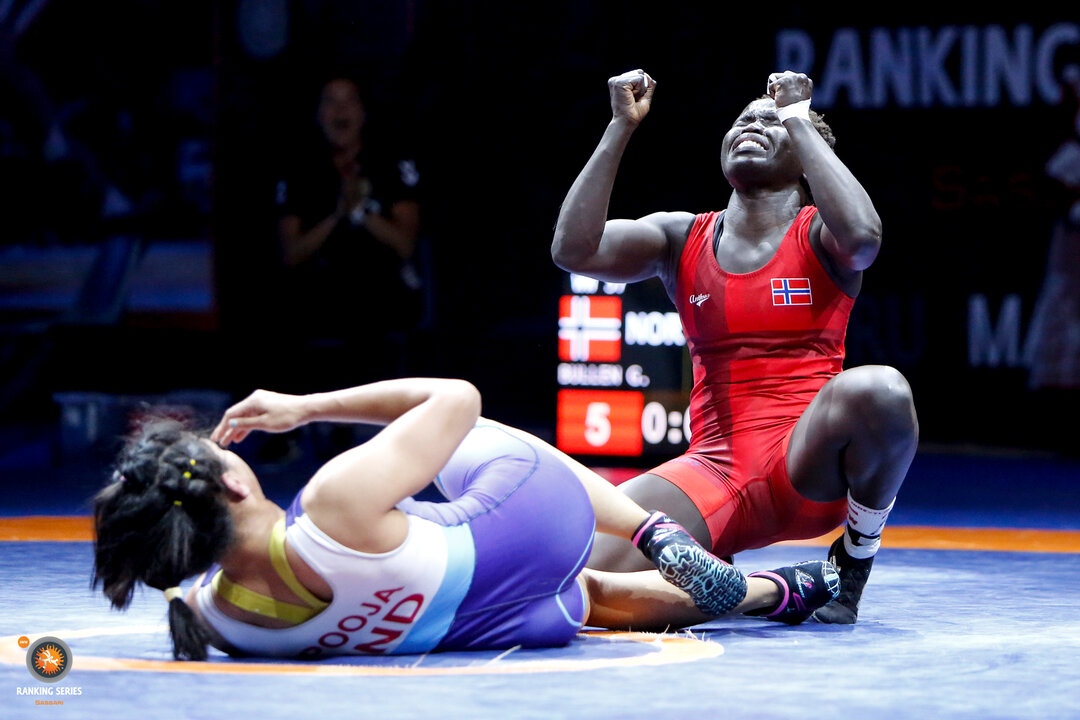 Grace BULLEN (NOR) shutout Budapest bronze medalist Pooja DHANDA (IND), 5-0 in the 57kg finals. (Photo: Gabor Martin)

Bullen Avenges Loss to Dhanda, Wins 57kg Title
Norway's U23 world champion Grace Jacob BULLEN (NOR) avenged her World Championship loss to Budapest bronze medalist Pooja DHANDA (IND), scoring a 5-0 shutout win in the 57kg finals. Bullen won her first Ranking Series title after failing to win a gold at the previous two. "It feels awesome. I've tried twice this year and got third and second." 
Bullen had no problem putting her five points on the board, picking up an inactivity point and a takedown before the end of the first period. In the second period, the Norwegian wrestler planted Dhanda on her back and held her there for nearly the entirety of the second period and scored the 5-0 shutout win.
"I lost to her at the worlds, so it means a lot that I can (wrestle) a match so great." Bullen added, "I can just see the development that I've had in my technical wrestling…I feel like I'm growing every day, so it's really fun to do that and ultimately perform at such a big competition like this, so it means a lot."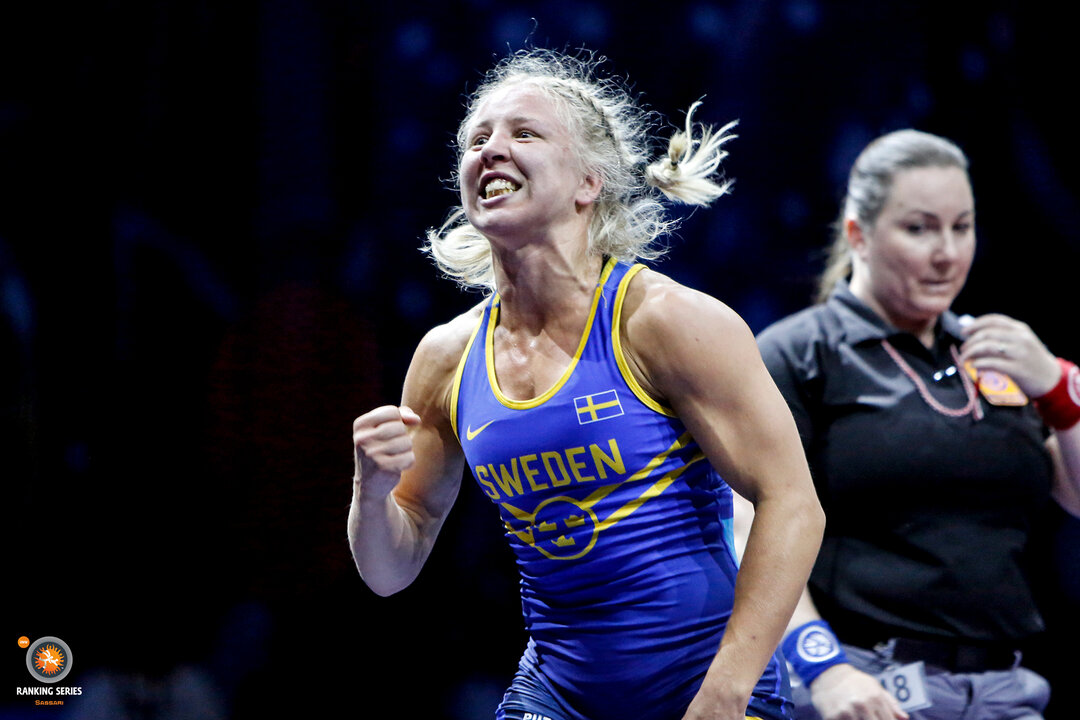 Henna JOHANSSON (SWE) made her first appearance at 62kg and won the Sassari gold medal. (Photo: Gabor Martin)
Sweden Wins Trio of Golds; Johansson Wins Highly Coveted 62kg Titled 
Sweden brought a stacked squad to Sardinia and ended up having three champions in Sofia MATTSSON, Henna JOHANSSON, and Jenny FRANSSON. Mattsson won the 55kg gold medal, and Johansson walked away as the 62kg champion.
In the 55kg finals, a matchup of past world champions was supposed to happen – but tenth-ranked Mattsson got her hand raised after seventh-ranked Vanesa KALADZINSKAYA (BLR) injury defaulted out of the match before the whistle blew. 
Mattsson added 14 points to her previous total of 18 and will sit inside the top-4 of the rankings with 32 points heading into the final Ranking Series event of the year.
In her first appearance at 62kg, Henna Johannsson hit a thunderous four-point double leg in the first period, followed by a deep double in the second period, and defeated No. 18 (at 59kg) Elmira GAMBAROVA (AZE), 6-4. 
"I feel strong; I feel good, and I feel fast. I think 62kg is perfect for me." 
Johansson's win leaves the Swedish coaching staff with a tough decision heading into the European Games and World Championships. Do they go with Johansson or do you go with the bronze medalist at this weight, Malin MATTSSON (SWE)? Mattsson beat Johansson two weeks ago, but Johansson outplaced here in Sardinia. "Of course I'm chasing her, and she's chasing me. I think that's making us step up a little bit more." 
When asked if she's solidified her spot for Sweden at the European Games, Johansson said, "I hope so. I just knew I had to go out today and do my best because I didn't two weeks ago. But I did what I could, and I hope the spot is going to be mine." 
In closing, the 62kg champion said, "My goal is to go to the World Championships and try to qualify Sweden for the Olympics." 
Sweden third champion was Jenny Fransson. The Olympic bronze medalist tallied three wins in the 72kg Nordic-style bracket.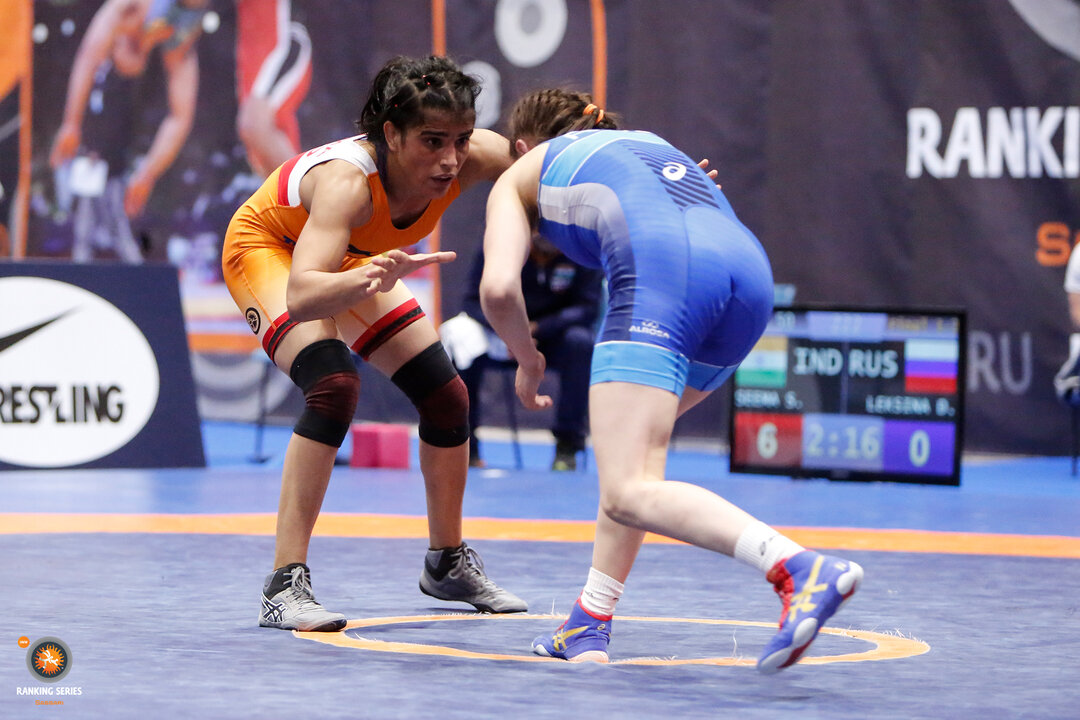 Seema picked up a 10-0 win over Russia's Daria LEKSINA (RUS) in the 50kg gold-medal bout. (Photo: Gabor Martin)
Final Three Non-Nordic Golds Went to India, Russia, and Canada 
The last three non-Nordic weight gold medals of the night went to Seema SEEMA (IND), Ekaterina POLESHCHUK (RUS), and Linda MORAIS (CAN), who won the 50kg, 53kg, and 59kg titles respectively. 
India's Seema Seema picked up a statement win over Daria LEKSINA (RUS) in the 50kg gold-medal bout, ending the match early after scoring five takedowns. Seema grabbed a pair of takedowns and led 4-0 after the first period, then tacked on three additional takedowns in period number two to end the match by technical superiority with over 60 seconds left on the clock. 
Seema came into the Sassari ranked 30th in the world with 14 points. The Indian wrestlers win on Friday night doubled her Ranking Series point total and catapulted her up the rankings to No. 7 in the world behind sixth-ranked Olympic bronze medalist SUN Yanan (CHN) who has 25 points.
Russia's Ekaterina POLESHCHUK controlled KIM Hyungjoo (KOR) in the 53kg finals from whistle to whistle and claimed her first gold medal since winning the Alexander Medved Prizes back in 2017. Poleshchuk, the 2018 U23 world bronze medalist, came into the weekend with 8 Ranking Series points, which was good enough for the 39th ranking in the last set of point-based rankings. Her 16 point win on Friday brought her new total to 24 points, moving her up into the eight spots when the next rankings come out. 
Linda MORAIS (CAN) sacked Kumari MANJU (IND) in the 59kg finals after being up 9-0 and picked her first care Ranking Series title.  
The final day of wrestling at the Sassari City Matteo Pellicone Memorial begins tomorrow at 10:00 (local time) when freestyle takes over.  
RESULTS 

Team Scores 
GOLD – Canada  (147 points)
SILVER – Russia (120 points)
BRONZE – Kazakhstan (102 points) 
Fourth - Sweden (90 points) 
Fifth - India (80 points) 
50kg
GOLD - Seema SEEMA (IND) df. Daria LEKSINA (RUS), 10-0 
BRONZE - Jacqueline MOLLOCANA ELENO (ECU) df. Kamila BARBOSA VITO DA SILVA (BRA), 10-1
BRONZE - Fredrika PETERSSON (SWE) df. Jade DUFOUR (CAN), 10-0
53kg
GOLD - Ekaterina POLESHCHUK (RUS) df. KIM Hyungjoo (KOR), 6-1 
BRONZE – Diana WEICKER (CAN) df. Anzhelika VETOSHKINA (RUS), via fall 
BRONZE - Luisa VALVERDE MELENDRES (ECU) df. Samantha STEWART (CAN), via fall
55kg (Single bronze) 
GOLD - Sofia MATTSSON (SWE) df. Vanesa KALADZINSKAYA (BLR), via injury default
BRONZE – Viktoriia VAULINA (RUS) df. Marina SEDNEVA (KAZ), 12-1 
57kg
GOLD - Grace BULLEN (NOR) df. Pooja DHANDA (IND), 5-0 
BRONZE - Lissette Alexandra ANTES CASTILLO (ECU) df.
Olga KHOROSHAVTSEVA (RUS), 5-4 
BRONZE – Alexandria TOWN (CAN) df. Katsiaryna YANUSHKEVICH (BLR), via fall 
59kg
GOLD - Linda MORAIS (CAN) df. Kumari MANJU (IND), via fall 
BRONZE -  Laurence BEAUREGARD (CAN) df. Kelsey CAMPBELL (USA), 8-2
62kg 
GOLD - Henna Katarina JOHANSSON (SWE) df. Elmira GAMBAROVA (AZE), 6-4 
BRONZE – Lais NUNES DE OLIVERIA (BRA) df. Mallory VELTE (USA), 6-4 
BRONZE - Malin Johanna MATTSSON (SWE) df. Marwa AMRI (TUN), 7-2 
65kg 
GOLD – Gabriella SLEISZ (HUN)
SILVER – Aina TEMIRTASSOVA (KAZ) 
BRONZE – Braxton STONE (CAN) 
68kg 
GOLD - Tamyra MENSAH (USA) df. Danielle LAPPAGE (CAN), 4-0 
BRONZE - Anastasia BRATCHIKOVA (RUS) df. Mariya MAMASHUK (BLR), 4-3 
BRONZE - Divya KAKRAN (IND) df. Irina KAZYULINA (KAZ), 10-5
72kg 
GOLD – Jenny FRANSSON (SWE) 
SILVER – Zhamila BAKBERGENOVA (KAZ)
BRONZE – Tatiana MOROZOVA (RUS) 
76kg 
GOLD - Erica Elizabeth WIEBE (CAN) df. Natalia VOROBEVA (RUS), via fall 
BRONZE – Epp MAE df. Ekaterina BUKINA (RUS), 8-7
BRONZE - Aline FOCKEN (GER) df. Iselin SOLHEIM (NOR), 8-0