World Champ Fumita Shows Effective Defensive Side in Regaining Asian Gold
Wednesday, February 19, 2020 - 18:30 By Ken Marantz
NEW DELHI (Feb. 19) — Kenichiro FUMITA (JPN)  was put on the defensive in the final, but it hardly kept the world champion from regaining the Greco-Roman 60kg gold medal at the Asian Championships.
Fumita scored points off a counter to an arm throw attempt by Zholaman SHARSHENBEKOV (KGZ) and went on to notch a 4-0 victory in the final as the Greco-Roman competition concluded on the second day in New Delhi.
"He's really good at throws, and I felt that from the first contact," Fumita said. "So, I kept firmly in mind not letting him complete a throw."
Just as he regained the world title that he last won in 2017, Fumita regained the Asian gold that he had previously captured three years ago—also in New Delhi. The victory on Wednesday night also assured he will finish at the top of the UWW rankings and gain the top seed for the Tokyo 2020 Olympics.
"It's an honor," Fumita said of the top seed. "It's a rare thing, as there have hardly been any Japanese No. 1 going the into Olympics. For me, with No. 1 seed comes responsibility, but I will work hard to be worthy of it."
Fumita said his main objective coming into New Delhi was to score points from the standing position. While he failed to actually do so in any of his three matches, he said he feels he made progress.
"In the end, I didn't score any points, but in terms of form, I feel my wrestling was very good," he said. "My coach said it was good and that I [have the basis] for making more progress."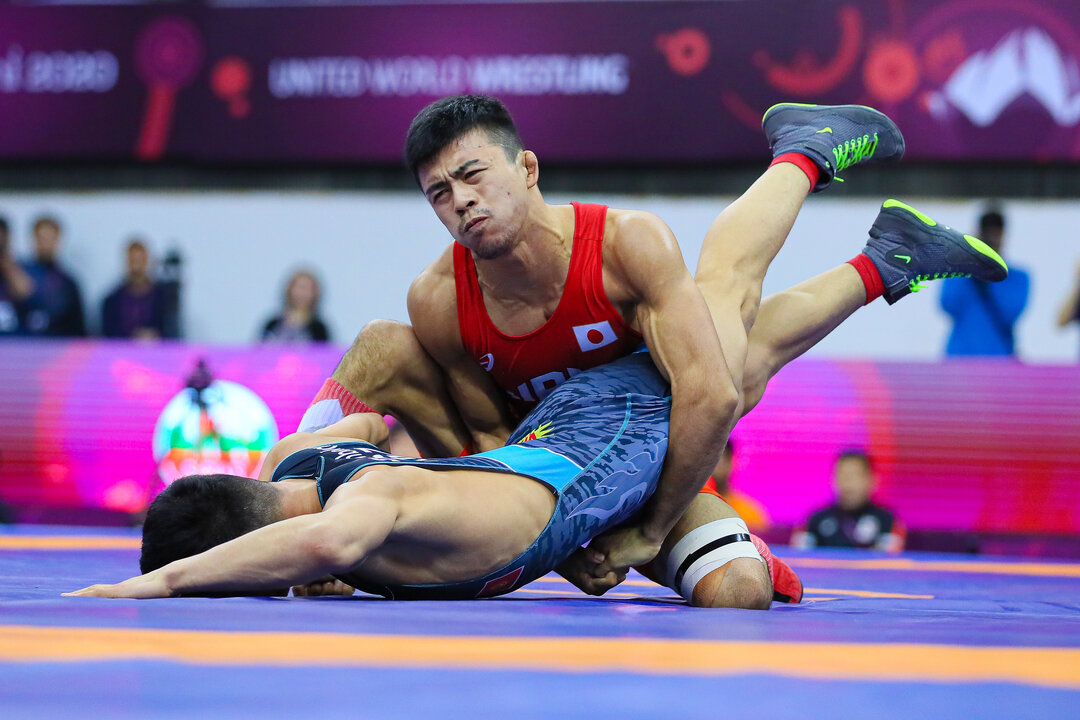 Kenichiro FUMITA (JPN) shutout Zholaman SHARSHENBEKOV (KGZ), 4-0, and claimed his second Asian gold medal. (Photo: Kadir Caliskan)
In the final, Sharshenbekov, the world U-23 silver medalist, came out aggressively and threw caution to the wind with a twisting arm throw. But Fumita reacted perfectly and stopped the move halfway to gain 2 points. When Sharshenbekov got to his feet, Fumita forced him out for a 3-0 lead. At the end of the first period, Sharshenbekov attempted the same move, but came up with nothing but air. 
In the second period, Fumita gained a point for passivity, but was unable to pad his lead in the par terre position, despite having scored a combined 14 points from it in his previous two matches. Still, he was never put in danger and fought off all further attempts to secure the gold.
By winning the world gold last September in Nur-Sultan, Fumita secured his place at the Tokyo Olympics, which is where his ultimate goal lies. Prospects are high he can end Japan's long Greco gold drought at the Olympics—the country has not had a Greco champion since Atsuji Miyahara won the 52kg gold at the 1984 Los Angeles Games.
Is that something he keeps in mind?
"That was more than 10 years before I was born, so it's not something I actually have a sense of," Fumita said. "It's sad that there hasn't been a Japanese Greco champion in all that time. For me, I want to get [a gold] and help make Greco more popular."
Fumita said he will compete one more time before the Tokyo Games, at the Grand Prix of Germany in Dortmund in June.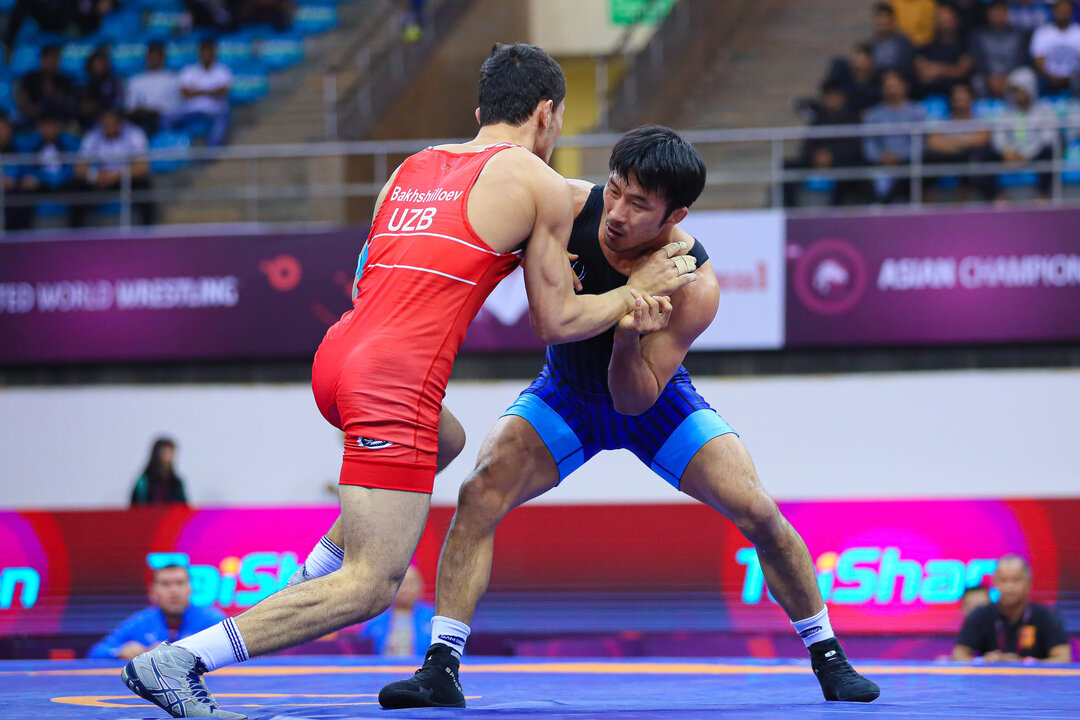 RYU Hansu (KOR) scored the 4-1 win over Makhmud BAKHSHILLOEV (UZB) and won his third Asian title. (Photo: Kadir Caliskan)
Ryu preps for Olympic qualifier with continental gold
In other action, former two-time world champion RYU Hansu (KOR) capped his preparatory tournament for next month's Asian Olympic qualifier by winning hjs second straight 67kg title and third Asian gold overall.
The other three golds at stake all went to Iran, with two of them coming at the expense of Korean opponents. 
Ryu, the 2017 world champion who finished eighth in Nur-Sultan and still needs to qualify for Tokyo 2020, chalked up a 4-1 win in the final over Makhmud BAKHSHILLOEV (UZB), who was coming off a victory at the Matteo Pellicone ranking series event.
Ryu gained a passivity point and a takedown for a 3-0 lead into the second period. Bakhshilloev gained a chance to go ahead when he received a passivity point and the par terre advantage. When he was unable to turn Ryu, his side lost a challenge that Ryu was using his legs to block, giving Ryu a 4-1 lead, which is how the match ended. 
"This competition was a check for me ahead of the next competition," Ryu said. "It was most important to work on my par terre technique. If I can perfect this technique, I can get a medal at the next competition."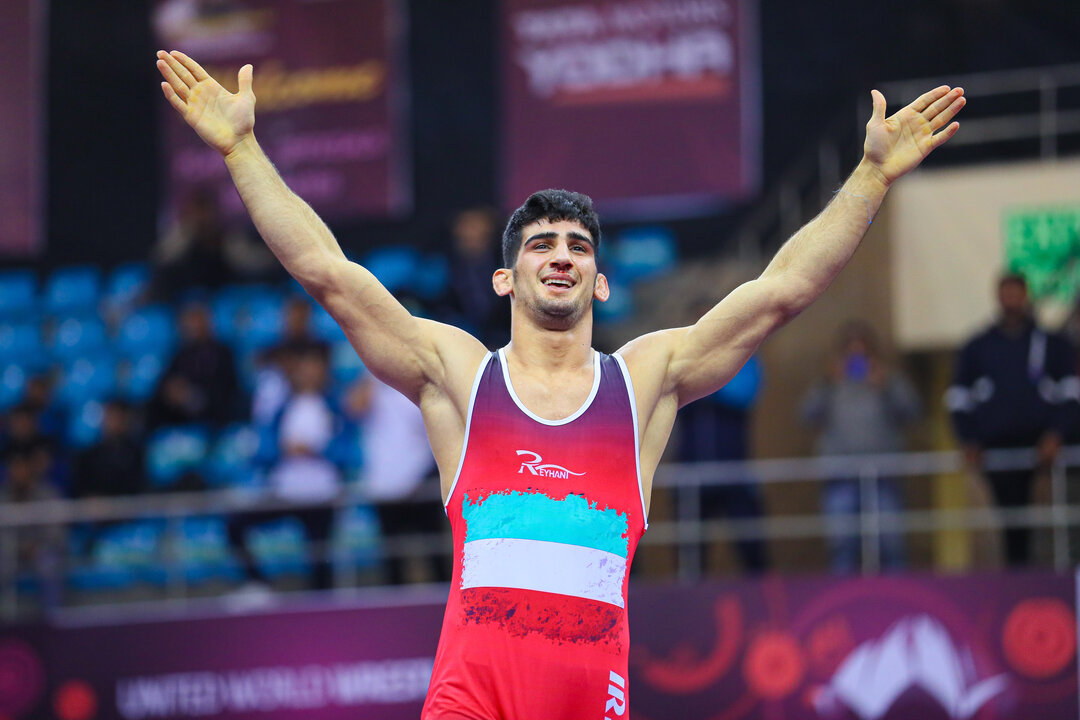 Almin KAVIYANINEJAD (IRI) ended his finals match early against Ibragim MAGOMADOV (KAZ) with an 8-0 technical superiority win. (Photo: Kadir Caliskan)
In the 72kg final, 2018 world junior champion Almin KAVIYANINEJAD (IRI) put together a 4-point takedown-roll combination in each period, defeating Ibragim MAGOMADOV (KAZ) by 8-0 technical fall in 4:09.
Compatriot Mahdi EBRAHIMI (IRI) followed by adding the senior gold to his Asian U-23 title with a 3-1 win over CHOI Junhyeong (KOR) in the 82kg final. 
World U-23 bronze medalist Mohammadhadi SARAVI (IRI) then capped the night by scoring the go-ahead takedown with :57 left to capture the 97kg gold with a 5-2 win over LEE Seyeol (KOR).
Iran, which also picked up a pair of bronze medals from Mehdi MOHSEN NEJAD (IRI) at 60kg and Hossein ASSADI KOLMATI (IRI) at 67kg, easily won the team title with 190 points. The Iranians took home medals in all but one of the 10 weight classes.
Uzbekistan, which captured three bronze medals on the final day, finished second with 146 points, 10 ahead of Kazakhstan in third.
Host India had no finalists on Wednesday, but went 3-for-3 in the third-place matches, much to the delight of the sparse home crowd at K.D. Jadhav Wrestling Stadium. Winning bronzes were Ashu ASHU (IND) at 67kg, Aditya KUNDU (IND) at 72kg and Hardeep HARDEEP (IND) at 97kg.
The most exciting bronze-medal match came at 82kg, in which world 77kg bronze medalist Jalgasbay BERDIMURATOV (UZB) was losing 2-1 to Yevgeniy POLIVADOV (KAZ), only to execute a nifty duck-under tackle that sent his opponent to his back for a fall with :12 left. 
The competition continues Thursday with five weight classes (50kg, 55kg, 59kg, 68kg, 76kg) in women's wrestling. 
Day 2 results
Greco-Roman
60kg (10 entries)
GOLD – Kenichiro FUMITA (JPN) df. Zholaman SHARSHENBEKOV (KGZ), 4-0
BRONZE - Islomjon BAKHRAMOV (UZB) df. Gyanender GYANENDER (IND), 6-0 
BRONZE - Mehdi MOHSEN NEJAD (IRI) df. Aidos SULTANGALI (KAZ), 4-3 
67kg (11 entries)
GOLD – RYU Hansu (KOR) df. Makhmud BAKHSHILLOEV (UZB), 4-1
BRONZE - Ashu ASHU (IND) df. Abdulkarim ALHASAN (SYR), 8-1
BRONZE - Hossein ASSADI KOLMATI (IRI) df. Tsuchika SHIMOYAMADA (JPN), 5-3
72kg (9 entries)
GOLD – Almin KAVIYANINEJAD (IRI) df. Ibragim MAGOMADOV (KAZ) by TF, 8-0, 4:09
BRONZE - Ruslan TSAREV (KGZ) df. CHEN Yan Kai (TPE) by Fall, :41 (8-0)
BRONZE - Aditya KUNDU (IND) df. Nao KUSAKA (JPN) by TF, 8-0, 1:46
82kg (7 entries)
GOLD – Mahdi EBRAHIMI (IRI) df. CHOI Junhyeong (KOR), 3-1
BRONZE - Jalgasbay BERDIMURATOV (UZB) df. Yevgeniy POLIVADOV (KAZ) by Fall, 5:48 (8-2)
97kg (10 entries)
GOLD – Mohammadhadi SARAVI (IRI) df. LEE Seyeol (KOR), 5-2
BRONZE - Muhammadali SHAMSIDDINOV (UZB) df. Ponlawat SIAMMAI (THA) by Fall, :24 (4-0) 
BRONZE - Hardeep HARDEEP (IND) df. Beksultan MAKHMUDOV (KGZ), 3-1