"Wrestler of the Year" Lorincz in Pursuit of Top Seed at Tokyo 2020
Friday, January 31, 2020 - 14:53 By Eric Olanowski
*The highest number of potential points a wrestler can earn if he/she wins gold in a bracket with 20+ competitors at the continental championships (22 points) and Poland Open (18 points) is 40 points.
CORSIER-SUR-VEVEY, Switzerland (January 31) -- Viktor LORINCZ (HUN), United World Wrestling's reigning "Wrestler of the Year" in Greco-Roman, made it clear this month that he's out to defend his well-earned title and win Olympic gold.
Lorincz improved his Ranking Series tournament record to a perfect 23-0 this month with a one-point victory over 2019 Asian silver medalist Kumar SUNIL (IND) in the finals of the Matteo Pellicone Ranking Series event in Rome. With the win, the Hungarian added 16 points to his second ranking leaving him just four points shy of world champion Zhan BELENIUK (UKR) heading into next month's continental championships. 
But Lorincz is poised to shake up the top spot of the 87kg ranking and gain control of the world's No. 1 spot. Beleniuk elected to sit out of the European Championships, so Lorincz only needs to finish top-eight in Rome to reach the summit of the 87kg rankings.
"I want to win the [European Championships and Poland Open] because it will help my seed for the Olympic Games," said Lorincz, the defending world silver medalist at 87kg. "I will also be in the lead for the Ranking Series again."
Germany's Denis KUDLA, who is ranked fourth at 87kg, is also expected to miss the European Championships. Without Beleniuk and Kudla, Lorincz needs nine points at the European Championships to ensure a top-four seed in Tokyo.
Mohamed and Muminjon Move into Top-Five at 130kg
Ahmed MOHAMED (EGY) and Muminjon ABDULLAEV (UZB) soared into the top-five of the 130kg rankings and will receive an extra boost as Cuba replaces world silver medalist Oscar PINO HINDS with three-time Olympic champion Mijian LOPEZ (CUB). Mohamed and Abdullaev will benefit because Pino Hinds points aren't transferable to Lopez and would thus bump the Cubans from the rankings at 130kg.
Mohamed pinned Moises PEREZ HELLBURG (VEN) in the Matteo Pellicone finals and moved up five spots to No. 3 heading into the African Championships. He'll collect 18 points in Alger if he's able to win the five-man 130kg bracket. Those additional points would propel him into the No. 2 spot by at least 10 points.
The Egyptian big man will then travel to El Jadida, Morocco, for the African and Oceania OG Qualifier (March 13-15) to try to qualify Egypt for the Olympic Games. 
Abdullaev edged Oskar MARVIK (NOR), 3-3, in the bronze-medal bout at the Matteo Pellicone and is ranked No. 4 with 26 points. Abdullaev is expected to wrestle at the Asian OG Qualifier but will sit out of the Asian Championships. Instead, Daler RAKHMATOV will be Uzbekistan's representative at 130kg.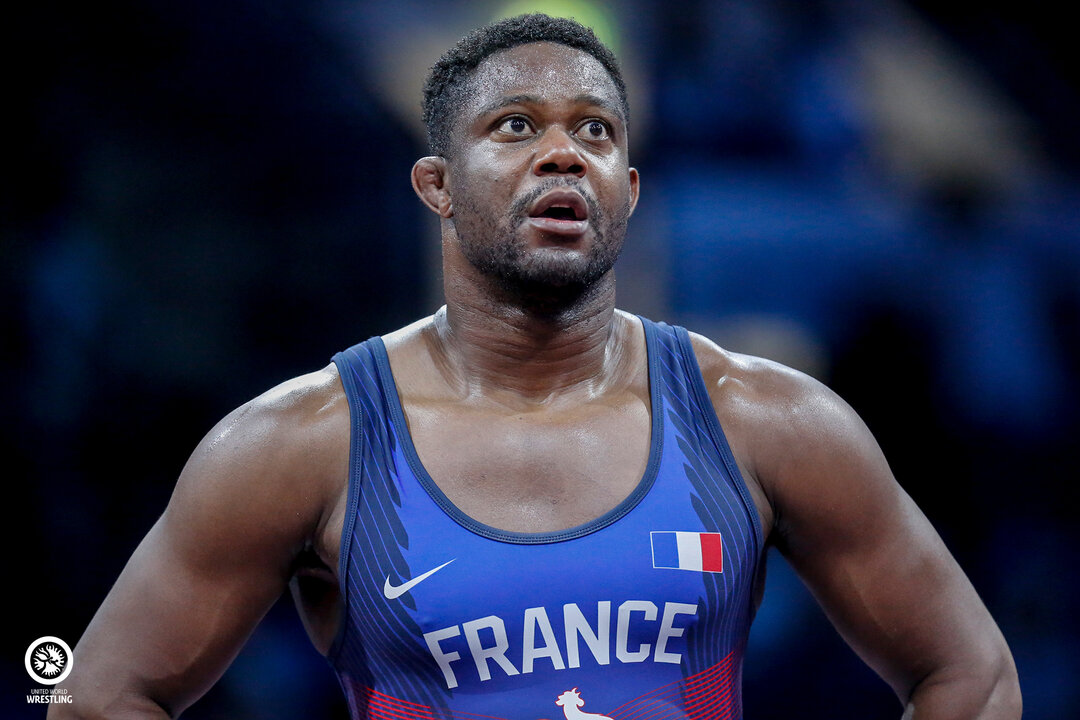 Mélonin NOUMONVI (FRA), at 37-years-old, is looking to make his fourth appearance at the Olympic Games. (Photo: Gabor Martin)
Noumonvi Chasing Fourth Olympic Games Appearance
At 37, Mélonin NOUMONVI (FRA) has already competed at the Olympic Games in Athens, Beijing and London. If he can put together a good season, Tokyo might be an opportunity for the French great to wrestle in yet another Games.. 
The 2014 world champion is gearing up to compete in his 14th European Championship in less than two weeks. A month later (March 19-22) he's scheduled to compete in Budapest at the European OG Qualifier where he'll have to finish in the top two to earn a spot in Tokyo.
If Noumonvi qualifies, he'll be in a position for a top-four seed. He currently sits in the No. 3 spot after earning bronze at the Matteo Pellicone.
Noumonvi's lone loss in Italy came to eventual champion Nikoloz KAKHELASHVILI (ITA), who appeared in this month's rankings at No. 9 with 18 points.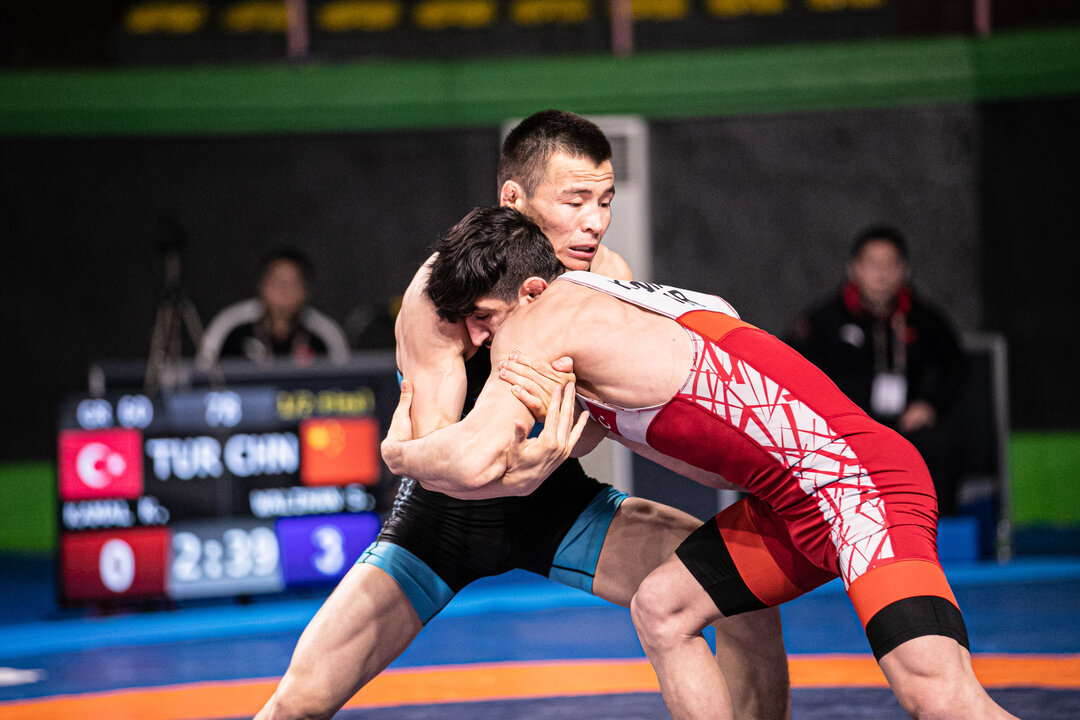 Sailike WALIHAN (CHN), the 60kg Matteo Pellicone gold medalist, will wrestle at 63kg the Asian Championships. (Photo: Kadir Caliskan)
China Inserted No. 13 Tuo at 60kg and bumped Walihan to 63kg
Sailike WALIHAN (CHN) pummeled his biggest in-country rival Erbatu TUO (CHN), 13-4, at the Matteo Pellicone and left no question whether or not he's China's top guy at 60kg. But the entries for the Asian Championships seem to tell a different story.  
Now, the question heading into the Asian Championships is how much of a looming factor in China's decision was Walihan's eleventh place finish in Nur-Sultan? Especially after he collected solid wins over Tuo, Islomjon BAKHRAMOV (UZB) and Kerem KAMAL (TUR) and debuted in the latest ranking at No. 9.
Either way, the good news for China is Walihan and Tuo are both ranked in the Top 20 and are within distance of earning a top-four seed. That is, of course, if they perform well in New Delhi then qualify the weight at the Asian OG Qualifier.
Please go to UnitedWorldWrestling.org for the updated competition calendar and guidelines for accumulating points during the Ranking Series.
Top-Ten Greco-Roman Rankings
55kg
1. Nugzari TSURTSUMIA (GEO) - 58
2. Khorlan ZHAKANSHA (KAZ) - 38
3. Max Emiliano NOWRY (USA) - 30
4. Shota OGAWA (JPN) - 23
5. Eldaniz AZIZLI (AZE) - 23
6. Liguo CAO (CHN) - 18
7. Vitalii KABALOEV (RUS) - 16
8. Davaabandi MUNKH ERDENE (MGL) - 14
9. Dogus AYAZCI (TUR) - 14
10. Ilkhom BAKHROMOV (UZB) - 12
60kg
1. Kenichiro FUMITA (JPN) - 60
2. Sergey EMELIN (RUS) - 40
3. Ali Reza Ayat Ollah NEJATI (IRI) - 25
4. Mirambek AINAGULOV (KAZ) - 25
5. Elmurat TASMURADOV (UZB) - 20
6. Lenur TEMIROV (UKR) - 20
7. Ivo Serafimov ANGELOV (BUL) - 18
8. Ivan LIZATOVIC (CRO) - 16
9. Sailike WALIHAN (CHN) - 16
10. Victor CIOBANU (MDA) - 14
63kg
1. Shinobu OTA (JPN) - 58
2. Stepan MARYANYAN (RUS) - 38
3. Almat KEBISPAYEV (KAZ) - 23
4. Slavik GALSTYAN (ARM) - 23
5. Tynar SHARSHENBEKOV (KGZ) - 18
6. Meysam Karamali DALKHANI (IRI) - 18
7. Ryan Robert MANGO (USA) - 16
8. Jinwoong JUNG (KOR) - 14
9. Andres Roberto MONTANO ARROYO (ECU) - 14
10. Rahman BILICI (TUR) - 12
67kg
1. Ismael BORRERO MOLINA (CUB) - 60
2. Artem SURKOV (RUS) - 40
3. Frank STAEBLER (GER) - 25
4. Mate NEMES (SRB) - 25
5. Mohamed Ibrahim Elsayed Ibrahi ELSAYED (EGY) - 20
6. Fredrik Holmquist BJERREHUUS (DEN) - 20
7. Gevorg SAHAKYAN (POL) - 18
8. Hansu RYU (KOR) - 16
9. Makhmud BAKHSHILLOEV (UZB) - 16
10. Deyvid Tihomirov DIMITROV (BUL) - 14
72kg
1. Abuiazid MANTSIGOV (RUS) - 60
2. Aram VARDANYAN (UZB) - 40
3. Balint KORPASI (HUN) - 25
4. Aik MNATSAKANIAN (BUL) - 25
5. Michael Felix WIDMAYER (GER) - 20
6. Jiyeon LEE (KOR) - 20
7. Malkhas AMOYAN (ARM) - 18
8. Sanan SULEYMANOV (AZE) - 16
9. Iuri LOMADZE (GEO) - 14
10. Mohamed Ibrahim Elsayed Ibrahi ELSAYED (EGY) - 14
77kg
1. Tamas LORINCZ (HUN) - 60
2. Alex Michel BJURBERG KESSIDIS (SWE) - 40
3. Mohammadali Abdolhamid GERAEI (IRI) - 25
4. Jalgasbay BERDIMURATOV (UZB) - 25
5. Karapet CHALYAN (ARM) - 20
6. Askhat DILMUKHAMEDOV (KAZ) - 20
7. Paulius GALKINAS (LTU) - 18
8. Roman VLASOV (RUS) - 16
9. Zotlan LEVAI (HUN) - 16
10. Pavel LIAKH (BLR) - 14
82kg
1. Lasha GOBADZE (GEO) - 60
2. Rafig HUSEYNOV (AZE) - 40
3. Haitao QIAN (CHN) - 25
4. Saeid Morad ABDVALI (IRI) - 25
5. Iurii SHKRIUBA (UKR) - 20
6. Nurbek KHASHIMBEKOV (UZB) - 20
7. Adlan AKIEV (RUS) - 18
8. Maxat YEREZHEPOV (KAZ) - 16
9. Zotlan LEVAI (HUN) - 14
10. Singh GURPREET (IND) - 14
 
87kg
1. Zhan BELENIUK (UKR) - 60
2. Viktor LORINCZ (HUN) - 56
3. Rustam ASSAKALOV (UZB) - 25
4. Denis Maksymilian KUDLA (GER) - 25
5. Mikalai STADUB (BLR) - 20
6. Atabek AZISBEKOV (KGZ) - 20
7. Daniel GREGORICH HECHAVARRIA (CUB) - 18
8. Ivan HUKLEK (CRO) - 16
9. Azamat KUSTUBAYEV (KAZ) - 14
10. Kumar SUNIL (IND) - 14
97kg
1. Musa EVLOEV (RUS) - 60
2. Artur ALEKSANYAN (ARM) - 40
3. Mélonin NOUMONVI (FRA) - 26
4. Mihail KAJAIA (SRB) - 25
5. Cenk ILDEM (TUR) - 25
6. Giorgi MELIA (GEO) - 20
7. Tadeusz MICHALIK (POL) - 20
8. Mohammadhadi Abdollah SARAVI (IRI) - 18
9. Nikoloz KAKHELASHVILI (ITA) - 18
10. Artur OMAROV (CZE) - 16

130kg
1. Riza KAYAALP (TUR) - 60
2. Oscar PINO HINDS (CUB) - 40
3. Abdellatif mohamed ahmed MOHAMED (EGY) - 32
4. Muminjon ABDULLAEV (UZB) - 26
5. Heiki NABI (EST) - 25
6. Iakobi KAJAIA (GEO) - 25
7. Eduard POPP (GER) - 20
8. Amir Mohammadali GHASEMIMONJEZI (IRI) - 20
9. Murat RAMONOV (KGZ) - 18
10. Moises Salvador PEREZ HELLBURG (VEN) - 14