Yazdani Charati Storms into 86kg Freestyle Final
Sunday, March 4, 2018 - 10:40 By Ken Marantz
Reigning world and Olympic champion Hassan YAZDANI CHARATI (IRI) was one of two Iranians to make the five freestyle finals on the final day of the Asian Championships, surprisingly the same number for Mongolia---and they very nearly had double that.
Kazakhstan also has two finalists in the evening session at Kozhomkul Sports Palace, while Uzbekistan, which put four wrestlers into the finals on the previous day and came away with two golds, couldn't keep the momentum going and was among four countries with one finalist.
Yazdani Charati, making his debut at the continental championships, will face two-time Asian medalist Uitumen ORGODOL (MGL) in the 86kg final.
In the 92kg final, Mohammadjavad EBRAHIMIZIVLAEI (IRI) will clash with Adilet DAVLUMBAYEV (KAZ). They will know each other from the 2016 World University Championships, where the Iranian won the gold and the Kazakh took a bronze at 86kg.
The match for the gold at 125kg will be a clash between native Georgians now wrestling for other countries.
Giorgi SAKANDELIDZE (QAT), who won world bronze medals in 2009 and 2010 for Georgia, is already assured of becoming the first Asian medalist from the Gulf nation. He will try to make it gold when he faces Davit MODZMANASHVILI (UZB), a London 2012 Olympic silver medalist for Georgia.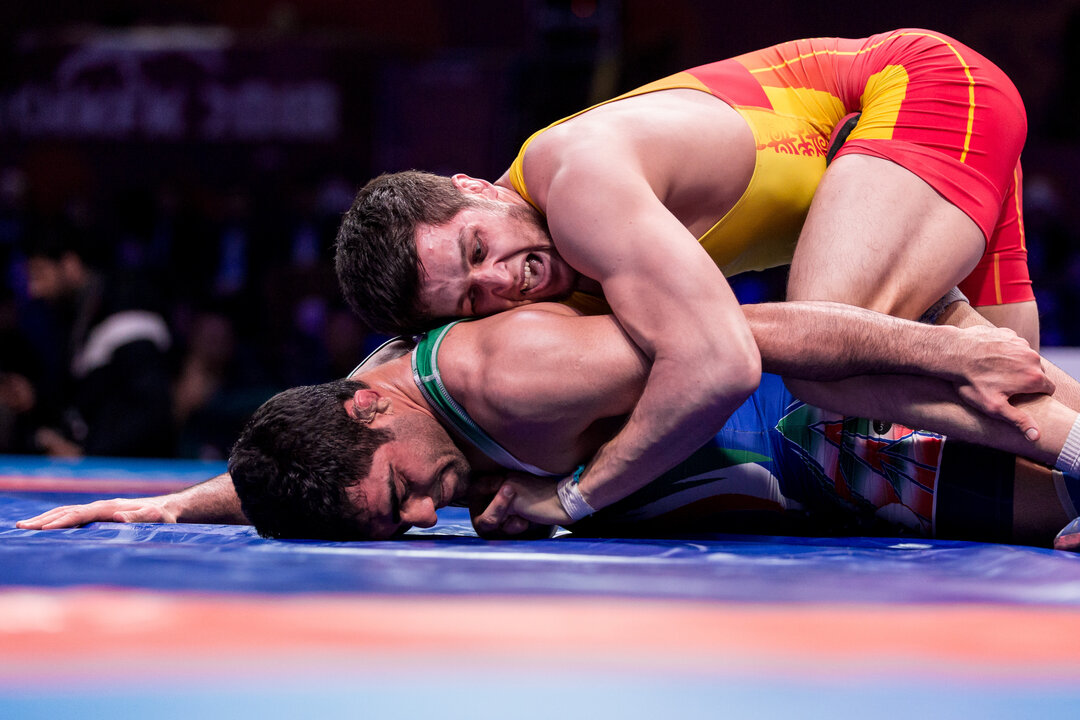 Muslim EVLOEV (KGZ), 74kg finalist working on a gut-wrench. Photo by Max Rose-Fyne.
Muslim EVLOEV (KGZ) will aim to emulate Greco-Roman champion Akzhol MAKHMUDOV and win a gold for the host country when he takes on veteran Mandakhnaran GANZORIG (MGL) in the 74kg final.
The 31-year-old Mongolian is chasing his first Asian gold after taking home silvers in 2009 and 2013 and a bronze in 2015. His collection also includes world bronze medals from 2013 and 2014.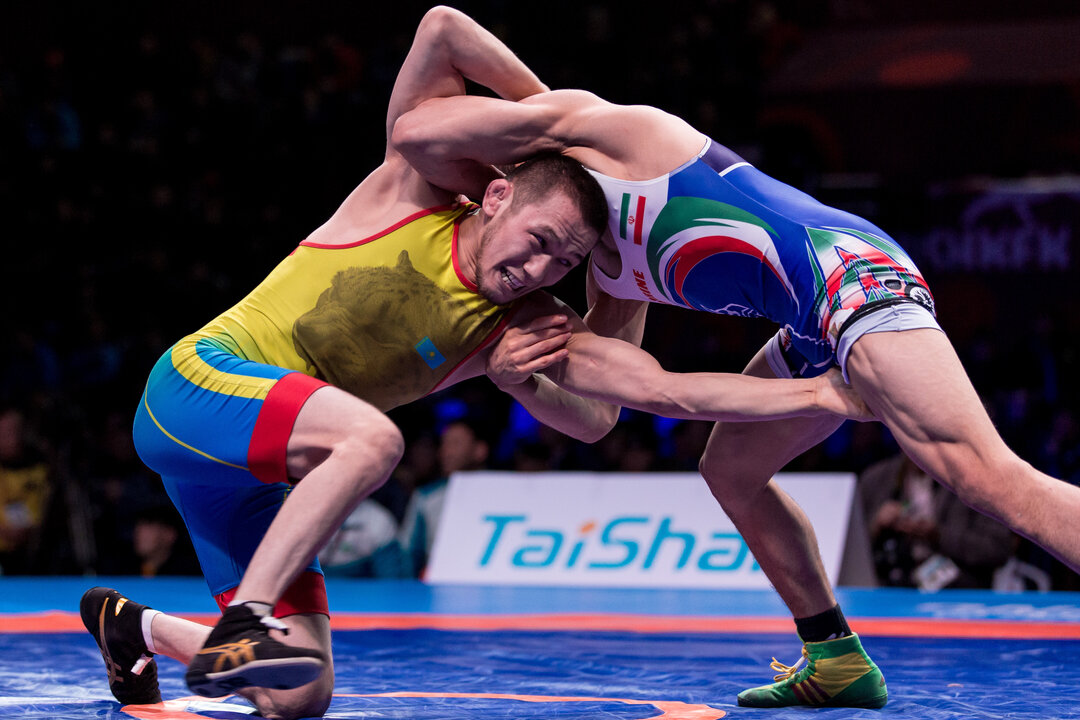 Nurislam SANAYEV (KAZ) working on getting to a single leg. Photo by Max Rose-Fyne.
At 61kg, Nurislam SANAYEV (KAZ), a bronze medalist a year ago in New Delhi, advanced to the final along with newcomer Kazuya KOYANAGI (JPN).
Two Mongolians relegated to bronze-medal matches will rue letting a place in the finals slip through their fingers.
In the 92kg semifinals, Turtogtokh LUVSANDORJ (MGL) had an 8-4 lead with a minute left against Adilet DAVLUMBAYEV (KAZ), only to allow the Kazakh to storm back and clinch a 10-9 win with two step-outs in the final 10 seconds.
Sakandelidze was taken to the limit before forging out a 2-1 win in his 125kg semifinal with Zolboo NATSAGSUREN (MGL), who will now have to be content going for a second straight bronze medal.
"All four had a chance to make the finals, but two of them made mistakes," Mongolia head coach Byambujuv BATTALUGA said. "I did think all of them would make the finals. But I'm very happy."
Yazdani Charati caused a stir when he was roughly slammed to the mat for a takedown just seconds into his opening quarterfinal match with Azamat DAULETBEKOV (KAZ).
But the Iranian shook off the shock and calmly reeled off five straight takedowns to end the first period up 10-2. He then finished the match 34 seconds into the second period with another takedown.
In the semifinals, Yazdani Charati overwhelmed Javrail SHAPIEV (UZB) with a pair of 4-point moves to win by 13-0 technical fall within the first period.
That was one of three head-to-head clashes between wrestlers from Iran and Uzbekistan (Iran won two). In another of note, Mostafa HOSSEINKHANI (IRI) ousted New Delhi 2017 champion Bekzod ABDURAKHMONOV, 3-2, in their 74kg quarterfinal match.
Uzbekistan coach Olimdjan Khikmatov said Abdurakhmonov was nursing an injured knee and was not in top condition.
As for having just one finalist a day after advancing four, Khikmatov shrugged and said, "Yesterday was good, today not so good."
Freestyle
61kg (12 entries)
Gold - Kazuya KOYANAGI (JPN) v Nurislam SANAYEV (KAZ)
Bronze - Sharvan SHARVAN (IND) v Abbos RAKHMONOV (UZB)
Bronze - Ulubek ZHOLDOSHBEKOV (KGZ) v Iman SADEGHIKOUKANDEH (IRI)
Semifinal - Kazuya KOYANAGI (JPN) df. Abbos RAKHMONOV (UZB), 7-2
Semifinal - Nurislam SANAYEV (KAZ) df. Iman SADEGHIKOUKANDEH (IRI), 5-4
74kg (12 entries)
Gold - Mandakhnaran GANZORIG (MGL) v Muslim EVLOEV (KGZ)
Bronze - KIM Daisung (KOR) v Daniyar KAISANOV (KAZ)
Bronze - Dovletmyrat ORAZGYLYJOV (TKM) v Mostafa HOSSEINKHANI (IRI)
Semifinal - Mandakhnaran GANZORIG (MGL) df. Daniyar KAISANOV (KAZ), 8-6
Semifinal - Muslim EVLOEV (KGZ) df. Mostafa HOSSEINKHANI (IRI), 8-4
86kg (12 entries)
Gold - Hassan YAZDANI CHARATI (IRI) v Uitumen ORGODOL (MGL)
Bronze - Azamat DAULETBEKOV (KAZ) v Javrail SHAPIEV (UZB)
Bronze - Deepak PUNIA (IND) v BI Shengfeng (CHN)
Semifinal - Hassan YAZDANI CHARATI (IRI) df. Javrail SHAPIEV (UZB) by TF, 13-0, 3:47
Semifinal - Uitumen ORGODOL (MGL) df. BI Shengfeng (CHN) by TF, 12-1, 2:42
92kg (10 entries)
Gold - Mohammadjavad EBRAHIMIZIVLAEI (IRI) v Adilet DAVLUMBAYEV (KAZ)
Bronze - SUE Changjae (KOR) v LIN Zushen (CHN)
Bronze - Azizbek SOLIEV (UZB) v Turtogtokh LUVSANDORJ (MGL)
Semifinal - Mohammadjavad EBRAHIMIZIVLAEI (IRI) df. LIN Zushen (CHN), 7-2
Semifinal - Adilet DAVLUMBAYEV (KAZ) df. Turtogtokh LUVSANDORJ (MGL), 10-9
125kg (13 entries)
Gold - Davit MODZMANASHVILI (UZB) v Giorgi SAKANDELIDZE (QAT)
Bronze - NAM Koungjin (KOR) v Zolboo NATSAGSUREN (MGL)
Bronze - Sohbet BELLIYEV (TKM) v Amin TAHERI (IRI)
Semifinal - Davit MODZMANASHVILI (UZB) df. Amin TAHERI (IRI), 3-0
Semifinal - Giorgi SAKANDELIDZE (QAT) df. Zolboo NATSAGSUREN (MGL), 2-1