Yoshida Gives up Quest for Gold to Make Way for New Generation
Thursday, January 10, 2019 - 19:07 By United World Wrestling Press
Already the most successful wrestler in history, Saori YOSHIDA oh-so-wanted to go for that fourth Olympic gold medal, which would have come in her home country no less. Her legion of fans certainly wanted and expected her to try. 
But in the end, the Japanese star decided she had given it her all and it was time to "pass the baton" onto the next generation of wrestlers, and make it her new mission to help them gain the same glory that she achieved over nearly two decades. If they attain even a fraction of it, she will have done her job.
The 36-year-old Yoshida, who announced her retirement on Twitter on Tuesday,  last competed at the Rio 2016 Olympics, where she suffered a devastating 4-1 loss to Helen MAROULIS (USA) that left her in tears and ended her streak of 16 consecutive world and Olympic golds.
"Because I lost at Rio, I had a strong feeling to try for Tokyo [2020]," Yoshida said Thursday in a nationally televised press conference in Tokyo to explain her decision. "Many people wanted me to try for the gold in Tokyo. I agonized every day about what I should do. 
"But I have seen the younger wrestlers performing well on the world stage, and I thought they should be the ones who lead women's wrestling in Japan. As far as wrestling, I took a good look at myself and thought I'd given everything I could, so I decided to retire."
During the 30-minute press conference, Yoshida was in high spirits, giving full and compelling answers on such issues as what athlete inspired her, the lessons her late father and first coach taught her, the impact of her loss to Maroulis, and her thoughts on fellow multi-Olympic champion Kaori ICHO's quest for Tokyo 2020.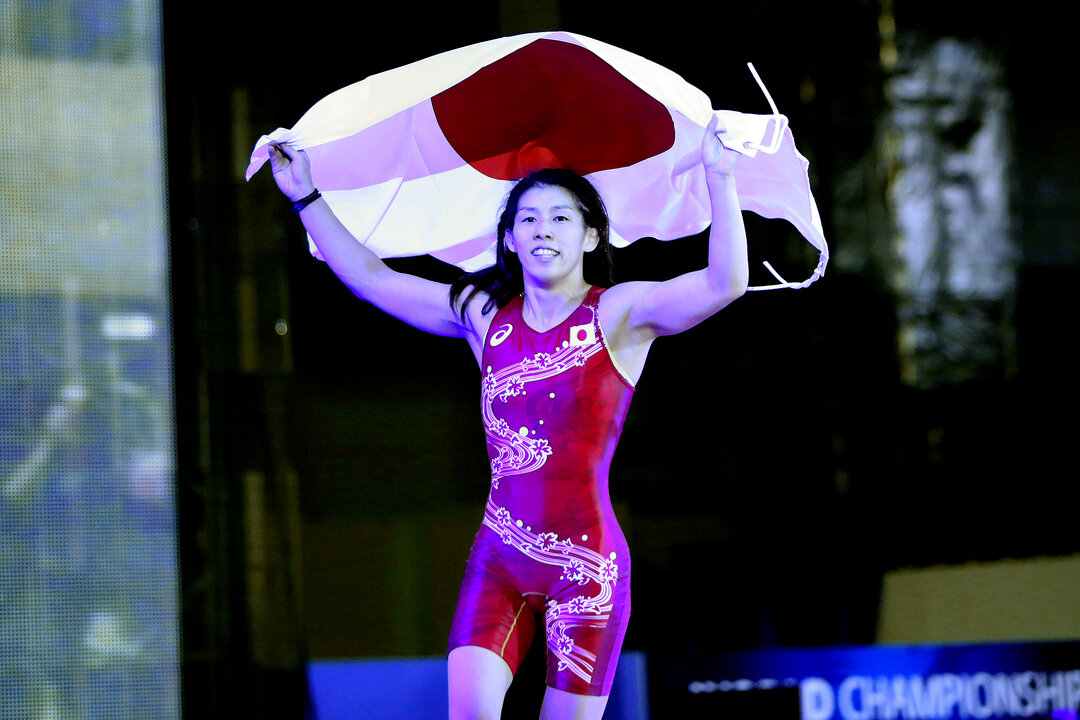 Saori Yoshida carries the Japanese flag around the mat after winning the 2014 world title. (Photo: Martin Gabor) 
Yoshida, whose 13 world and three Olympic titles have made her a national hero in her home country and a legend in the sport, has been serving as a national team coach since Rio, while also living the life of a celebrity, appearing in a wide range of TV variety shows and hawking numerous products in commercials.
She also continued to practice at her alma mater Shigakkan University (formerly Chukyo Women's University), which temporarily staved off talk of retirement, although the speculation heated up when she appeared at last month's All-Japan Championships not as a competitor, but as a TV commentator.
"Taking a place among the many coaches out there, I would like to be able provide mental support," Yoshida said. "I don't have experience as a coach, and there are many coaches who work hard [for Japan], so I just don't want to get in their way."
Yoshida will be leaving the 53kg weight class in good hands. There are currently two reigning world champions vying for Japan's spot in the leadup to Tokyo 2020---current 53kg world titlist Haruna OKUNO and 55kg champion Mayu MUKAIDA, who has dropped down to the Olympic weight. Mukaida won the All-Japan title in the absence of Okuno, who skipped the tournament due to a stomach virus.
Also capturing a national title was Icho, who won an unprecedented fourth Olympic gold at Rio 2016 that eluded Yoshida. She had taken a two-year hiatus before returning to competition in the fall last year in a bid to make the team to Tokyo 2020. 
Asked if hearing Icho talk about Tokyo 2020 had perhaps ignited a spark in her, Yoshida said she was not influenced by the actions of Icho, whose career has virtually run in parallel to Yoshida, albeit with three less world titles (only because she sat out those years). 
"From long ago, I have been taught that I am myself," Yoshida said. "My feeling that I had done everything and given everything I could was strong. So it didn't sway me one way or the other.
"Kaori Icho is a really fantastic athlete. We worked hard as fellow wrestlers. When I heard Kaori say she was aiming for the Tokyo Olympics, I thought, 'That's awesome.'"
Yoshida has been making an impression since she started wrestling at age 3 at the wrestling club run by her father, Eikatsu YOSHIDA, a former national champion who came up short of his dream of making the Olympics. Eikatsu pushed his daughter to be an aggressive wrestler, laying the foundation for the takedown machine that she would become.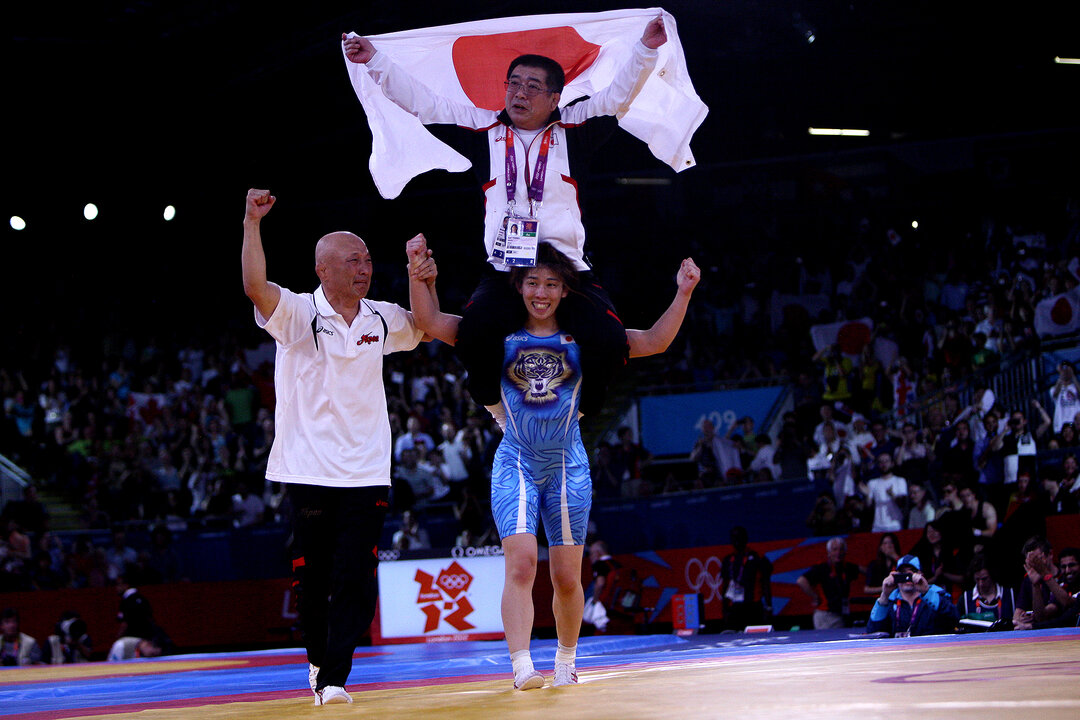 Saori YOSHIDA carries her father Eikatsu YOSHIDA on her shoulders after winning her third Olympic gold medal at the 2012 London Olympics. (Photo by Martin Gabor)
After she won her third Olympic gold medal at London 2012, she carried Eikatsu on her shoulders as she circled the mat to celebrate the victory. He died in March 2014, and Saori recalled his words as she recently contemplated her future.
"I ended with the silver in Rio," Yoshida said. "My father said how you close out your career is important, and indeed ending with a victory is important. There were many voices of support for my going for the gold. I really agonized over this."
"But I knew I had given it my all. Seeing the many young wrestlers having success, I thought maybe it was time to pass the baton. During practice and matches, I could feel their energy. Watching the Emperor's Cup (All-Japan) in December, that feeling became stronger."
Like her well-executed tackles, timing was everything for Yoshida. And the timing of women's wrestling addition to the Olympic program at Athens 2004 couldn't have been better for her. She was 21 at the time, and had already won the first two of her senior world titles. That was preceded by two world golds each in the cadets and juniors over the previous four years. 
Asked which athlete outside of wrestling Yoshida particularly admired, she immediately replied judo great Ryoko TANI, who won a record five Olympic medals including two golds. Tani's first gold came at Sydney 2000, while she was still competing under her maiden name of Tamura. 
Tani won her second gold in Athens, eight days before Yoshida would win the 55kg title, one of the four golds awarded in the first-ever Olympic women's wrestling competition.
"When I was in the first or second year of junior high school, I dreamed of winning an Olympic gold medal," Yoshida said. "At that time, [women's wrestling] was not yet in the Olympics. But in my first year of college, it was decided that it would be an Olympic event for 2004. To get there became my mission.
"I had always looked up to Yawara-chan," she said, referring to Tani's nickname. "There were many others, but Tani was the one who inspired me the most. In Athens, I met her for the first time. She showed me her gold medal, and we took a photo together. I drew power from that and it gave me push."
Yoshida, like Tani in judo, put together a remarkable winning streak. She won 109 consecutive matches before suffering a shocking loss to Marcie VAN DUSEN (USA) at the 2008 Women's World Cup. That marked the first defeat to a non-Japanese opponent in her lifetime. 
It was at another World Cup, in 2012, that she lost for a second time, falling to Valeria ZHOLOBOVA (RUS), who coincidentally would be Icho's opponent in the 58kg final at Rio 2016. Japan won the competition, but as her teammates celebrated, Yoshida wept throughout the medal ceremony.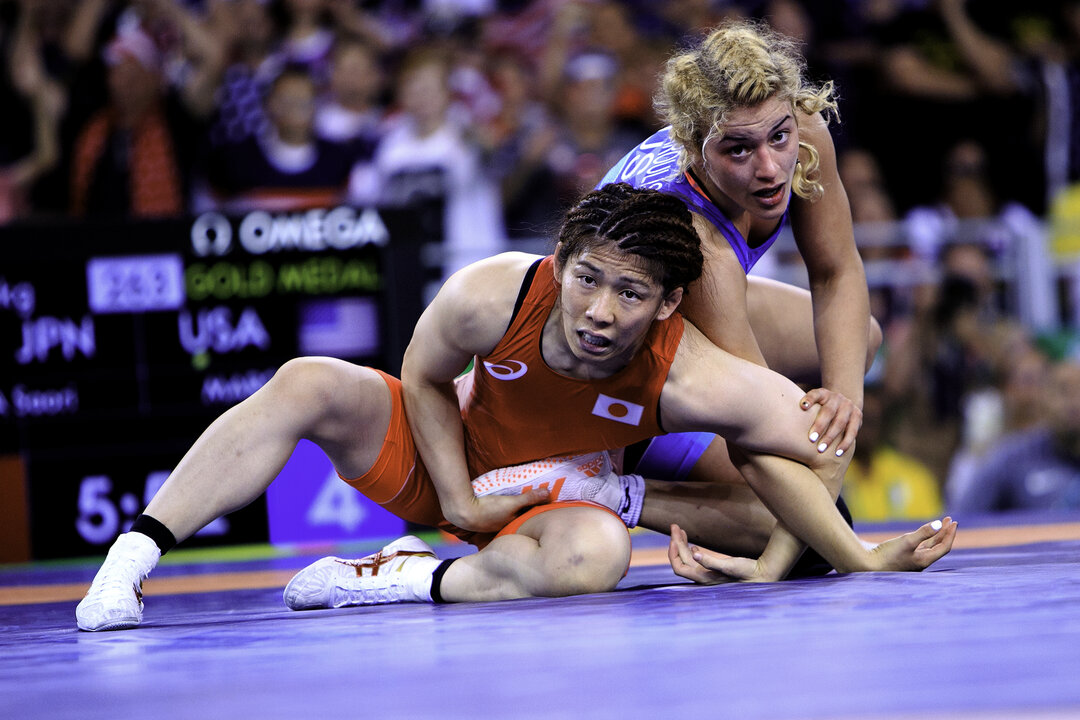 Helen MAROULIS (USA) handed Saori YOSHIDA her third career loss when she beat her in the 53kg Rio Olympic finals. (Photo: Gabor Martin)
But nothing could compare with the heartbreak of Rio 2016. Yoshida had faced Maroulis twice before, in 2011 and 2012, and won by technical fall and fall. But being on top so long puts a target on your back, and Maroulis had long been taking aim.
"Before meeting Helen at Rio, we had several matches, but when we met in the final, it was the first time in four years," Yoshida said. "I heard through the media that after seeing me at Athens, she set 'knock off Saori Yoshida' as her goal. My thought was I will fight hard, and I'm not going to lose. 
"In Rio, I became aware that Helen had made the final, and I was very determined to win a fourth gold medal. In the match, when we tied up, I felt her power and energy. I could feel that she had a strong determination to win. She's a great wrestler. She really got stronger."
Yoshida expects Maroulis to be at Tokyo 2020 in a bid for a second gold, and will help prepare the home team's opponent for the challenge. 
"I don't know what weight class she will be in, but I want the Japanese wrestler to win. I look forward to seeing how the match goes."
When Yoshida first announced her retirement on Twitter, she included a photo of her 17 world and Olympic medals---the 16 golds and the lone silver. It's that silver, she said, that left the biggest impression on her, as it made her see things from the perspective of the vanquished.  
"I started with the 2002 world championships, and for the 16 years up to Rio I could perform well," said Yoshida, who won over 200 matches in her career. "All of them left an impression, but Rio [did the most], maybe because it was the last one, even though I lost. 
"Up to now, in winning 16 straight, I got to step to the top of the podium. I thought only of the joy of winning. At the Olympics, it was the first time I finished second. When I took the podium, I felt, 'This is what it's like for those who lost to me.' 
"Because there was always an opponent who fought hard, I was able to achieve what I did. Their effort pushed me to win. I realized you gain from losing, you learn from losing. Taking the silver in Rio made me grow as a person."