Zhamalov Rallies Late to Stun Chamizo, Russia Crowns 4 FS Champs
Thursday, December 17, 2020 - 20:46 By Andrew Hipps
Links:
Finals Highlights
Day 6 Photos

BELGRADE, Serbia (December 17) -- Razambek ZHAMALOV (RUS) came from behind late to stun two-time world champion Frank CHAMIZO (ITA) and earn the 74kg freestyle gold medal Thursday night at the Individual World Cup in Belgrade, Serbia.
Zhamalov, a 2019 U23 world champion, was one of four freestyle gold medalists for Russia on Thursday. 
In the 74kg final, Zhamalov scored the first point of the match off the activity clock and took a 1-0 lead into the break. Chamizo grabbed a 2-1 lead a minute into second period after securing a hard-fought takedown. Zhamlov kept the pressure on Chamizo, attempting a duck under with 25 seconds left. After Chamizo fended it off, Zhamalov came up with a body lock before eventually securing Chamizo's leg. With just under 10 seconds remaining, Zhamlov slipped behind Chamizo and scored a two-point action with two seconds remaining to earn the come-from-behind victory, 4-2.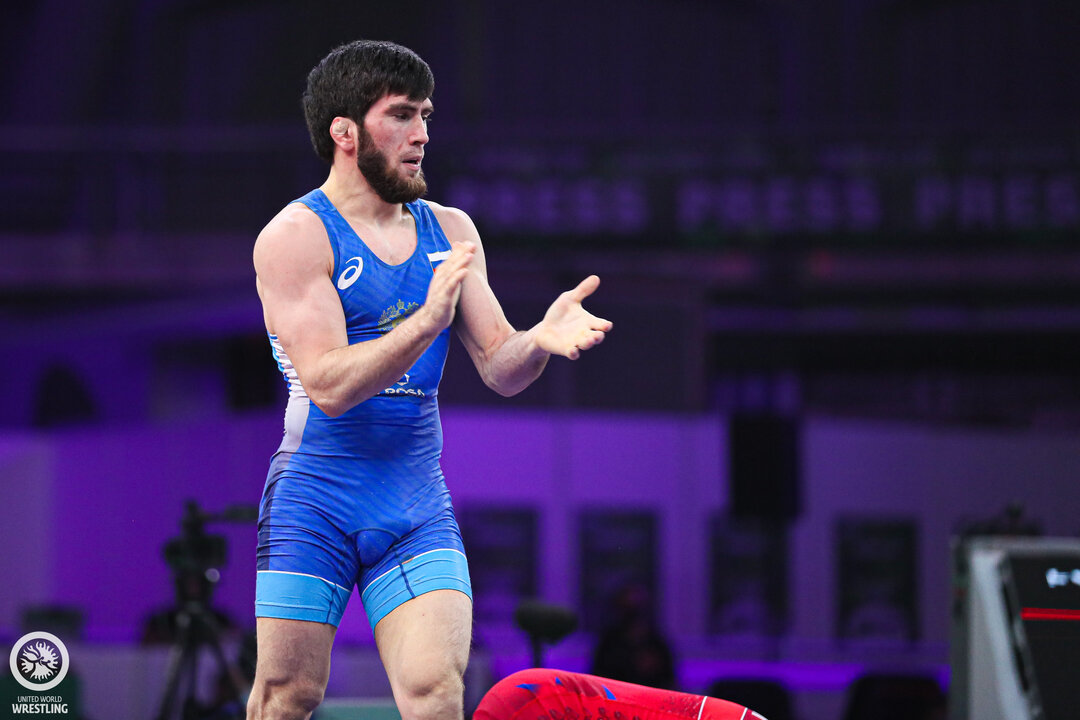 Zavur UGUEV (RUS) won the gold at 57kg (Photo: Kadir CALISKAN, UWW)

Russia's other gold medals Thursday came from Zavur UGUEV (57kg), Alikhan ZHABRAILOV (92kg) and Shamil SHARIPOV (125kg).
Uguev, a two-time world champion, was dominant in the 57kg final, earning a 10-0 technical superiority over 2018 junior world bronze medalist Arsen HARUTYUNYAN (ARM). The 25-year-old Russian quickly went up 4-0 after a takedown off an ankle pick and gut wrench. A short time later, Uguev shot in and scored a takedown before locking up his gut wrench again and turning Harutyunyan twice to end the match in under a minute.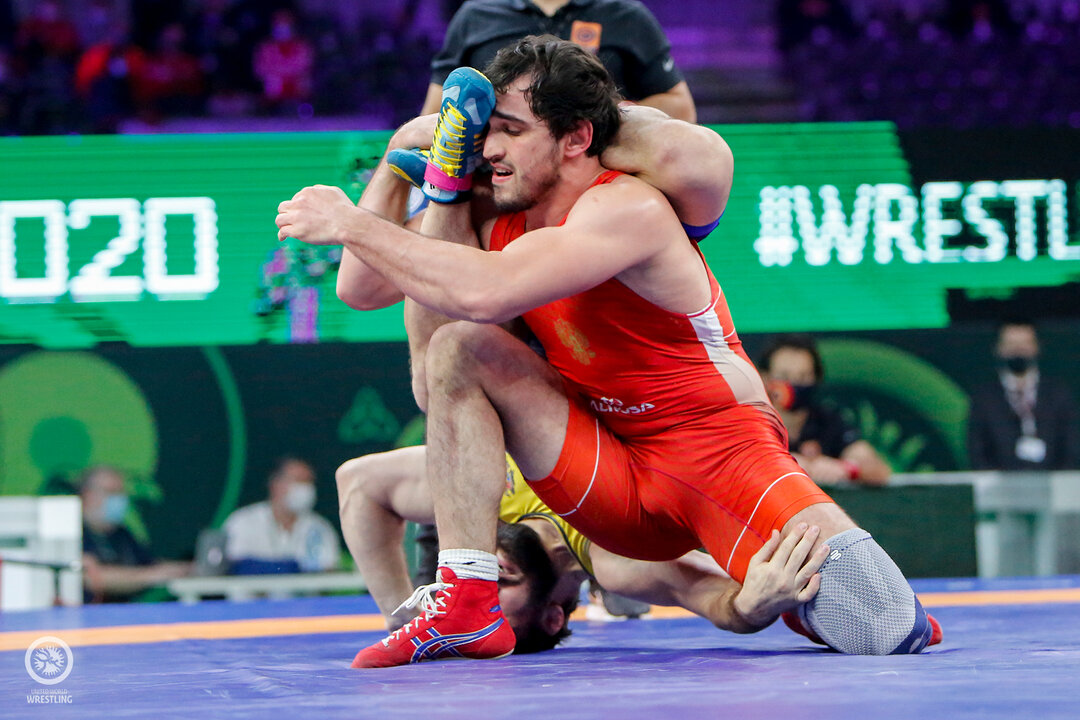 Alikhan ZHABRAILOV (RUS) shut out Georgii RUBAEV (MDA) to win gold at 92kg (Photo: Gabor MARTIN, UWW)

Zhabrailov, a 2019 world bronze medalist, claimed his gold by shutting out Georgii RUBAEV (MDA) 6-0 in the 92kg final. The Russian controlled the match from start to finish, getting a takedown in the opening period. He added a second takedown late in the match before getting a turn off a leg lace in the final five seconds.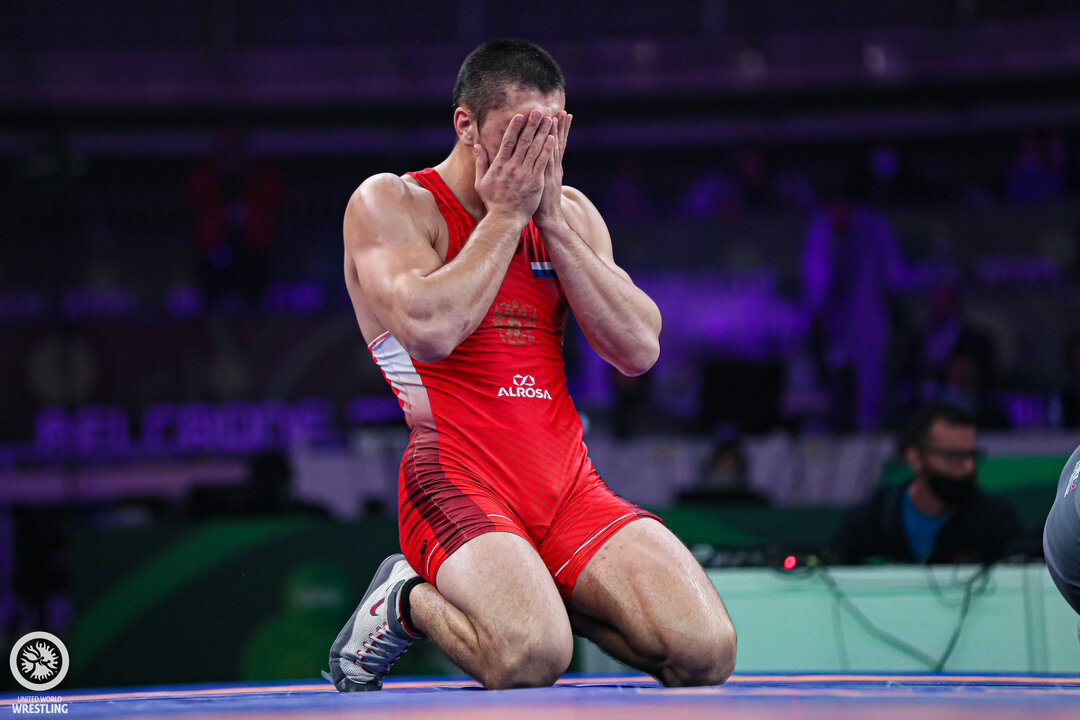 Shamil SHARIPOV (RUS) overcome with emotion after winning the gold medal at 125kg (Photo: Kadir CALISKAN, UWW)

Sharipov captured the gold at 125kg with a 4-1 win over European silver medalist Robert BARAN (POL). After leading 1-0 at the break, the Russian heavyweight scored in the second period with a step out before firing off a double leg and driving Baran to the edge of the mat for a takedown. Baran would get a late step out, but it would be too little, too late.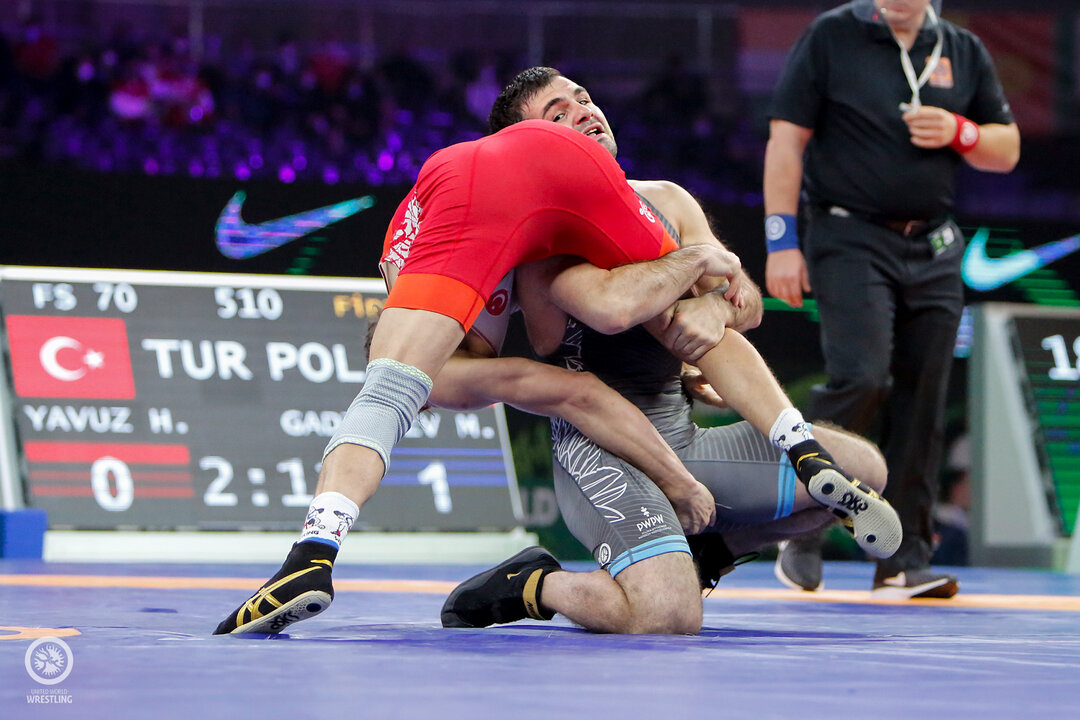 Magomedmurad GADZHIEV (POL) gets in on a shot against Haydar YAVUZ (TUR) in the 70kg final (Photo: Gabor MARTIN, UWW)

Baran was one of two Polish wrestlers competing for gold Thursday night. The other, Magomedmurad GADZHIEV (POL), came through to win the title at 70kg by injury default over 2020 European bronze medalist Haydar YAVUZ (TUR). Gadzhiev, a two-time world medalist and two-time European champion, held a 5-0 lead on the strength of two takedowns in the second period prior to Yavuz defaulting.
Turkey finished the day with three medals. In addition to Yavuz's silver medal, Fazli ERYILMAZ (74kg) and Erhan YAYLACI (92kg) won bronze medals.
Kyrgyzstan won a pair of medals, with Islambek OROZBEKOV (70kg) and Aiaal LAZAREV (125kg) securing bronze. 
Andrii YATSENKO (UKR) and Rahman AMOUZADKHALILI (IRI) won the bronze medals at 57kg. Yatsenko scored a late takedown to defeat Stevan MICIC (SRB), while Amouzadkhalili shut out Uladzislau ANDREYEU (BLR).
Other bronze medalists included Arman ANDREASYAN (ARM) at 70kg, Tajmuraz SALKAZANOV (SVK) at 74kg, Samuel SCHERRER (SUI) at 92kg and Dzianis KHRAMIANKOU (BLR) at 125kg.
Freestyle Medal Match Results
57kg
GOLD: Zavur UGUEV (RUS) df. Arsen HARUTYUNYAN (ARM) by VSU, 10-0
BRONZE: Rahman AMOUZADKHALILI (IRI) df. Uladzislau ANDREYEU (BLR) by VPO, 4-0
BRONZE: Andrii YATSENKO (UKR) df. Stevan MICIC (SRB) by VPO1, 4-2
70kg
GOLD: Magomedmurad GADZHIEV (POL) df. Haydar YAVUZ (TUR) by VIN, 5-0
BRONZE: Arman ANDREASYAN (ARM) df. Chermen VALIEV (RUS) by VIN, 0-0
BRONZE: Islambek OROZBEKOV (KGZ) df. Gitinomagomed GADZHIYEV (AZE) by VPO1, 6-5
74kg
GOLD: Razambek ZHAMALOV (RUS) df. Frank CHAMIZO MARQUEZ (ITA) by VPO1, 4-2
BRONZE: Fazli ERYILMAZ (TUR) df. Azamat NURYKAU (BLR) by VPO1, 7-2
BRONZE: Tajmuraz SALKAZANOV (SVK) df. Murad KURAMAGOMEDOV (HUN) by VPO1, 2-2
92kg
GOLD: Alikhan ZHABRAILOV (RUS) df. Georgii RUBAEV (MDA) by VPO, 6-0
BRONZE: Erhan YAYLACI (TUR) df. Gadzhimurad MAGOMEDSAIDOV (AZE) by VPO1, 4-2
BRONZE: Samuel SCHERRER (SUI) df. Arkadzi PAHASIAN (BLR) by VPO1, 8-4
125kg
GOLD: Shamil SHARIPOV (RUS) df. Robert BARAN (POL) by VPO1, 4-1
BRONZE: Aiaal LAZAREV (KGZ) df. Jamaladdin MAGOMEDOV (AZE) 
by VSU, 11-0
BRONZE: Dzianis KHRAMIANKOU (BLR) df. Oleksandr KHOTSIANIVSKYI (UKR) 
by VPO1, 6-5